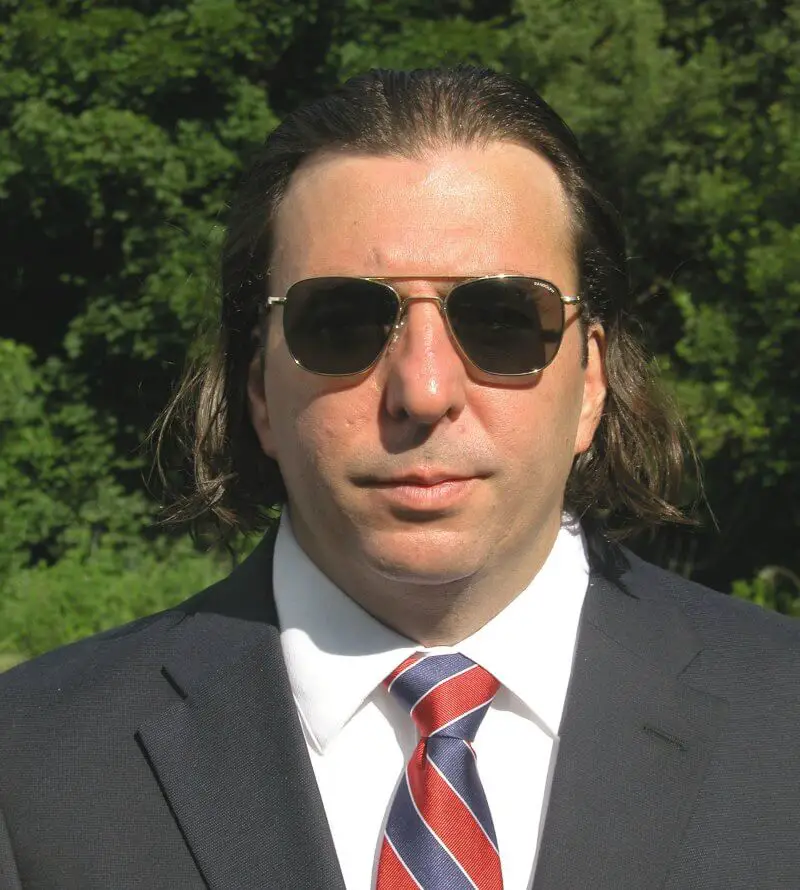 There are many fine artisans crafting excellent shaving creams and soaps.  But few of them probably understand the finer points of the trade better than Al Raz.  You see, Al's "day job" is as a chemist so he delves not only into the "how" of making shave products, but the "why" as well.  Sharpologist has called upon Al a few times before to help clear up misconceptions about shaving products (The Truth About SDS and Parabens, 7 Common Tallow Soap Myths, and Anatomy of A Shaving Cream), and we thought it might be time to get to better know the man himself.
Q: So you're a chemist by trade?  What kinds of things do you do in your job?
A: I currently work doing basic research on protein stability, ligand binding, structure determination, and structure-based drug design. In layman terms, I study proteins that play an interesting role in disease. I characterize them using analytical techniques and try to determine their tridimensional structure. With this information, I try to find compounds that will bind to these "targets" and alter their function.
Q: How (and when) did you get interested in making shaving creams?
A: I started in traditional wetshaving when I was a teenager but had given up using a straight razor because information on how to maintain them was scarce. In 2008, I restarted using the straight but I noticed that my skin was not tolerant of the shaving products I was using. Making shaving creams was just the next step forward. I stumbled upon a formulation that produced piles of lather easily and that did not have any adverse effects on my skin. It produced so much lather that on top of my brush, it looked like a mushroom cloud. It was only a matter of time until people became interested in trying it and later buying it. This is how "The Bomb" was born.
Q: What makes your shaving creams different than others?
A: It starts with the volume of lather that can be obtained per unit of product, I have not used a shaving product that produces as much lather as ours (I am not referring to artisanal products). Our shaving cream provides outstanding value: you have to buy 2 to 3 times the amount of other brands to produce the same amount of lather. Lather volume alone is no indication of quality–our Shaving Creams have enhanced stability, cushion and glide that compete with any high tier product.  Our customers often say that the conditioning of our shaving creams is superb. Our scents are original and complex, designed using essential oils at higher rates than most products; our scents are designed to change when mixed with water and during the shave, they sure make a statement and can be "overpowering" for some at first. We also offer the possibility for the customer to create their own custom scent. We consider ourselves pioneers of the "artisan" movement as we were among the first ones to bring these novel products into the market. Before Al's Shaving, most artisanal products used melt and pour formulations. For instance, our Calypso shaving cream is perhaps the first and definitely the absolute best bay rum shaving cream in the world, every traditional bay rum lover should give Calypso a try. I think this combination is hard to find and beat not only among artisanal products. Even the labels are professionally made unlike other artisanal products, the labels will not fade or smear if they get wet. At $20 retail, the value of our creams is hard to beat!
Q: What do you find are the most comment misconceptions about shaving creams and soaps?
A: Please do not get me started…. Seriously, I will mention only a few but there are many: a) some people believe that the difference between a soap and a cream is its consistency, it is the difference in formulation and production method that determines whether a product is a soap or a cream; b) some people insist on categorizing products as "glycerin or lanolin-based", while lanolin is an additive used for its emollient properties that may or may not be present in a shaving product, every product contains glycerin at different proportions and glycerin-based refers to something different; c) some people associate "protection" with "feedback", the truth is that the most protective lather often provides less feedback and requires changes in technique and more hydration; d) It is quite common to hear that tallow makes the best shaving products, tallow is an ingredient and a good one but equal or better results can be obtained using other combinations of oils and individual fatty acids, soap formulation works just like a Lego set; e) along the same line, reformulation is not a process by which a good expensive ingredient is replaced by a cheaper one, sometimes it is quite the opposite, a good example is tallow; and f) mixing products will produce better lather or increase latherability, if there is a faster latherer in the mix, it will still lather better when used by itself, the same is true about lather quality. I think these are a few but there are many more.
Q: What are the most and least desirable ingredients to look for in a shaving cream or soap?
A: Stearic acid or oils that have a high content of stearic acid increase the creaminess of the lather. I am very fond of aloe vera in shaving products.  I have noticed that my skin has an adverse reaction to products that contain too much glycerin, they can be drying if they do not contain barrier-forming ingredients; the same can be said for other polyols. Lanolin and other waxes can be good in the absence of allergies. Triethanolamine is perhaps the one ingredient that I would be most concerned about because of recent reports reporting a causal link with cancer. Some surfactants like SDS and others can be drying of the skin but there are ways to circumvent these problems. Several colorants can be carcinogenic and they should be left out of the formulation, they are often used for consistency. Shea butter has been labeled as the vegetal tallow because of its high stearic acid content. However, it also contains a high proportion of unsaturated fatty acids that can reduce product shelf life and loss of performance, not to mention that it can be allergenic. I do not like mentholated products because menthol is an irritant but people seem to menthol. I guess the take home message is to keep things simple and avoid using shaving products that rely on elaborated formulations.
Q: Although you have a "core" of shaving cream scents, you often blend limited runs.  How do you come up with your ideas?
A: In some cases, I have just tested a fragrance that I liked and that triggers my curiosity. Other times, customers give me ideas either directly or inspire me by their custom scents designs. Some of them are delighted to see their creations on our website, even if it is for a limited time. When I get a good idea, I often name the cream after the creator or partial creator, good examples of this are Potomac and Dr. Mike's Magical Potion. I also get ideas after I purchase a new essential oil, some times I buy these oils without a specific need and they sit on the "giant shelf of essential oils" until a suitable opportunity appears.
Q: What's been your most popular scent?
A: Both Calypso and Goodfellas are very popular but it depends on the crowd. One thing that people ask me all the time is what is my favorite scent of the line and this is a more complicated question to answer as I like them all, the favorite depends on my mood. I am partial to Saigon and like Bodega and Calabria as well.
Q: Any advice for those who have difficulty making a good lather?
A: This is a great question, THANK YOU! First of all, people must "get rid of the can". I mean, forget that it ever existed and what that stuff looks and feels like. Traditional lather and the stuff from the can have nothing in common but often people, mostly new users but experienced ones alike, are modeling their lather after the consistency of what comes out of the can. Another common aspect to improving lathering is that adding more product does not solve every problem as some suggest online. In some cases it helps but not always. Loading a brush should not take minutes but building lather definitely does so if you find yourself loading for 2 minutes and building the lather for 20 seconds, there may be a problem. The important thing is to simplify the process: there are only a few variables in building lather once the equipment, method and product have been chosen: water-product ratio, water quality, temperature and lathering time/technique. The most critical one being the water-product ratio, which is intrinsic to the shaving product and the water used. Effort should be placed on getting the optimal ratio.  Water quality will affect the process but always in a predictable way, if the water quality problem is severe, bottle water or distilled/deionized water can help. I would avoid extremes of temperature at first particularly, high temperature. Lathering time is an often overlooked variable, one should plan on swirling times between 2 and 3 minutes.
Q: You're known for your shaving creams but what other shaving products do you make?
A: In addition to the shaving cream, we make outstanding Aftershave Balms that cover the three areas of ASB formulation: moisturization, occlusion and nourishment. Our aftershave balms are rich and concentrated, you reviewed them before. We also make the Calypso splash that is a winner among bay rum lovers. Last but not least, we also manufacture pre-shave oils with an enhanced formulation than most products of their kind. These ASBs and PSOs are available in all the scents of our line.
Q: What's on the horizon for you?
A: Now that our products are well known, we are trying to transition into the wholesale market. We have a few distributors in the USA and Canada and because we have a large number of customers  in Europe and Australia will add them shortly. Our goal is to have as many retailers as possible to carry our products so that our customers can enjoy reduced shipping costs. Increasing our production levels will also allow us to increase our buying power and result in a more solid and perhaps reduced price structure. We are also in the process of expanding our line. We just introduced the first one of our Sapone da Barba, which has been well received by the community and our Calypso Body Wash for the bay rum crazy. If these products continue to be successful, we will expand the scent range for both. Finally, we are starting the process of reformulating some of our scents. This process started with Calabria and Bodega. When we first started Al's Shaving, we wanted our scents to set a mood for shaving while being more complex than the existing single note products. Unfortunately, the demand for more designer or fragrance-like scents increased and we find that some of our potential customers would like to see that trend incorporated into our scents. Because we would like every person that tries Al's Shaving to become a customer for life and because the performance of our product is superior to most of what is available, we are devoting a great deal of effort to elevate our scents to the ultimate level.