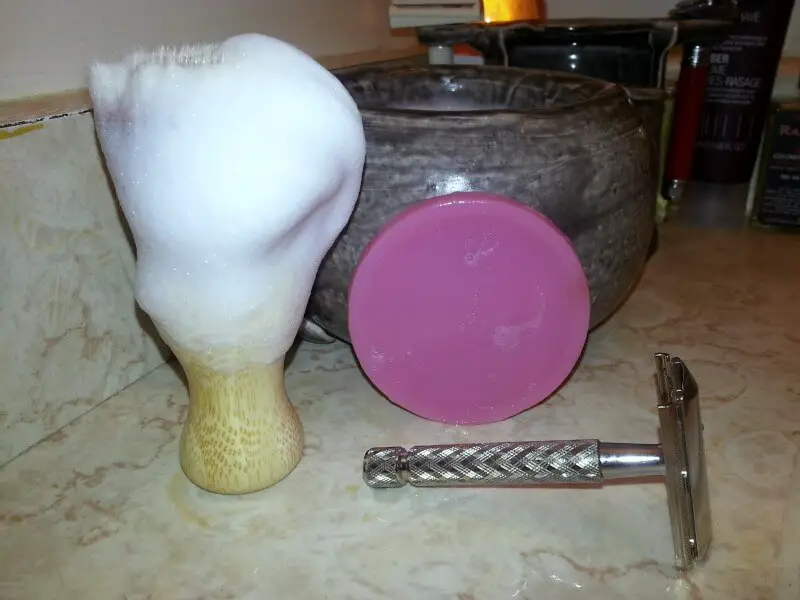 Honeybee Soaps describes their Fireside scent as "An intoxicating blend of cedarwood, sandalwood, leather, rich amber and cashmere musk". All in all, they combine together in a way that's woodsy and smokey, to the point that I honestly wouldn't be surprised if they also used some liquid smoke in the mix. It's definitely reminiscent of nights around the campfire, minus the s'mores. 
The strength is underpowered, but not completely so. While shaving with it, you can pick it up rather faintly, however at least the scent that is there doesn't fade all that much while you're shaving.
As for the lather, the usual caveat for Honeybee Soaps applies: If you don't make sure to use plenty of water, you're gonna have a bad time… I really need to stop forgetting this. Plenty of water however will allow you to whip up a nice cream, with a good amount of glide to it.
8/10 Scent Pleasantness
7/10 Scent Strength
8/10 Lather Quality
The 1 oz sample shown is available for $1.99 or as part of a $17.95 10-pack. Or, a 3.5 oz puck $4.49 for, 4 oz tub will be $5.99, and a 2.5 oz shave stick is available for $5.99.
7/10 for this one. I'd like a bit more oomph to the scent, but overall it's pretty good.
Ingredients: Coconut Oil, Palm Oil, Castor Oil, Hempseed Oil, Safflower Oil, Shea Butter, Glycerine (vegetable origin), Vitamin E, Water, Sodium Hydroxide, Sorbitol, Sorbitan Oleate, Soybean Protein, Wheat Protein, White Kaolin China Clay, Cosmetic Color and Fragrance Oil.
Related Posts:
Honeybee Soaps – Dragon's Blood