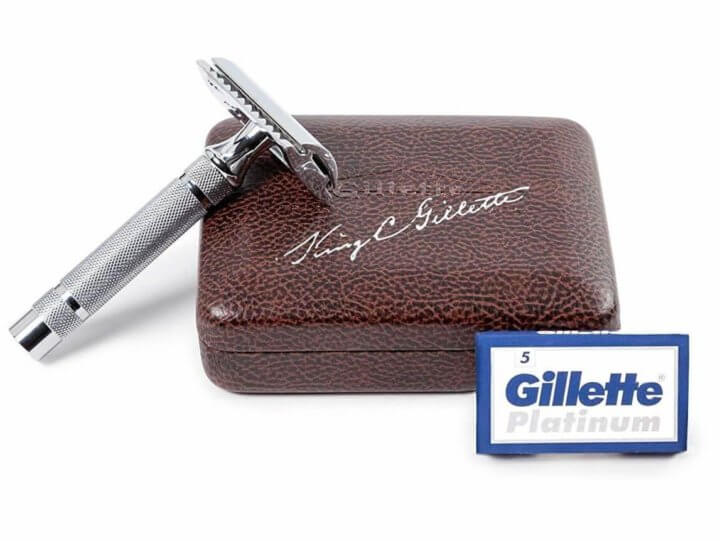 [Updated November, 2020] As promised earlier, I received a sample of the Gillette Heritage double edge (DE) razor.  Here is the background and my first impressions.
Background
(Note: I received this razor at no cost.  Amazon links are affiliate.)
As I mentioned in a previous article, I started getting emails and social media messages about Gillette announcing a new double edge (DE) razor for pre-order on Amazon.  When I first saw it, I didn't believe it–I thought it had to be some kind of counterfeit reseller posing as Gillette.  I reached out to a PR rep. I knew who has a relationship with Gillette and she not only confirmed it but also offered to send me a sample at no cost.  How could I refuse?
UPDATE 1 – (26 October '19): the Amazon page now shows the razor as "Currently Unavailable" which I take to mean they have committed their entire stock to the pre-orders.  I will reach back out to my Gillette contacts to see what is next for them.
UPDATE 2 – (28 October '19): the Amazon page now says "Limited Quantity" again, so something is going on…I just don't know what yet.  I'm waiting for a reply from my Gillette contacts. 
UPDATE 3 – (1 November '19): The Amazon page now shows "Currently Unavailable" again. 
UPDATE 4 – (5 November '19): I'm seeing posts on social media about customers getting emails that their shipment has been delayed.  I'm trying to find out where the problem lies (I suspect Amazon's warehouses but I hope to know soon).

UPDATE 5 – (Mid-December, '19): Amazon's inventory issues seem to have stabilized and this razor seems to be generally available there.
Specs
The presentation case is approximately 3.75″ wide by 3″ deep by 1″ tall.  The case has a leather-like look to it (though I'm guessing it's actually made out of a vinyl-like material). The inside insert feels like it's made out of a hardened felt material–maybe thin felt over a cardboard or plastic form.
Inside is the razor top cap and base plate, handle, a pack of five Gillette Platinum DE blades, and a small instruction booklet. According to the booklet the case is made in China and the blades are made in Russia. The booklet describes how to change razor blades and how to shave with a DE: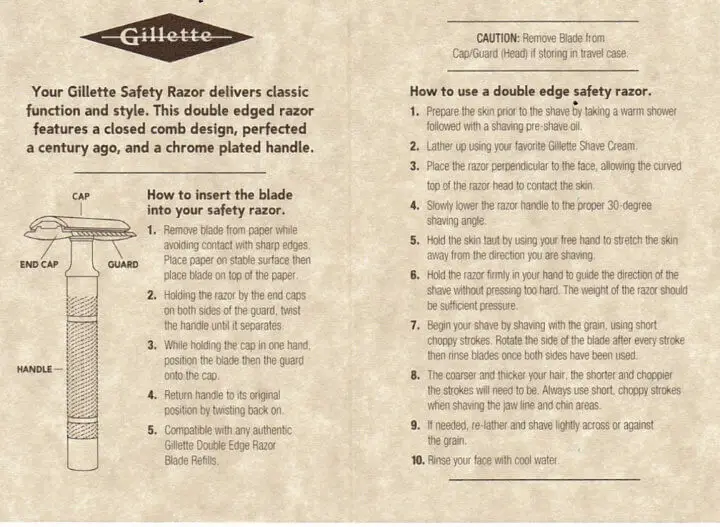 The handle is 3″ long, about 0.4″ (1 cm) in diameter, and mildly etched in a design similar to vintage Gillette DE's (perhaps similar to the 1929 Gillette NEW). The razor's head is a modern scalloped skin guard design like many other familiar DE razors (Muhle, Edwin Jagger, Merkur, etc.) but there is no indication where the razor is manufactured. The only identification on my razor is a "4" etched under the top cap.
The razor is 2.2 ounces (63 grams) on my digital kitchen scale.
My Conference Call With Gillette
My contact was also kind enough to set up a conference call between me and several Gillette representatives, including their senior "Archivist," a Communications Manager, and several public relations representatives.  My relevant questions (in bold) and their paraphrased answers (in italics):
Gillette hasn't produced a double edge safety razor for the US market in 30 years.  Why now?
The DE razor market in the U.S. is growing.  This razor is a product for the holiday season that is "fun" and "surprising" for the shaver who is starting to explore other ways of shaving. The focus is to also make a product with the quality and craftsmanship that appeals to the "collector" and the "fan."
We also want to make the distinction that this is a "heritage-inspired" razor, not a replica.
Where is the razor manufactured?
The handle is manufactured in the U.S. and the head is manufactured in Germany.
What materials is the razor made out of?
The razor (head and handle) is made out of a chrome-plated alloy.
Is Gillette planning any sort of advertising campaign for this razor?
Not beyond what you see on Amazon.
Will the razor be sold only through online channels or will it be appearing in "brick and mortar" (The Art Of Shaving?) outlets as well?
Just Amazon.

My razor has a "4" etched on the underside of the razor head's top cap.  Is this a new date code similar to the one used on vintage Gillette razors?
There is no intentional date coding on the razor.
My Shaves With The Gillette Heritage DE Razor
For my first shave I used a familiar, "safe" shave cream to me–Castle Forbes Lime, lathered with a Stirling badger brush. My preferred blade (particularly when testing a new razor) is a Parker but I used one of the included Gillette Platinum blades for this shave.
I did a three pass shave with some "touch and cut" clean-up.
I found this to be a mild razor (and I like mild razors generally) with a modest amount of blade feel. It seems to be very forgiving of blade angle.  I like the razor's balance given it's weight.
The result of this first shave for me was well into "Darn Fine Shave" (DFS) territory, though not quite "Baby's Butt Smooth" (BBS). Again, bear in mind this was my first shave with the kit, so my results may change as I use it more and try other blades.
My next shaves used the same products with the exception of a Feather DE blade.  I figured this might be a good pairing, as I find the Feather AS-D2 (another very "mild" razor) works well with the high performance Feather blade.
And I was right.  An easy BBS shave.  I continue to use Feathers with the Heritage.
Conclusion
The hard-core "shave nerd" looking for something ground-breaking may be disappointed.  But all-in-all I think the Gillette Heritage double edge razor is a mild, predictable, forgiving razor well-suited to the beginner DE shaver, at a price that is not out of line with what is included.
Did you get a Gillette Heritage double edge razor?  What do you think of it?  Leave a comment below!