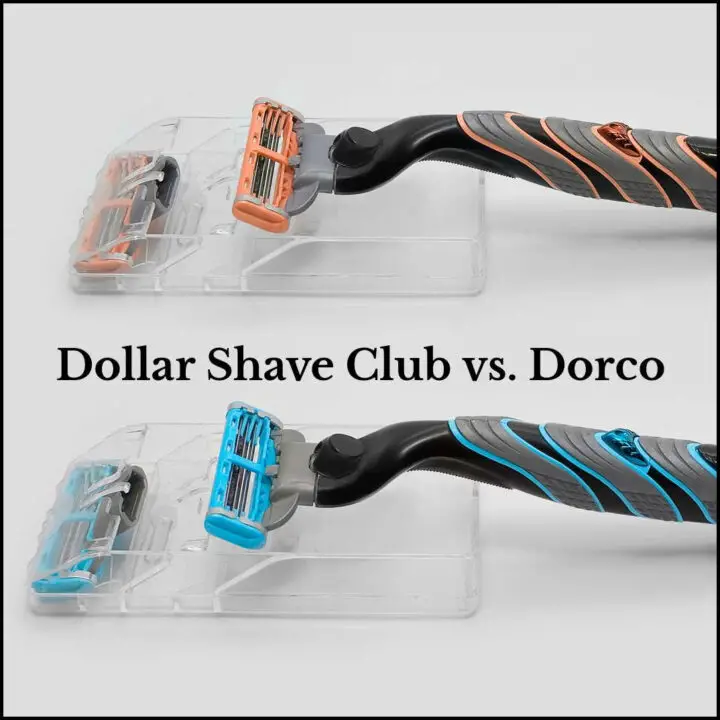 As I wrote in my earlier article, Dollar Shave Club decided to consolidate models and force users to shift to the new handles and blades. I got their new equipment and used the six-blade cartridge and new handle for a head and face shave. I walked away definitely unimpressed. I felt more tugging with the new cart and that overall it was an inferior product to what the company planned to replace. 
Not Just Me
After more than twenty comments on the article, I felt it was not just me. Wet shavers were echoing my sentiments. "Takes longer to shave, not as close a shave. More irritation." Many also did what I eventually did….canceled my subscription. 
I had joined the company, maybe a decade ago, after their fantastic commercial where the founder claimed "our blades are f*cking great." It starred Michael Dubin, the founder of Dollar Shave Club, and rocketed the company into the mainstream. For me, it was about doing two things at the same time. Saving money and sticking it to the big companies who were selling cartridges for a ridiculous amount of money. Joining DSC let me accomplish both. 
During my time with DSC, I would hear whisperings of "you know, it's just Dorco blades." To which I didn't care because I had brand loyalty. I was sticking it to the man! 
When the brand, which was bought by giant Unilever for one-billion dollars, decided to go in a different direction…I decided to see about these Dorco blades. 
Dorco
Here's what I found on the big river website. The Pace 6 Sport handle and nine cartridges. All for $21.99. [Editor's note: Amazon links are Sharpologist affiliate.]
This is what I had been paying. $10 for four cartridges. Umm, yeah, I'm not going to try and add up how much more I've been paying over the years, but it was because I was what? Sticking it to the man. Now I feel like I was being stuck just a bit. 
In my research, I also discovered that all of the Dorco brand carts…fit every handle they offer. No more three handles because everything had to be different.  
So I decided to give the Dorco carts and handle a test run. 
Nine carts and a handle. I noticed some definite similarities when looking at the head of the handle between it and the DSC.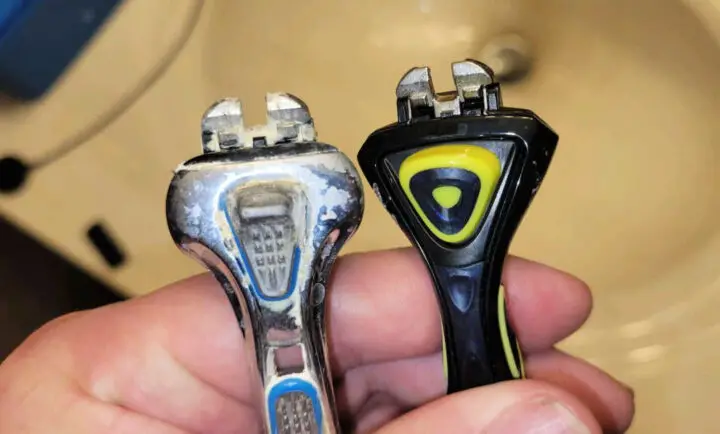 A close look at the heads shows they are just about exactly the same with how they snap on the cartridges. 
So it makes sense that both carts would have the same design. 
The handle is a little lighter in weight than the DSC but is still evenly balanced. I did notice the new cart seemed to snap in tighter with the Dorco handle than the DSC products ever did. This has been an infrequent issue with the DSC carts, where one disconnects very easily.  
Performance And Conclusion
While the carts and handles look almost like carbon copies, I wanted to give it several test runs. Each time, I used a Barrister and Mann shaving soap. 
One thing I noticed right away was that parts of the handle feel like rubber instead of plastic or chrome like the DSC. It felt like it was better-suited to a use in a shower because it was easier to grip and wouldn't slip. The pivot felt nearly the same, maybe with a bit more resistance but not to the point of it being harder to use. As for the cart's performance, it shaved through a two-day growth on my head very easily and the lube strip felt like it was leaving the skin a little moisturized. I did not have to do any touchups because the blades cut it all. 
On my face shave, I did three passes and each time the blades performed well. I did not feel any tugging and the cart left no irritation. The trimmer blade on the back of the cart is similarly very sharp and worked well to cut in around my goatee. After each shave, I was pleased with the results and the fact that I didn't have to search around for a replacement for the now discontinued (and pricier) DSC products. 
When I canceled my subscription, a final window popped up. 
A "final" chance to stock up on carts and an Executive handle. Free shipping and no purchase limits. Looks like they are trying to clear out their "old" inventory. 
That was a real easy decision to make, especially that I now know I can get the same blades even cheaper. 
If that's not sticking it to the man…again…I don't know what is.