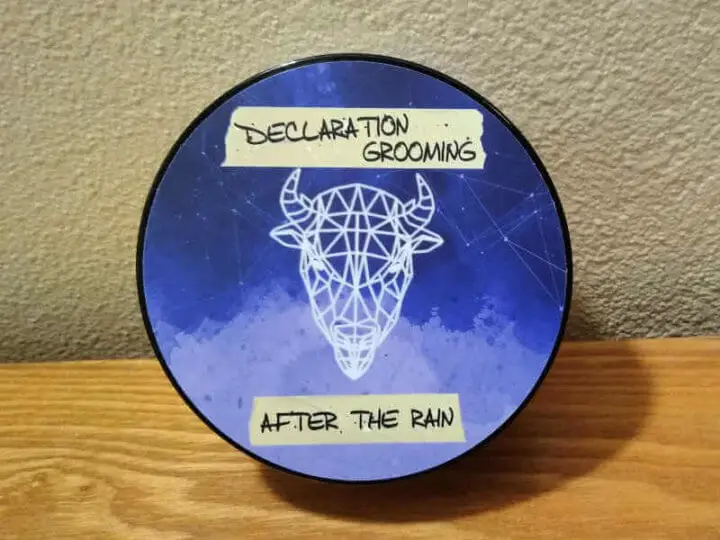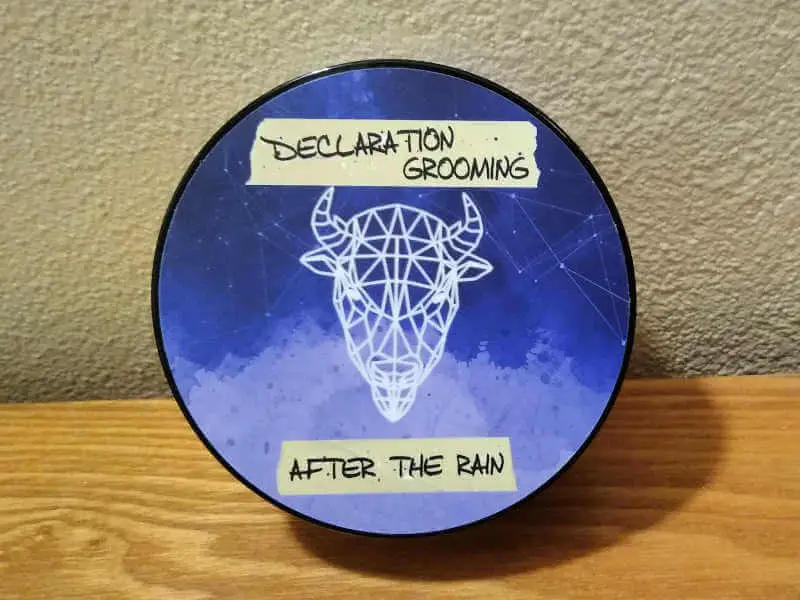 Declaration Grooming recently updated their shave soap base and it's getting rave reviews.  I picked some up to try.
Declaration Grooming After The Rain ("Milksteak" Base)
From Declaration's website:
"Milksteak is my tongue-in-cheek name for the culmination of all of my soapcrafting experience to date. While the name may be whimsical, it was an incredibly difficult decision to deprecate Bison and Icarus – one I would not make without full confidence that I was releasing not only the best soap base I have ever developed, but one of the finest soap bases ever created.
Over three years of customer feedback, research, theorycrafting and, of course, love, went into this soap base. I focused on ease of use (softer than Icarus), slickness, and post-shave – all the hallmarks of a great soap."
Regarding After The Rain specifically:
"After the Rain was the second scent we ever released and is very near to our hearts. Like a walk through a forest after a spring shower with notes of wet pine, muted lavender, cedar, and white pepper."
Ingredients: Stearic Acid, Water, Castor Oil, Potassium Hydroxide, Vegetable Glycerin, Bison Tallow, Mango Butter, Avocado Oil, Shea Butter, Sodium Hydroxide, Lanolin, Bentonite Clay, Yogurt, Buttermilk, Egg Whites, Coconut Milk, Goat's Milk, Tocopheryl Acetate, Maltodextrin, Milk Protein, Salix Alba L. (White Willow) Bark Extract,  Arctium lappa (Burdock) Root Extract, Hippophae Rhamnoides (Sea Buckthorn) Fruit Extract, Vitis Vinifera (Grape) Seed Extract, Silk Amino Acids
My Experience With Declaration Grooming After The Rain
My (admittedly dull) nose picks up mostly water and pepper notes, almost effervescent in character.  It's kind of a scented carbonated water vibe to me.  Unusual but not unpleasant at all.
Lathering is easy: although somewhat "thirsty" (though not as much as some other artisan soaps) after I got the hang of hydration I get a fairly thick, almost yogurt-like lather.  The ingredient list mentions Bentonite clay and Lanolin. My skin is somewhat sensitive to both but the concentration must not be too high for me because I have not experienced irritation from the lather.  The scent softens considerably when lathered on my face but it's noticeable and fairly persistent throughout my shave.
I think that while the "Milksteak" ingredient base may not be as revolutionary as some have made it out to be, it is a noticeable upgrade over the already excellent "Icarus" ingredient base.  Shave performance of After The Rain is what I have come to expect from Declaration Grooming shave soaps: that is, comfortable, close shaves without drama with my regular razor and blade preferences.
While I think you'll still need a good aftershave balm, post-shave skin moisturization is very good.
Conclusion
[Note: West Coast Shaving links are affiliate.]
Some reviewers have mentioned how exceptionally "slick" the lather is on their skin but I don't think I would characterize it as much better than the previous Declaration Grooming's already excellent "Icarus" formulation.  Maybe it's my "hard" water.  But don't get me wrong: both cushion and lubrication are among the "top shelf" artisans.
Declaration Grooming shave products are available at their website, Maggard Razors, West Coast Shaving, and others.
Have you tried Declaration Grooming shave soaps?  What do you think of it?  Leave a rating and comment below!