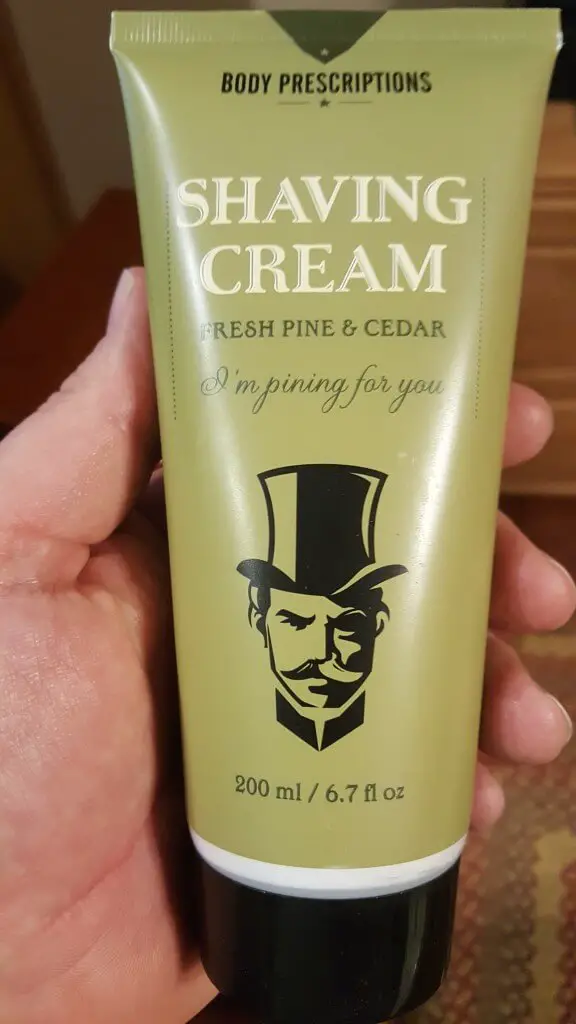 One thing you have to know about me, and if you've been reading any of my articles you've probably already noticed, is that I love trying new stuff. As long as it's something I'm interested in, of course. A new way to make Brussel sprouts not taste like green, leafy balls of pure yuck? I'll pass. But a new shaving cream or aftershave? I'm all over that like stink on Brussel sprouts! What this means is that I don't always take the time to research a new or new to me product, I'll just dive in. The good news for you, Sharpologist reader, is that you can learn from my trial and error way of sampling the products of the shaving world. It's called: Deal or Dud?

I was walking through Marshall's department store and came across a brand of shaving cream that I'd never heard or seen of.
From "Body Prescriptions", it's titled "Shaving Cream."


(ingredients: water, stearic acid, palmitic acid, glycerin, glyceryl stearate, PEG-100 stearate, PEG-14M, sodium hydroxide, fragrance, allantoin, DMDM hydantoin, methylparaben) It's says it's fresh pine and cedar scented with "I'm pining for you" underneath. That's pretty punny. It was on clearance for $3.99 for a 200ml/6.7 fl. oz. tube. For that price, I had to give it a shot!

The directions on the back were pretty straightforward. Basically use your hand or a brush to create a rich lather. I did all of that, using a synthetic brush…and that's where this shaving cream failed miserably. "Rich lather" it did not produce. It did produce runny, thin lather with a pine soap smell. I tried again without a brush this time. I wet my face, put some in my hands, rubbed together, massaged onto my 3-day growth…and the result was the same. I decided to see that maybe if the shaving part of the title was correct, since the cream part really wasn't. I used my Slim Adjustable with a new Astra Platinum blade and I have to say it provided barely decent slickness and about the same level of cushion. And after the first pass, I had to completely re-apply the cream to my face, with the same result. When I was done with a four pass, I ended up with a decent shave with no residual smell either or fresh pine or cedar. It didn't dry my face out and I didn't break out, so I guess that's a good thing.
Being a glutton for punishment, but really telling myself I didn't want to think I was slam this product without one more try, I decided a week later to try it again. No different results. As I'm having one of the most uninspiring shaves I've had in recent memory, I'm wondering how mayonnaise would compare. Or butter. Basically anything but this cream. Because it couldn't do the one thing it promised it could do: make lather.
Then, I went to the internet. Wow. I am right on the mark about this product. "Stinker of the Week," "not enjoyable to use," "brushless non-lathering" and my favorite: "crap cream."
One thing I can be happy about is that I only plunked down $3.99 (plus tax) for this tube of stuff. I've seen it on eBay for $12.95 and $14.95 and on the big online site for $12.00. No matter the price, you can find very good shaving creams for not too much dough. Check out my article from November for some examples.
In the end, I will have to say that Body Prescriptions…is a DUD!