Ah, Las Vegas.  To some it's a den of sin.  To others, a playground.  For the wife and me it's romantic.  We were married there–no, not at some cheap drive-through chapel, but in a gondola on a (faux) canal at the Venetian hotel.  We try to make it back there once a year or so: we enjoy the food, the shows, and the (modest by most standards) gaming.  I also try to get a barber shave while we're there.  In the past I have gotten shaves at The Art of Shaving (at Mandalay Place), the Mirage spa (by the Master Barber formerly of Truefitt and Hill), and at the Wynn resort.  This time I had a somewhat surprising shave experience at Canyon Ranch Spa in the Palazzo resort.

The Canyon Ranch Barber Spa
The Venetian and Palazzo resorts are sister properties joined to one another.  Canyon Ranch serves both properties but the barber suite is located at Palazzo.  I inquired about the skill and experience of the barbers and I was told that there were two Master Barbers who did shaves.
I was assigned to Peter, a middle-aged South Korean.  We chatted for a few minutes, talking about his background (he's a second generation barber and has worked at Canyon Ranch since just after it opened at Palazzo in 2006), my expectations for the shave (I didn't tell him about Sharpologist, only that I shave with traditional kit and I've had a number of barber shaves in the past), and what products he uses for the shave (the Canyon Ranch Barber Spa uses products from The Gentlemens Refinery.  It's a good, solid line).  Then he began.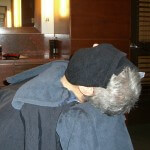 First up were the ubiquitous hot towels (the temperature of which Peter expertly gauged).  And the first surprise of the experience: Peter put on the first towel briefly, then removed it and applied pre-shave oil not only on my beard but also over the rest of my face before applying a second hot towel.  I thought to myself "what the…?" but after a minute or so he removed the towel and gave me a vigorous full-face massage.  Then another hot towel.  By the time he was finished with the prep my wife said my entire face was beet-red.
Next up was the shaving cream application, another surprise.  Rather than the standard mix from the hot lather machine (I think it was a Lather King) he had it loaded with Gentlemens Refinery shave cream.  I've heard of people using traditional shaving cream in a lather machine but it usually requires some modifications.  Anyway, Peter applied a thin layer of cream on my beard area (less "creamy" and more "foamy" of a consistency, compared to other barber lathers I've had.  I think it would be "creamier" if used straight out of the jar with a brush) then re-applied cream to the areas he was shaving as he progressed.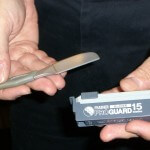 Next surprise: Peter used a non-folding, eastern-style ("Kamisori") razor (it looked similar to a Feather SS but not the Feather brand) with Feather Pro Guard blades.  I expressed my surprise to Peter and he said he learned with a non-folding razor and western-style folding razors "feel weird" to him so he sticks with the non-folding variety.  His shave technique was unlike anything I've experienced: he took very short, very quick, very light strokes.  The lightness of Peter's blade work was amazing: imagine a moth flapping its wings on your skin.
After the first pass more towels, oil, and cream, then onto the second pass.  Once again he used incredibly short, quick, light strokes.  After the second pass yet another hot towel to clear off lather residue then some aftershave balm.  He used the balm's lubrication for a couple touch-ups, then re-applied to those areas.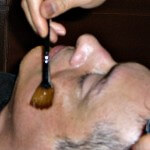 Peter then applied an under-eye treatment with a makeup brush and something he called a "cooling face mask" to the rest of my face.  The face mask is a Gentlemens Refinery product that is not generally available–it's in limited distribution to barbers–but should be soon (in wasn't on their website but I did find an example of it on Amazon).  Finally an ice-cold towel to remove the mask, followed by an additional moisturizer (due to the exceptionally dry air of that area it was a welcome addition).
All in all it took about 45 minutes for the experience.  The result?  With the exception of one small rough patch under my chin (that I sometimes miss myself), it was "baby's butt smooth" and no irritation whatsoever.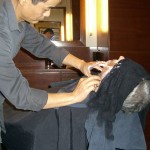 At $80 this was the most expensive barber shave I've had.  But it also included a full-face treatment and to tell you the truth, I think the experience was worth the price.  As a pampering luxury experience I'm glad I did it.  If that price concerns you remember this is the Las Vegas "Strip" and I suppose the shave could be "comped" if your gaming habits warranted it.  For the record I paid for the service…and I'd probably do it again on another trip.  It wasn't the leisurely-paced, luxurious shave I've had at other barbers but it was fascinating to watch a true "master" at work.  The "after" picture below doesn't do it justice.