The resurgence of traditional wet shaving is directly involved in the creation of dozens of new razor makers who have become popular with this growing industry.  I was pleasantly surprised to see the debut of the King C. Gillette (KCG) double edge safety razor when shopping at my local Walgreens store.
The opportunity for Americans to purchase new double edge safety razor by Gillette in a brick and mortar setting is something many wet shavers had only heard stories about.  For myself it was a great experience seeing them on a store shelf.
About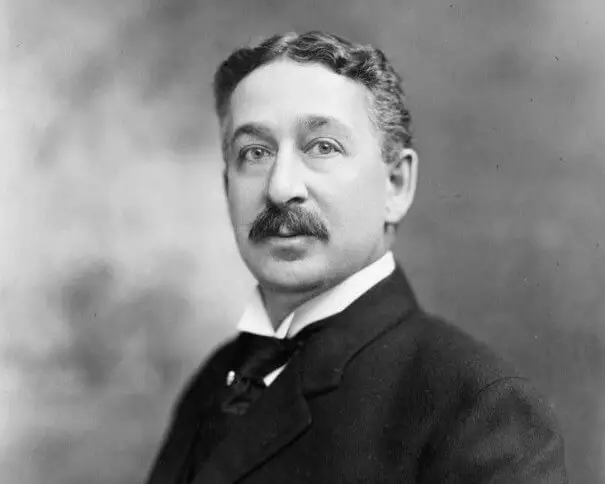 The Gillette company goes back to the late 1800's when King C. Gillette, a traveling salesman/inventory/author was on the road and found that his shaving razor (Kampfe Bros) needed to be honed. He thought of a razor that would never be honed and how much time and hassle it would save by never having to hone a razor again.
The popularity of Gillette's new razor skyrocketed in the next few months and the rest you can say is history. Gillette continued to make safety razors for the US market until 1988 where they decided to stop US production and sales to focus on new more popular models. 
(*Note: Gillette has never stopped making Double Edge Safety razors.  Although they did shut down US manufacturing and sales to the American market, they continued to make Double Edge razors for other countries)
It was not until the end of 2019 with the release of the Heritage Razor that Gillette sold a new safety razor for the USA.  Only available via Amazon, this puzzled consumers as there was no information available on Gillette's website and had many wondering if this razor was indeed a legitimate addition to the Gillette family.
The Heritage razor sold out in a few days and made available again shortly after. The popularity sparked the interests of consumers and created a lot of excitement in the wet shaving community.
In May of 2020, Gillette released the King C Gillette line to be sold exclusively in Walgreens drug stores in the USA.  These new products include a new DE razor and blades as well as new shave gel, beard oil and beard clipper. Advertised as products that can assist with edging/beard trimming the KCG line has been extremely popular in the wet shaving world, especially the new Double Edge safety razor.
While the KCG line consists of several products, for this review I will be focusing on the double edge razor for both head and face shaving.
Interview
I contacted KCG corporate office and was able to ask a few questions to the Shave Care Communications Manager for Gillette.  Here is what she had to say had to say:
1.  What inspired the new line?  Is it due to the resurgence of traditional wet shaving?
The King C. Gillette product line was designed with the grooming needs of the 60% of men who choose to wear some kind of facial hair style in mind. Whether that be a mustache, full beard or something in between, King C. Gillette has the products and tools to meet their needs, including a shave & edging razor, the double edge razor, a trimmer, transparent shave gel, beard & face wash, beard oil and beard balm. It was inspired by our more 115 years of innovation and grooming experience and bears the name of founder, King Camp Gillette. Just like our founder gave men the option to achieve the look they want from the comfort of their home with the double edge razor, we're doing the same with this product line to give men the tools and beard care products they need to help perfect their unique look and enhance their personal grooming ritual.
2. Did the Gillette Heritage Razor that just debuted over the holidays prove that P & G should enter the double edge razor market again?
Like all of our product launches, King C. Gillette was supported by years of research and development. We were thrilled to see the enthusiasm for the Heritage Razor last year and are glad to be offering another double edge razor for those men who prefer that style of razor.
3. Will there be special releases (EX quarter 4 before the holidays) like in years past?
We don't disclose details of future plans.
4. How many prototypes did P&G go through to build the razor?  was there a test market?
Across the P&G business we have rigorous testing processes in place. Every step of the way in the development of a new products, tests are carried out both internally, and then at a later stage with consumers. We use the feedback gathered to tweak and optimize formulations and designs to meet the highest of standards.
 5. Any interesting photos regarding the production?
Unfortunately, nothing I can share as this is not information, we typically make available.
It seems to me as if KCG made this product in secret and although they cannot share much information, I appreciate the time they took to get back to me.
The Razor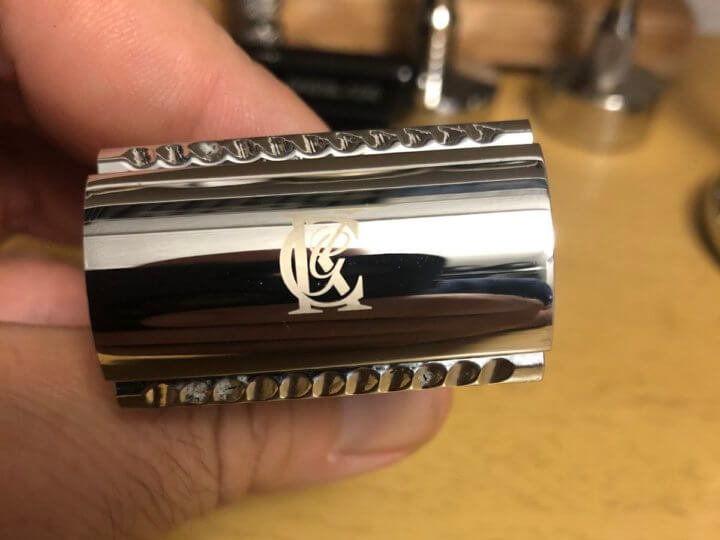 The packaging is basic with no frills or fancy lined box. It carries the KCG name well and I feel gets the job done. Advertised as chrome plated, the razor is highly polished throughout.
The knurling on the handle is only on the mid part of the handle leaving the rest of the razor smooth which looks like it may cause a problem with grip, but it looks cool.
A solid piece at 104 grams, the razor is actually one of the heaviest Gillette has ever produced. The handle is longer than most vintage pieces, but we saw Gillette progressively switch to longer handles when the black handle super adjustable debuted, offering the option.
For some reason I can picture this razor being featured in a 1960's Sci-Fi Magazine.  It has the look of a futuristic piece with some vintage flair.  Like "Bubble Cars" if that makes any sense. One final touch that I thought really set it off is the KCG initials etched into the top cap. It fits the vintage feel of the razor while keeping it tasteful.
Shave
*Disclaimer: This review is based upon the writer's experience and only his.  This razor was purchased at full retail from Walgreens. Always remember YMMV (Your Mileage May Vary
As we all know the most important part of any razor is performance.  Recently I took up head shaving again so I will be reviewing the razor separately for both head and face
KCG has a line of software available, but for the sake of this review I went with a traditional brush and soap setup as I feel most wet shavers reading this review will do the same.
The first pass shaving with the grain (WTG) I could feel how mild the razor is.  It's very forgiving and even appreciated a little pressure if so desired. This leads me to think this razor is really built for the masses (those new to wet shaving, and those who prefer to shave quickly) and not so much for the more experienced wet shaver.  It makes sense, as many may be starting out with this razor and let's face it, collectors alike are going to purchase it anyway.
Although the razor lacked knurling (grip) on the lower part I didn't feel it posed a problem.
The shave was smooth, efficient, and easy to maneuver.  Shaving against the grain (ATG) was quite simple and smooth. Little learning curve and all around a good shaver.
Head Shave
The face shave was very average and enjoyable. The head shave on the other hand is a different story.  I personally do not like aggressive razors when it comes to head shaving and I felt the KCG fit the bill perfectly.
It glided through stubble smoothly and was easy to switch from hand to hand and maneuver in those hard to reach areas such as behind the ears and lower neck. No irritation and I was able to complete two passes no problem. I didn't have to worry about the perfect angle (or else get cut) as this razor seemed to perform gently at any angle.
I found the head shave to be very enjoyable and will keep it in the rotation. For those of you starting to head shave I highly recommend it.  The only flaw would be the handle as a shorter handle is a little easier to maneuver around the head.
Conclusion
The KCG razor is great for the head shaver as it requires little attention and gets the job done safely.
In addition, please remember that YMMV and that this razor is not in competition with higher end counterparts that are priced 2, 3 or 10 times more.  It's designed for the entry level market and to provide wet shavers of today a chance to own a brand-new DE from Gillette.
All in all, I am thoroughly impressed with the KCG safety razor and blades.  At a price of $29.99, this razor is well built, well balanced and overall a great shaver for both beginners and more advanced wet shavers. Having the opportunity to purchase a brand-new Gillette safety razor in a brick and mortar store was legendary for me.  I felt as wet shavers felt in years past when purchasing a new Gillette razor and was full of excitement and fun!
Special thanks to:
Greg McCoy of P&G
Julia La Feldt of P&G
The countless wet shavers who made this razor a reality.
About the Author
Joe Borrelli is a long-time wet shaving enthusiast and collector.  He hosts the Wet Shaving News/Talk Podcast , runs his own self-funded website http://shavestraightandsafe.com/  and operates a YouTube channel to help inform the community of new information involving the wet shaving world. Joe holds a BBA from Florida Atlantic University, and currently works for the nation's largest wine/spirits/beer retailer. In his spare time, he enjoys spending time with his wife Linda & son Anthony, reading, writing, outdoor activities and collecting wet shaving apparel. Joe has also written several dozen articles for online publications such as Sharpologist and How to Grow a Mustache.  Find out more about Joe here.