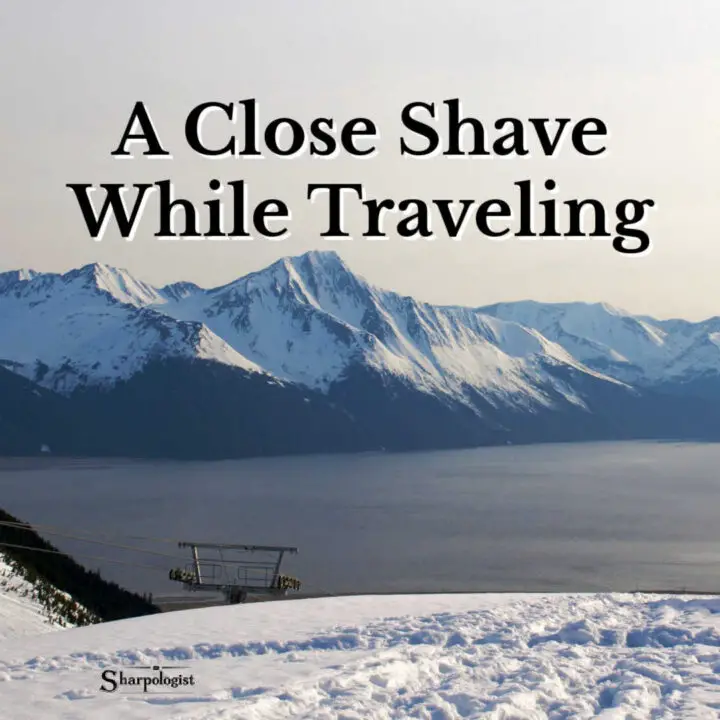 Packing for a normal trip for me is easy.  I can pack most of my hygiene needs into my small shaving kit and place it into my luggage and I rarely think about it. 
Under normal circumstances I grab my 1959 Gillette Fatboy, a packet of razor blades, a tub of shaving cream and the usual after shaves, eau de toilette, witch hazel, skin care products along with shampoo and body wash and other needs (it's funny as I type this out, I am beginning to think I have more beauty products than my lady does).  Once this is safely stowed away, I usually think about my electronic devices.  If I have any room left in the bag, I usually throw a few shirts and shorts into the bag to appease the females I am traveling with and I am done. But this trip was going to be different.  
Planning The Trip
[Ed. note: Amazon links are affiliate.)
Over the last year the family has been planning a trip to Alaska. It was decided there were two ways to get to our forty-ninth state: one was a three thousand mile drive each way trapped in a car with relatives for several days, or crossing international borders on sketchy roads or a six-hour flight on a plane.  
Even though I am not very keen on-air travel I couldn't come up with a better solution (or excuse not to).  One of the reasons for my apprehension was even though it had been several decades since I had flown on a plane I knew, thanks to tighter security, there were more restrictions on what you could carry on board with you.  I knew I could place the Fatboy and all the other items in my checked bag but since we would be living out of a suitcase and staying in cabins in remote areas of Alaska it might be a good idea to travel a bit lighter anyway.  So, I decided to come up with a minimalist, TSA-friendly shaving kit that would get me through ten days in Alaska.  
First, I began looking for alternatives to my usual normal size shampoo and body wash I usually carry in my lady's makeup kit. Since we were limited to one carry-on bag and one checked bag weighing less than fifty pounds, she was reconsidering her choices too.  I also had to remember regulations will only allow you to carry on 3.4 ounce containers of any liquid or gel products.  At this point I knew the trip was going to be a pain.
Lucky for me I remembered Stirling Soap Company sells solid shampoo and soap bars.  After checking the website, the hardest part was deciding which scent I wanted to get.  There are so many!  I chose the creamy coconut shampoo and soap.  One down.  
As for shaving supplies, I thought this would be easy.  I was going to throw my 1959 Fatboy, some blades, a brush, and my favorite shaving soap–DR Harris Windsor–into my bag along with the matching aftershave milk and Windsor Eau de Toilette.  "Oh wait", I thought to myself.  "I also will need a blade bank."  By this time the bag started filling up and this bag would have to be in checked luggage because of my good ole Fatboy.  My heart couldn't take it to see him confiscated.  As with all the excess clothes we were packing in these bags it would surely go over the fifty pound limit so I faced the fact:  It was going to have to be a cartridge razor.  
I am not too surprised at the quality of the products because Stirling makes great wet shaving products so it makes sense they would put in as much care and detail into their other products too.
For the cartridge razor I selected The BIC Comfort 3 Hybrid Men's Disposable Razor.  No real reason other than it was inexpensive and it was a razor I had never tried before.  Bic promised a "Close comfortable shave".  I figured since I was pretty much going to be grizzly bear bait on this trip anyway this razor would be "Good enough".
More About The Razor
The Comfort Hybrid, which is manufactured in Greece, met my expectations of being "good enough".  The thing that stood out the most about this razor for me was the sharpness of its multiple blades.  While any razor blade can give you a weeper this blade got me several times on various places of my face each time I shaved.  I have used my fair share of razors in my lifetime, but I have never been bit as many times with the "floating head" of a disposable razor blade as I have with this thing.  I think I could have achieved the same closeness of shave with the rusty lid from a tin can, but with less bloodletting.  Lucky for me one of the "essentials" I packed was my styptic pencil. 
Another thing I wasn't fond of was the slickness of this razor's handle.  The advertising for this product claims the handle has "Ergonomic Grip for Added Control".  What I discovered is how hard it was to shave with it under normal conditions.  Chances are if you are using a cartridge razor instead of a safety razor or a straight you will be using a shaving cream applied by hand like I was instead of a brush and bowl.  It was all I could do to hold on to this razor for the entire one pass shave.  Several times it slipped from my wet, slick hands and fell into the sink with a plastic "clink". Lucky for me it was a throw away razor instead of one of my double edge beauties.
I think I would also like to have a debate with the good people at Bic on their definition of the word "Comfortable".  Don't get me wrong. I wasn't expecting the spa-like feel of a safety razor shave.  I have had some pretty harsh shaves with the two-dollar gas station disposable razors you might have to use in a pinch, but none equaled the discomfort this razor gave me.  Every time I shaved the multiple bides on the disposable head felt like torture.  I envisioned running several guitar strings across my face or some kind of kitchen gadget.  This razor served the immediate purpose and reminded me why I switched to wet shaving in the first place.
The Rest Of The Kit
Thankfully I had much better luck with my choice of software. Originally, my shaving cream was going to be a small, travel size can of Barbasol you can find in any drug or big box store. But while surfing the web one day big social media showed me a Barbasol ad that changed my mind.  Barbasol now sells a small, 7.3 milliliter packets of their newish 1919 shaving cream that I knew in an instant would be perfect since it is small and individually packaged for an individual shave. (Picture a small packet the size of a wet nap).   I placed an order and Barbasol had them in my mailbox a few days later.  
Anyone who has already tried the newish 1919 formula knows about the slickness and the quality it offers and the scent is amazing too!
Add to these things a small deodorant stick from Duke Cannon and a travel size container of Every Man Jack Face lotion/post shave and I am in business.  My shave kit was never more ready and never lighter. Bring on air travel!
The Trip!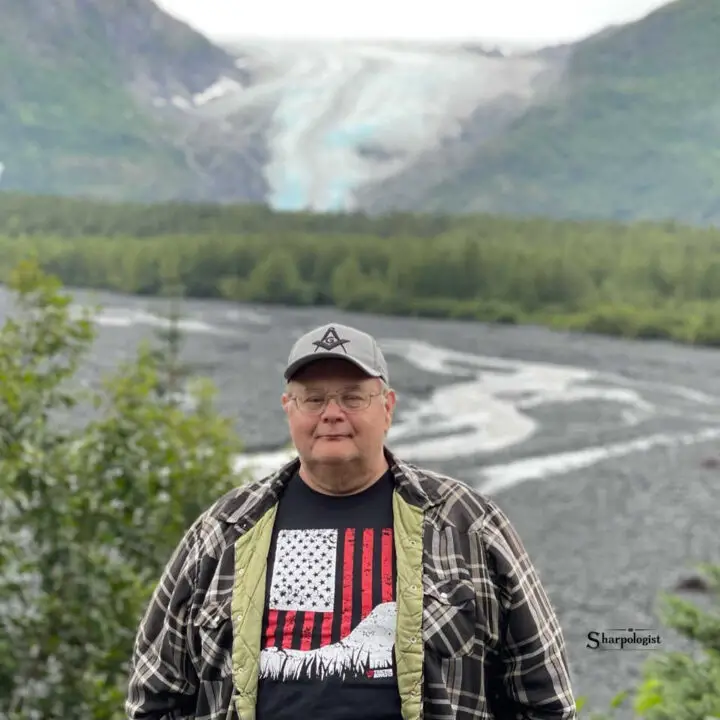 We arrived in Alaska and had a great vacation.  Ten days of seeing the sights of Seward's folly and enjoying the peace and quiet of the wilderness.  We will remember the memories we made and the experiences we had (Including bringing COVID-19 back with us as a souvenir but that is a story for another time and place.) My frontier shaving kit was a success!
My first use of a shampoo bar was amazing.  The scent of the creamy coconut was great, and the lather was outstanding, better than most traditional shampoos you can buy. My hair felt it had been washed at one of those fancy beauty parlors. It felt clean and shiny and no issues with flaking or dandruff. The bar of soap was great too. This produces a rich lather, like a soap you would find in a high-end hotel.  After drying with a towel my skin felt well hydrated.  The soap's coconut scent stayed with me most of the day.  I can see how these products would really pair well with Stirling's shaving products with this scent.  For a great feel and lasting scent all day long. 
 I am not too surprised at the quality of the products because Stirling makes great wet shaving products so it makes sense they would put in as much care and detail into their other products too.  I may actually start using these products in my day to day life.  The biggest issue will be picking my favorite scent from all the different scents they offer!
The Barbasol packets were the perfect choice for this endeavor.  Since they were small and flat, I was able to fit fifteen packets into the side pocket of my bag with no issue at all.  Anyone who has already tried the newish 1919 formula knows about the slickness and the quality it offers and the scent is amazing too! They were inexpensive too. 
Conclusion
While this configuration worked well for this excursion, I don't think I will be giving up on my old school Gillette when I travel in the car like I usually do but I did learn a few things.  One thing is air travel wasn't as bad as I remembered it to be all those years ago and if I need to fly again, with some tweaking I can come up with a suitable shave kit which I can use for a few days that will get the job done.  
Number two is check to see if your destination is a Covid hotspot before you buy your ticket.  
About The Author:
Bill is a freelance writer, currently living in Northwest Arkansas.  A native of Indiana Bill attended Indiana University at Fort Wayne majoring in Criminal Justice.  His works have been published in various publications about Freemasonry.  
When not writing Bill spends most of his day in his role as "Canine Concierge". Which means basically catering to the needs, wants and desires of an overly spoiled Yellow Lab named Happy. He tends to her desires which include when she wants food and water or to go outside or when she demands a treat (OH! The treats! If she is awake, she wants a treat!).  His other interests include wet shaving, vintage television, and radio shows. Mostly anything retro and Apple technology.
For more information about Bill and his writing you can visit his website at www.billhosler.com