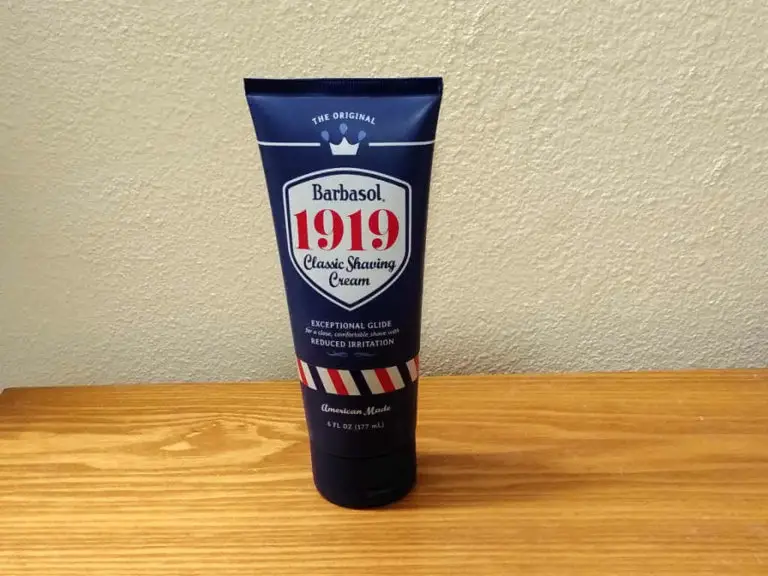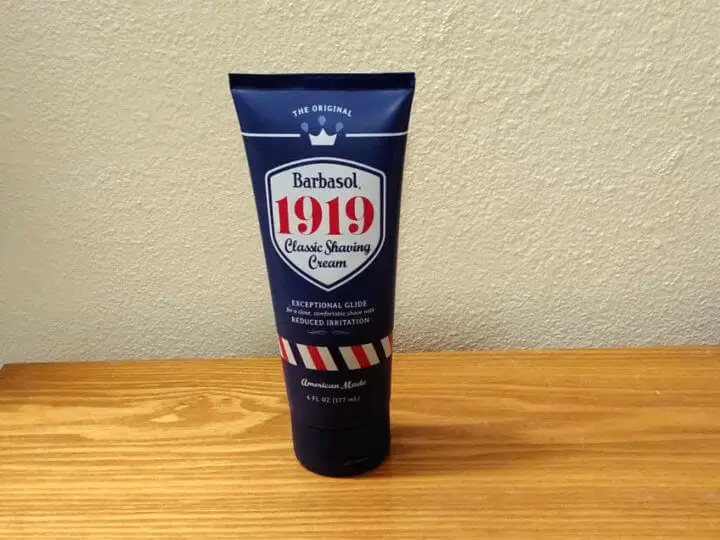 Barbasol, a classic brand that many wet shavers know but may not understand, recently launched a new brushless shave cream, Barbasol 1919 Classic Shaving Cream. I bought some to try.
Barbasol 1919 Classic Shaving Cream
From the Barbasol website:
"In 1919, Barbasol invented the very first no brush, no lather, no rub-in shaving cream. Today, we celebrate this milestone with a fresh take on THE ORIGINAL!
"Barbasol 1919 is the culmination of over 100 years of shaving excellence. Featuring improved visibility for a precise shave with a fresh, crisp fragrance of citrus and essential oils to soothe and awaken your senses, all backed by the Barbasol name you know and trust.
"Fragrance with notes of citrus and calming essential oils & herbs ensures a refreshing shave…"
Ingredients: Water (Aqua, Eau), Stearic Acid, Triethanolamine, Cetyl Alcohol, Beeswax, Cocos Nucifera (Coconut) Oil, Hydroxyethylcellulose, Butyrospermum Parkii (Shea) Butter, Aloe Barbadensis Leaf Extract, Phenoxyenthynol, Glycerin, Fragrance (Parfum).  Paraben and Phthalate Free.
My Experience With Barbasol 1919 Classic Shaving Cream
I've used Barbasol 1919 Classic Shaving Cream with a number of different razors, including single-blade and multi-blade models.
Although the web page referenced above says the cream has a citrus & herb scent, my (admittedly insensitive) nose gets a pleasant but mild, vaguely herbal (Verbena?) note from the tube.  The scent softens considerably when applied to my skin.
This is a brushless, low/no-lather product.  Per Barbasol's instructions:
"Wet face with hot wash cloth and massage a nickel-sized amount of shave cream onto wet skin to form a thin slick layer. Add water as needed and shave as normal, rinsing razor with hot water frequently. A little bit goes a long way!"
They ain't kiddin' when they say a little goes a long way.  The "nickel-sized" amount is actually probably generous: I can get by with less, depending on how I'm using it.
For a full, multi-pass shave with a single blade razor I find that a single application can last at least two passes: the first pass with the 'full application' then generously re-wetting the face to activate the cream's residue for the second pass (there's no visible lather by this time).  A light third pass might be possible but I don't tempt fate–I apply a peas-worth to very wet skin.
Using a modern multi-blade cartridge with Barbasol 1919 Classic Shaving Cream it's probably best to use less then the recommended amount to begin with.  The cartridges I used clogged much more easily if I used too much cream.
The no-lather application can be a positive or a negative depending on your shave conditions.  If you have some facial hair this would be good for lining up the beard.  But if you don't have facial hair it could be a little more difficult determining where the blade has been.
Lather preference and razor considerations aside, I think the shave performance of Barbasol 1919 Classic Shaving Cream is excellent.  Lubrication/glide is exceptional (especially for its class) and cushion/protection is excellent (particularly considering how little is used).  Post-shave moisturization is just average for me, though.
Conclusion
Over-all I think Barbasol 1919 Classic Shaving Cream is a surprisingly good (especially for the price) brushless shaving cream for the consumer, or even the wet shaving aficionado who may find themselves without a brush for some reason (such as traveling).  It is easily competitive with the best mass-market shave creams and can probably hold its own with many other "upgraded" products as well.
Right now Barbasol 1919 Classic Shaving Cream is available only on the Barbasol website, Wegmans grocery stores, and Amazon (affiliate link).
Have you tried Barbasol 1919 Classic Shaving Cream?  What do you think of it?  Leave a comment below!