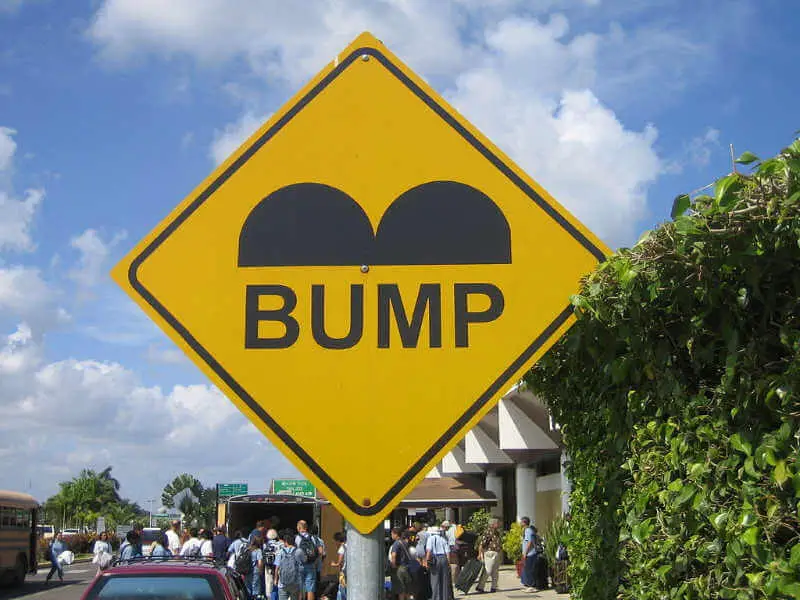 I recently wrote an article about the Gillette SkinGuard, a razor made specifically to address razor bumps.  I followed that up with another article with other strategies you can use to avoid razors bumps.  But what if you already one…or some?!  What can you do to get rid of them?  Here are six ways to treat razor bumps.
The medical term is Pseudofolliculitis barbae ("PFB").  It's essentially a particular type of ingrown hair and it's especially problematic for those whose hair is naturally coarse and curly, like men of color.  PFB can be unpleasant but if left untreated over time it can cause permanent scarring.
The best way to treat razor bumps is to prevent them in the first place.  But if you do get them there are a number of things you can do to deal with them effectively.
(It's important to note that razor bumps may not be caused by PFB: there is also a condition called folliculitis barbae, caused by a bacterial or a viral infection. If you have any concerns regarding ingrown hairs a prudent course would be to consult a medical professional.)
Razor Bump Treatments
What if you already have a razor bump?  You may not be able to get rid of it instantly, but there are several things you can try to shorten the recovery time and minimize the damage.  The main idea is to reduce inflammation and get the hair that has curled back into the skin to re-emerge into the air.
(Amazon links are affiliate.)
Treatment #1 – A Hot Compress
A washcloth or small towel saturated with (comfortably) hot water pressed against the area can temporarily open up the pores and allow the curled hair to exit.
Treatment #2 – Physical Exfoliation – A Specialty Brush
Gentle physical exfoliation of the area is designed to buff away dead skin cells and gently pull a curled hair up off the skin.  There are a number of brushes specifically made for this:
The Wizker brush is relatively new to the market (2015).  Its "micro bristles tease newly shaved hair and lift trapped hair from the skin."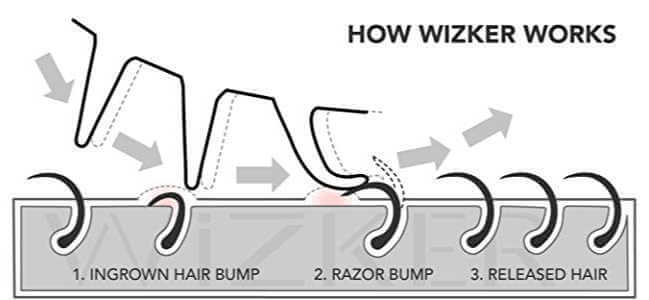 A similar product is the Dylonic exfoliating brush.  Mrs. Mantic59 swears by this brush for use on the occasional shave bump on her legs but it's small enough for a man to use on his face as well.
Looking for a DIY solution?  Rub a clean, dry, hard-bristle toothbrush on the area for 30 seconds twice a day (around Noon and just before bedtime works well for many).  I've done this several times when I got a shave bump while traveling and it was the only thing at-hand.  It actually worked pretty well for me.
Treatment #3 – Over-The-Counter (OTC) Salicylic (Or Acetylsalicylic) Acid Products
Salicylic or Acetylsalicylic acid products are designed to reduce inflammation and, when combined with other ingredients, expose the ingrown hair to the air.
Tend Skin – Probably one of the best-known razor bump treatment products, Tend Skin is widely available and a lot of people swear by it, but I think it's high alcohol content can be particularly harsh to those with sensitive skin. Use sparingly and carefully.
Ingredients: Isopropyl Alcohol, Water, Propylene Glycol, Acetylsalicylic Acid, Cyclomethicone, Glycerin
Bump Patrol – Another widely available, popular consumer product that promises, like Tend Skin, results within 48 hours.  And like Tend Skin it's high alcohol content could be problematic to some, particularly over the long-term.
Ingredients: Isopropyl Alcohol, Ethanol, Acetylsalicylic Acid, Deionized Water (Aqua), Propylene Glycol, Glycerine, Carbomer, PEG-8, Chamomile, Chamomilla Recuita (Matricaria) Flower Extract and FD&C Blue No. 1 (CI 4290).
Jack Black Bump Fix – Although more expensive than other products, Jack Black Bump Fix, while still high-alcohol, may be a kinder, gentler solution with the addition of ingredients like Aloe Vera and green tea extract.
Ingredients: Water (Aqua), Alcohol Denat., Propylene Glycol, Salicylic Acid, Lactic Acid, Sodium Bicarbonate, Methyl Gluceth-20, Sodium Hyaluronate, Allantoin, Aloe Barbadensis (Aloe Vera) Leaf Juice, Hamamelis Virginiana (Witch Hazel) Extract, Camellia Oleifera (Green Tea) Leaf Extract, Chamomilla Recutita (Matricaria) Flower Extract, Epilobium Angustifolium (Willowherb) Extract, Galactoarabinan, Sodium Bisulfite, Sorbic Acid, Disodium EDTA
Anthony Ingrown Hair Treatment – Anthony's ingrown treatment product's distinguishing feature is its gel consistency.
Ingredients: Aqua (Water, Eau), SD Alcohol 40-B, Propylene Glycol, Glycolic Acid, Phytic Acid, Salicylic Acid, Epilobium Angustifolium Flower/Leaf/Stem Extract, Lavandula Angustifolia (Lavender) Oil, Saccharide Isomerate, Hydroxyethylcellulose, Ammonium Hydroxide, Tetrasodium EDTA, Citric Acid, Sodium Citrate, CI 42090 (Blue 1), CI 19140 (Yellow 5)
DIY alternative: make a paste made of a tablet of plain aspirin and a few drops of Witch Hazel, and apply to the area for ten minutes (rinse with cool water) to be useful in reducing inflammation.
Treatment #4 – Alternative OTC Products
There are other solutions that do not rely heavily on Salicylic or Acetylsalicylic acid and alcohol.
Grooming Lounge Shavior – I wrote an article about Shavior for Sharpologist a few years back: Do You Need The Shavior? I still use it for the occasional ingrown on my face.
Ingredients: Water, Glycolic Acid, Caprylic/Capric Triglyceride, Glycerin, Cetearyl Alcohol, Behentrimonium Methosulfate, Allantoin, Bisabolol, Retinyl Palmitate, Chamomilla Recutita (Matricaria) Flower Extract, Sodium Hydroxide, Fragrance, Phenoxyethanol, Ethylhexylglycerin.
Brickell Instant Relief Aftershave – Marketed as an all-in-one aftershave product instead of a specialty product, Brickell's Instant Relief does not contain alcohol.  Brickell says it helps prevent razor bumps but it also may not be as effective as other products here for treating existing bumps.
Ingredients: Aloe Barbadensis* (Aloe Leaf Juice), Calendula Officinalis* (Calendula Extract), Vaccinium Myrtillus* (Bilberry Fruit Extract), Saccharum Officinarum* (Sugar Cane Extract), Cocos Nucifera* (Coconut Oil), Emulsifying Wax, Glycerin, Lavandula Angustifolia* (Lavender), Acer Saccharinum* (Sugar Maple), Citrus Auranium Dulcis* (Orange Peel Extract), Citrus Medica Limonum* (Lemon Peel Extract), Methylsulfonylmethane (MSM), Dimethylaminoethanol (DMAE), Vaccinium Macrocarpon* (Cranberry Fruit Extract), Stearic Acid, Simmondsia Chinensis* (Jojoba Oil), Tocopherol (Vitamin E), Sodium Hyaluronate (Hyaluronic Acid), Lecithin, Xanthan Gum, Glycolic Acid, Tartaric Acid, Malic Acid.
Treatment #5 – A Face Mask
Edward Harrington (AKA "Mr. Cremo" on Cremo Road Trip events) suggests applying a facial mask as a spot treatment just on the bump area. Wait about ten minutes to let the mask harden then peel off.  I haven't had an opportunity to try this myself yet but I think it's a great idea!
Treatment #6 – The Last Resort
If all else fails you can try to (carefully!) "tease" the hair out with tweezers.  The idea is to expose the hair to the air. Never pluck out the hair.  Doing so is an invitation to further infection.
Have you found a product or technique particularly effective at treating your ingrown hairs or razor bumps?  Share it in a comment below!