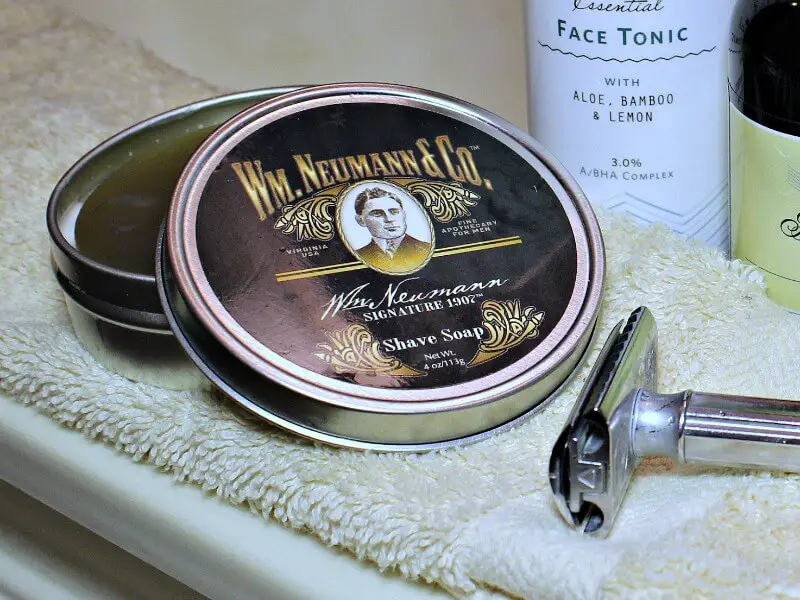 William Neumann & Co. shave soap tries to recapture that "old time" shaving spirit.  Its story is one of family bonds and unfinished business.
As Bill Neumann II tells the story,
"…my Great-Grandfather was a pharmacist during the early 1900's. As a pharmacist during the turn-of-the-century, he took detailed notes and filled several journals with his formulas and aspirations for his business. He had a truly remarkable vision, but unfortunately he was never able to fully complete it, as he passed away unexpectedly when his son, Wilford (My Grandfather), was just a young boy. Wilford understood the importance of keeping his father's legacy alive, and maintained his father's notes and records to be passed on to future generations."
Bill continues:
"Reading through William's formulary notebooks and journals, we learned that beyond traditional pharmacy, he had a deep passion for developing fragrances and the finest grooming products for men. He developed several "prescription" fragrances for prominent gentlemen whom frequented his drugstore, and was dedicated to using only the finest ingredients in his preparations. He maintained an unwavering commitment to providing only the finest quality products and services.
"Our passion is to continue his vision and legacy in his honor. Using his formulary notes, we have re-introduced some of his favorite fragrance formulas. My sons and I are excited to bring back his hard work and dreams."
Neumann currently formulates various grooming products including bar soaps, hand & body lotions, shampoos, pre- and post-shave products, and of course shaving soaps.  All these products are available in a variety of "classic" scents such as Bay Rum and Peppermint Clove, with some additional "signature" scents.  I've been using a shaving soap with one of their "signature" scents, 1907.  The scent is described as
…Plum and Apple Brandy combined with Cinnamon and Caribbean Spices, Vanilla, Juniper, Cardamom, Labdanum, Cedar, and Sandalwood.
It's hard for me to pick out specific notes.  But to me the cologne-like scent evokes impressions of what a gentleman might smell like around the turn of the century.
But How Well Does It Work?
Scent aside, the shave soap performs pretty well.  It's a bit picky about the right amount of water during the lathering process though.  Treating it like Mitchell's Wool Fat, by soaking the puck and starting with a slightly-drier-than-normal brush, seems to help with the hard water I have.  I also think it provides perhaps a bit less cushion than similarly formulated shave soaps I've used.  But on the other hand it has excellent lubrication!  If you are comfortable with your shave kit and reasonably careful with your technique, you will get a very close shave.
Ingredients include: Coconut, Palm, and Safflower Oils;  Oat Straw, Marshmallow Root, and Chickweed; Kosher Vegetable Glycerin and Sorbitol; Soybean & Wheat Proteins; Slippery Elm Bark and Bentonite Clay; Green Tea and Blue-Green Algae; Nettle, Milk Thistle, and Black Willow Bark.