Why pay $200 for a silvertip badger brush when a $10 synthetic does a fine job?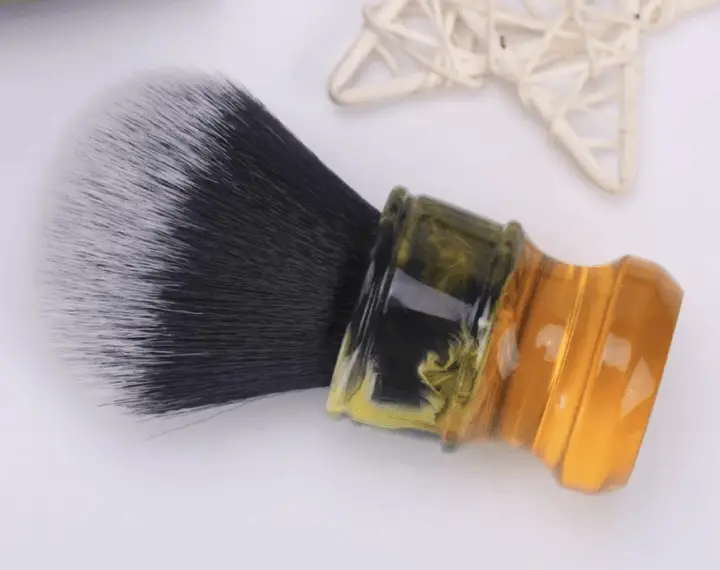 Why do some brushes sell for $200 when a $20 brush can do the job quite well? The reasons people buy luxury items are complex, and I'll set out a few in this article. 
A Recent Email
[Editor's note: Aliexpress and Amazon links are Sharpologist affiliate.]
I recently received this email from a reader [with my comments added]:
I recently purchased a Yaqi Sagrada Familia shaving brush. [Like the one in the photo above – LG]
I used it for the first time this morning and followed their instructions just to shake the brush once. [My own experience has been that synthetics tend to harbor more water than natural-bristle brushes, and if the excess water is not shaken out of the brush, it will flood the puck when you begin to load, making loading difficult. For that reason, I shake a synthetic two or three times — I can always add a little water if needed. But I have not yet tried that particular brush. Synthetic knots do vary somewhat. – LG]
Got a fantastic lather from the l'Occitane shaving soap. [He had mentioned previously that he had trouble getting a good lather from this soap using a badger brush. I have in the past experienced the same difficulty with that soap (and a badger brush), and my workaround was to make a superlather using Cade shaving cream along with the soap. I should note that he also commented on the soap's unusual efficacy, comparable, he said, to that of J.M. Fraser shaving cream. It's interesting that Barrister & Mann specifically recommend using a synthetic knot with their Reserve line of shaving soaps; perhaps l'Occitane should make the same recommendation for Cade. I'll certainly give it a try. – LG]
I paid CAD 24 for this brush, and so far it performs better than any other "natural " brushes 
In light of this…why would anyone spend upwards of $200 / $300 for a badger silvertip brush?!
In the past I  purchased a couple of Yaqi shaving brushes, and they did seem quite good to me, though the knot was somewhat larger than I prefer, so I passed them along. Yaqi brushes generally are 24mm, 26mm, or even 28mm. (I did just find a couple in 22mm, my preferred size.)
Why People Buy Luxury Items
In some cases, a luxury item is simply better in terms of materials, construction, performance, and endurance — clothing, shoes, furniture, and tools often follow that rule. And the better materials and better workmanship inevitably cost more than inferior materials and workmanship. The price must cover those costs.
In other cases, the luxury item is inferior in performance and endurance, but has interesting construction/workmanship/backstory. For example, the stainless-steel Casio G-Shock Atomic Solar Watch keeps perfect time (automatically synchronizing with the atomic clock standard), displays time, date, and day of week, requires no batteries, and is strongly resistant to damage — and it costs $95 because it is made using industrial manufacturing methods rather than painstaking handwork by a skilled artisan. 
Compare that with a Patek Phillipe watch at $50,160. In addition to the information the Casio displays, the Patek Phillipe watch also shows the phases of the moon —  but the watch is much more fragile, cannot be so accurate, and has a display not so readily read. Just in terms of performance capability, paying more than $50,000 additional to get the phases of the moon seems a bit much.
But what is purchased in this instance is not so much the display of the moon's phases as the display of one's wealth. The watch serves much the same function as a peacock's tail: a visible and extravagant display that demonstrates strength, health, and fitness — in the case of the peacock, physical strength, health, and fitness; in the case of the man, financial strength, health, and fitness. In both cases the display is part of a competition with others (peacocks or men) for the attention of potential mates (peahens, for peacocks).
Related post: Everything You Wanted to Know About Luxury Watches (But Were Afraid to Ask)
Of course, some men might find great pleasure in the intricacies and workmanship of such a watch and rather than wearing it for display would enjoy wearing it only in private. A watch such as this Patek Philippe Grand Complications Perpetual Calendar Watch ($300,595) is a fascinating product of tradition and skilled craftsmen. Robert Louis Stevenson has a wonderful essay "The Lantern Bearers" that describes the pure love that blooms only privately as a quiet and secret version of pride of ownership.
And it must be considered that the value of money is not a constant but depends on circumstances, so a price that seems high to one can be negligible to another. The value of a fungible item (and money is the most fungible of all things) dwindles the more of the item one possesses. For me, $10,000 is a substantial amount, but for Jeff Bezos that amount is indiscernibly small — if his fortune (currently US$196 billion, give or take a billion or so) were to diminish by $10,000, he literally could not tell. $10,000 is a fleck of dust on his mountain of money.
People of such wealth create an opportunity for some artisans to build (and sell) their dream projects — thus the Patek Phillippe watches cited above (and others of that ilk) and other high-cost high-quality goods such as automobiles, houses, and the like. Still, the peacock function cannot be denied — see Thorsten Veblen's "The Theory of the Leisure Class" (available as a Kindle edition) and its discussion of conspicuous consumption. Scarce products that serve as a display to signal wealth are in fact called "Veblen goods." For those products, an increase in price creates an increase in demand.
Cultural Inertia
In the specific case of costly badger brushes, I think another factor comes into play: cultural inertia caused by the reluctance most exhibit toward trying something new (thus the idea behind the saying, "Better the devil you know"). 
Here's an example of cultural inertia that shows the difficulty of making a cultural change: A doctor found that washing one's hands after working on a cadaver before delivering a baby resulted in a significant reduction in the number of deaths from puerperal fever in the new mothers. But even though that fact was clear and demonstrable, it took a generation before the practice of washing hands before delivering babies and doing surgery became common: an entire generation of doctors — those who began their practice without handwashing and refused to change their methods — had to pass from the scene and be replaced by younger doctors who from the outset were taught to wash hands before working with patients. (That doctor who first urged his colleagues to wash their hands lost his job as a result.)
As a less extreme level, consider how World War I's circumstances and demands overcame prior stable practice and produced cultural change.  The war led to wider acceptance of several innovations that previously had met some resistance: wrist watches (previously thought effeminate), the double-edge safety razor (Gillette secured a contract to deliver Gillette shaving kits to US Army soldiers), and tobacco companies provided cigarettes with soldiers' rations. While some already used the products, the wartime push meant many more were introduced to them and saw them in common use around them (as a cultural norm in that context). While cultural inertia makes it difficult to bring about a cultural change, it also means that a change once made will tend to persist.
Once a new cultural norm is established, the usual response from the market will ensure a steady stream of products to maintain the momentum, and most people become reluctant to abandon the (new) current common practice. Many readers have doubtless observed this reluctance when trying to convince friends to set aside cartridge razors and canned foam and try true lather and a double-edge safety razor. True lather and a DE razor are no longer riding the wave of cultural inertia and no longer are the cultural norm, so many men will simply not understand why they should try them and will resist a change. Their view is "What I'm doing now is fine. Why should I try something different?" (and see the question as rhetorical).
Conclusion
So for some men, the fact that badger brushes were once the best is a sufficient reason to continue to consider badger brushes as still the best. It helps that silvertip badger brushes have a more interesting story and tradition and are not so common as synthetic brushes — all that adds to their appeal. Badger brushes have a scarcity factor that does not apply to brushes mass-produced by modern manufacturing methods. And, as noted, for some men the cost of the brush is simply not an issue, and a higher price seems to promise higher quality of performance (rather than reflecting merely the cost of materials and manufacture) plus, if the price is high enough, it carries cachet and the brush becomes a Veblen good.