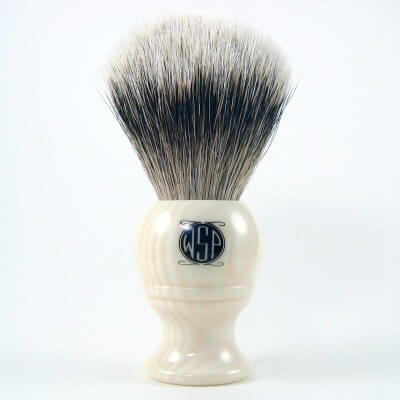 Last month Lee from Wet Shave Products emailed me to announce his line line of badger hair shaving brushes. WSP is very new, having been around since only October, but it's making a bit of splash on some of the shaving discussion forums with interesting designs and good prices.
I've always been a little cynical when it comes to new shaving brush artisans: they tend to concentrate on the handles and pay less attention to the "business end" of a shaving brush, the hair. I have tried brushes that shed like one of my cats, stunk like a skunk, or otherwise just didn't perform as they should. So I wasn't particularly excited (or even very interested) in trying another one. But Lee kept after me to give one of his brushes a shot, and after seeing a couple more positive reviews on the forums I gave in and had him pick one out for me.
I got a brush that I thought would be a "disappointment," in that I thought there was no way such a brush could be sold for the price it was: WSP's Monarch "Super Silvertip (High Mountain White)." It's loft is 53mm with a 23mm knot so I consider it an "average" size, not too big nor too small. The price is far less than comparably-spec'd brushes so I was naturally skeptical.
But when I tried it I was shocked. Since its first use there hasn't been a trace of "funk." With continued use (and I admit I'm rough on brushes) not one hair has come out. The hair quality is really excellent (comparable to high-end Simpsons and Shavemac's I have) with good "packing" of the knot. And the brush's performance has been nothing less than excellent. The brush's shape is a "bulb" style and though I prefer flatter, "fan" style shape I find myself really liking this brush. Wow.
This is one new artisan I can get behind.