I, like many of you wet shavers, am always on the lookout for new products to try. From scents to razors to brushes, I'm a sucker for new. That's why I was pretty excited when a representative from the Wet Shave Club (WSC) contacted me about getting a few boxes and writing a review of their products and services. I have to admit that while I try to hit every single shaving website on the internet, I hadn't come across this one. So of course I checked it out.

It's $29.99 a month for a box of shave goodies, with free shipping. The lineup of past boxes' contents looked impressive as did their stats they display right on the website. More than 11,700 members and more than 30,000 boxes delivered. I said that I would be happy to get a couple of boxes, sample the products and let Sharpologist's readers know my thoughts. Here they are!
The First Box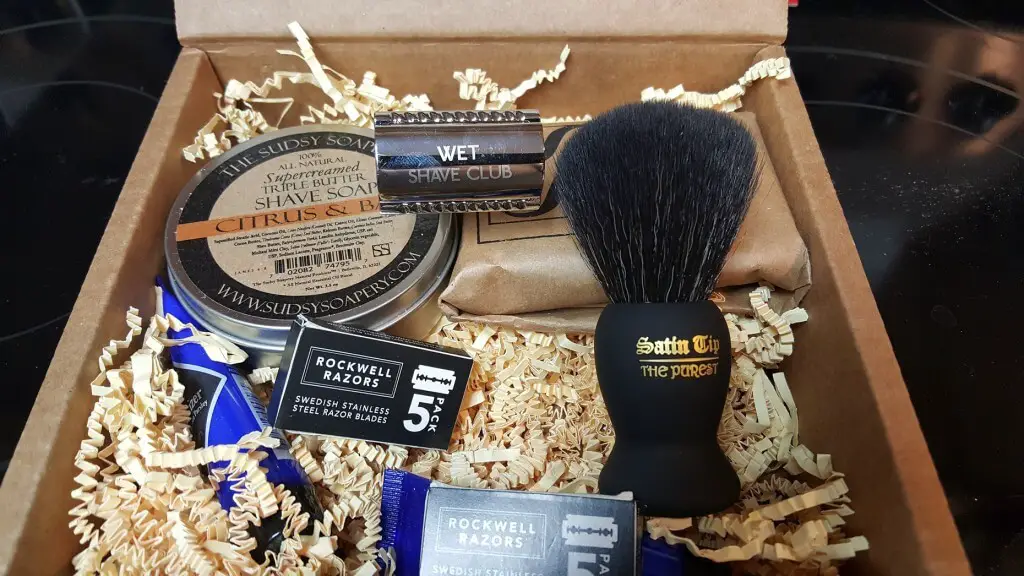 While I had read the description on the website about what's included in the first month's box, I was a bit shocked at all the goodies. It included one of the softest synthetic brushes I've ever used, a nice 3-piece safety razor, two packs of five blades from Rockwell Razors, shave butter, bath soap and samples of Jack Black facial cream and moisturizer. Of course I had to get my nose into the citrus and bay rum shaving butter that was in there. I'm always looking for a new bay rum shaving cream and this stuff definitely smelled awesome! The shave butter was from Sudsy Soapery (Ingredients: Saponified Stearic Acid, Coconut Oil, Cocos Nucifera (Coconut) Oil,  Castor Oil, Ricinus Communis (Castor) Seed Oil, Cocoa Butter, Theobroma Cocoa (Cocoa) Seed Butter, Kokum Butter, Garcinia Indica Seed Butter, Shea Butter, Butyrospermum Parkii, Lanolin Anhydrous, USP. with Multani Mitti Clay, Solum Fullonum (Fuller's Earth), Glycerin vegetable, USP, Sodium Lactate, Fragrance, Bentonite Clay)
It gave me a good shave, had pretty good slickness and had a great bay rum smell. The blades were high quality and the bath soap was a good chunk of sudsy goodness, also from the Sudsy Soapery. Overall, I was very impressed with the contents of the first box. The razor wasn't too aggressive and gave me a good 4-pass shave.
The WSC website lays out all that you can expect in your first box, which is designed to be your starter kit. I had checked out the site thoroughly before I had agreed to write a review and it had listed, with pics, what the previous month's boxes had contained. Would the second box meet my expectations?
The Second Box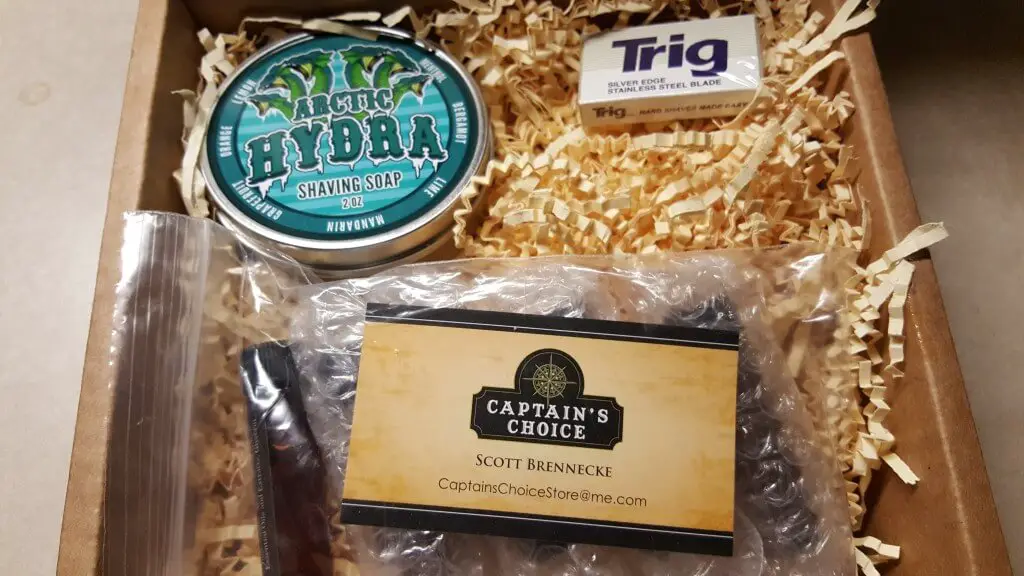 This is what I saw when I opened the second box, about a month later. I actually looked through the packing material thinking there had to be more hidden away.  Nope. It contained 2 oz. of shave soap, a 10-pack of blades and a 5-pack sample of aftershave. The Arctic Hydra was from Dr. John's Shaving Soap Company (ingredients: Stearic Acid, Water, Potassium Hydroxide, Shea Butter, Mango Butter, Avocado Oil, Castor Oil, Coconut Oil, Evening Primrose Oil, Meadowfoam Oil, Essential/Fragrance Oils). It lathered up nicely, produced full and slick lather. I've shaved with TRIG blades before and they're a good blade. Of course I love just about anything from Captain's Choice so that was a welcome addition to the box. While I was a bit disappointed that the contents of the 2nd month's box seemed a bit sparse, I did keep in mind that the goal of WSC was to give you enough for a month's worth of shaving.
The Third Box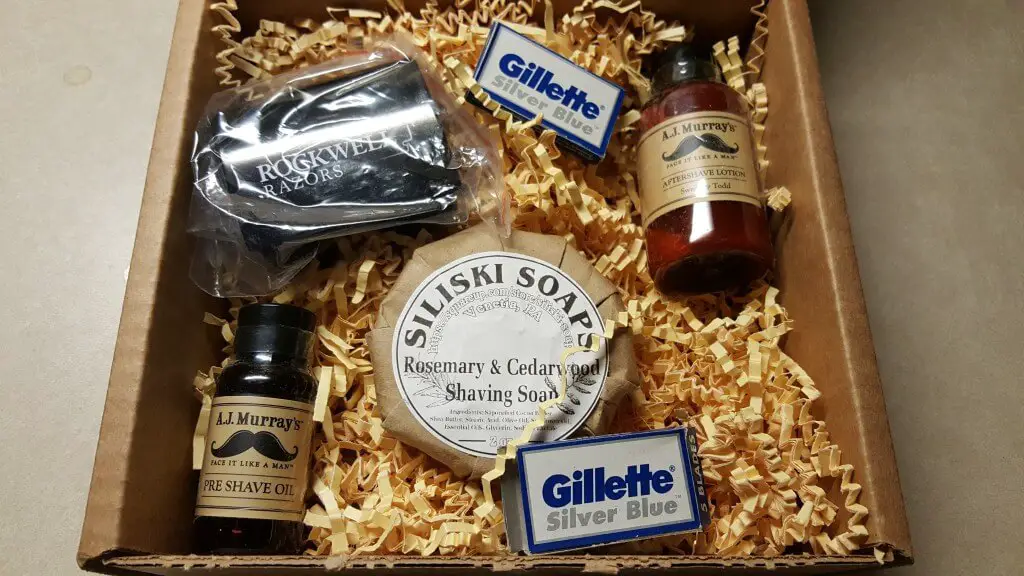 The third box definitely had more goodies in it. A puck of shave soap, two 5-packs of Gillette blades, a Rockwell Razor Bank, and pre-shave oil and aftershave. This box seemed more in line with what was depicted on the WSC website. A decent collection of different products. Maybe they forgot to throw in some aftershave on the 2nd box, who knows. Anyway, while the other soaps were actually more of a shave butter or croap, this was a hard puck of Rosemary and Cedarwood soap from Siliski's Soaps. (From their website: Our shaving soap is high in stearic and palmitic acid. Cocoa and shea are the backbone butters. Olive, sunflower, and castor oils provide a creamy, conditioning, and silky lather). It produced a pretty fair amount of slick lather after loading my brush for about a minute. I'm a fan of Gillette Silver Blue blades and combined, it gave me a very good shave with the WSC razor. The pre-shave oil and aftershave are from A.J. Murray's and while I'm not a pre-shave oil guy, I did try it and enjoyed the slickness and lubrication it gave my shave. The aftershave, called Sweeney Todd, has a great smell to it and I really enjoyed the way it left my skin feeling after my shave. As for the razor bank, I've actually been using Altoid containers for years and have been wanting to get a blade bank for a while, so this was a definite plus.
The Big Question
So, is the WSC worth the dough? I think it all comes down to what you expect for your money. If you're looking for a cheap way to add your shave den, this might not be the way to go. While each box does have shave soap, it's a smaller size, usually, of the product that you can buy on the individual company's website. Ditto with the aftershave and pre-shave oil. Each is a sample size. You'll go through the samples of each pretty quickly. If I'm looking to add to my shave den, I usually want the full size product. But if you view WSC as a way to try different products to figure out what you like and what might want to add to your shave routine, this might be a better way to go. It's all going to depend on how you see your $29.99 a month being spent.