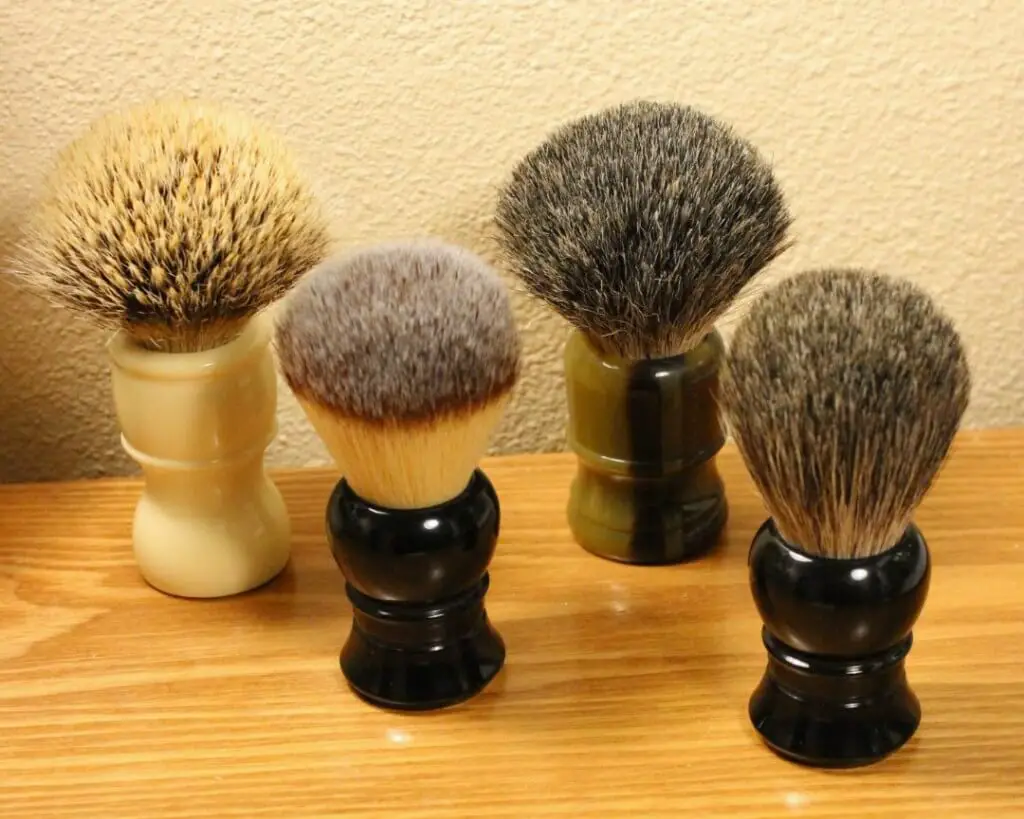 West Coast Shaving recently launched their own line of shaving brushes.  Are they a good value?  I bought a representative sample to check out.

West Coast Shaving Brushes
There are a number of handle and hair variations in the new line of shaving brushes from West Coast Shaving.*  Handles include a "Beacon" style, a "Lantern" style, and a "Tortoise" style.  Hair type includes "pure" badger, "silvertip" badger, and synthetic.  While all possible combinations are not available, the ten that are seem to be a good mix.  I got myself a "silvertip" with a "Beacon" handle, a synthetic with a "Lantern" handle, a "pure" badger with a "Lantern" handle, and a "pure" badger with a "Tortoise" handle.  The "Tortoise" brushes have a 26mm knot, while the other handles sport 24mm knots.
Synthetic/Lantern
I find the synthetic fiber quite similar to the "Plisson-esque" heritage of several other brands and artisans.  The brush's performance for me was about the same as other synthetic fiber brushes of the same generation.
Along the same lines I think the "Lantern" style of handle is fairly typical of resin handles from other sources.
I think let price be your guide with this kind of brush.  West Coast's pricing is competitive from what I have seen but it always pays to shop around.
LINK*
Pure/Lantern
I think the "pure" badger hair in this brush is actually a pretty decent quality–the upper range of "pure."  Em from Shaveplace calls this variety "greys" to distinguish this hair from the typical all-black hair of many lower-end badger brushes.  Oh how I wish badger hair was consistently graded….
Anyway, I found the performance of this version also quite solid and typical of the range and a good value for the price.
LINK*
Pure/Tortoise
For me this easily represents the best price/performance segment of the line.  The slightly larger knot boosted the performance for me noticeably!  The Tortoise brush's shape fit in my hand very well–comfortable and "grippy" at the same time.  At under US $20 I think this brush represents an exceptional value.
LINK*
Silvertip/Beacon
The "Silvertip" hair in my brush is very soft.  However it is packed densely enough so that it is not floppy at all.  The feeling is actually quite luxurious but those who prefer some "scritch" to their brush may not be happy with this one.  There is backbone but not as much resistance as other "silvertip" brushes I have.  Still, I quite like it, especially for creams (and yes, it works fine for soaps too. 😉 ).
The "Beacon" handle, at about 60mm, is about as long as I would want to get in a handle.  It would be a good choice for those with larger hands.
But the price is certainly right!  It's price competitive with many other brushes in the "fine" or "super" category so this brush also represents another excellent value in my mind.
LINK*
Final Thoughts
On the heels of West Coast Shaving's self-branded line of razors, this line of shave brushes offer a variety of types at a price point that is at least competitive, with some being quite a good value for the money!
*affiliate link
Do you have one of the West Coast Shaving shave brushes?  What do you think of it?  Leave a comment below!