[Update: Van Der Hagen was purchased by United Beauty and the assets moved to Chicago, IL in 2016] The small town of Liberty Hill, Texas is home to a big player in the wet shaving world: Van Der Hagen.  I recently got a chance to tour the facility (caution: this article is image-heavy).

A nondescript industrial park at the edge of a small Texas town might be an unlikely spot for possibly the best-known wet shaving name in the US but it's the home to Van Der Hagen.  They have become ubiquitous in the mass-market, value-oriented traditional wet shaving niche', found in such large retailers as Target, Walgreens, Walmart, HEB, Rite Aid, Kroger, Publix, Wegmans, Bed Bath and Beyond, Meijers, Fred Meyer, Food Lion, Weis, Giant Foods,  and Albertson's.  That they're so prevalent without having done any advertising is also impressive to me.
Van Der Hagen's Start
Van Der Hagen in it's current form began in 2001 but their history goes back a bit further than that.  The Van Der Hagen family previously operated a soap and fragrance manufacturing facility (under a different name) for some years, blending products for other brands.  But they got restless making products for others so they decided to "close shop" and start anew under their own name.  Their choice of product was driven largely by circumstances: one member of the family was sensitive to many of the shaving products on the market, so they decided to start with a shaving soap.
Making Soap On A Large Scale

Sharpologist has discussed making a shaving soap in the past.  Van Der Hagen's shaving soap "recipes" are based on the the melt-and-pour style familiar to many soap-making artisans, with some minor changes to make it softer and cleaner to rinse off the skin.  All their soaps do not have preservatives but are refined to the point where they will essentially last forever anyway.  Their premium ("Luxury") shave soap's ingredients include over 40% humectants, more glycerin, and a cologne-quality fragrance that's 4-5 times the cost of similar products (there is a scentless version as well).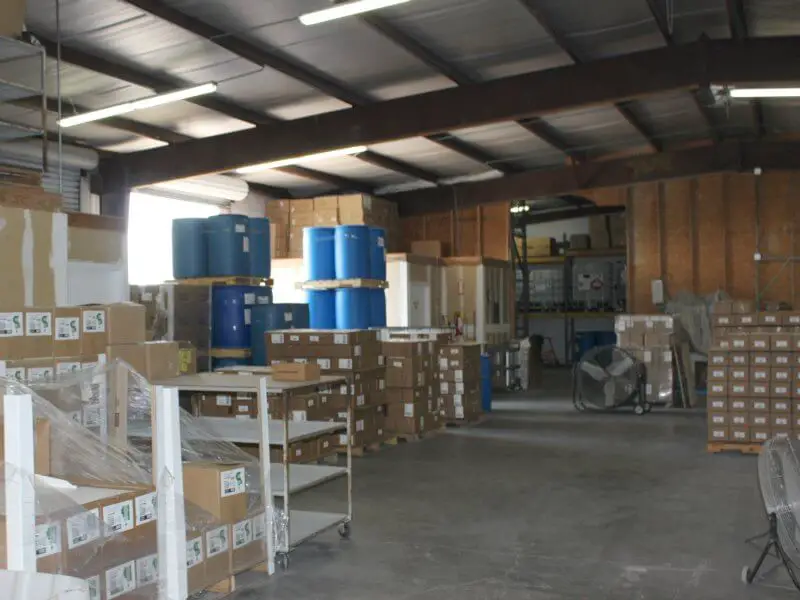 I'm sure artisans get their ingredients in relatively small batches and make their soaps perhaps a few hundred pucks at a time.  Van Der Hagen does it on a much bigger scale: their ingredients come in 55 gallon drums and they make thousands upon thousands of pucks…every day.  Huge stainless steel kettles are used for mixing.  Their "small" kettle makes about 3000 three ounce pucks or about 4200 2.5 ounce pucks per batch.  The "large" kettle makes enough for 9000-13,500 pucks at a time (depending on size)–and is only at about half capacity.  The daily soap-making run depends on what is needed to fill pending orders since most of their large customers use a "just in time" ordering philosophy.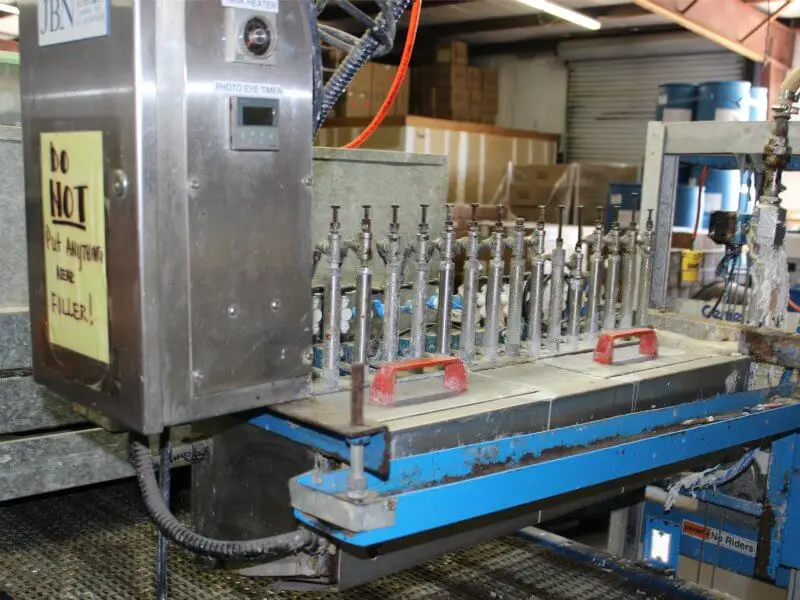 From the kettle the soap is in liquid form so it is piped to a machine that fills plastic puck "cups" and then held for curing.  Then they're packaged as needed (either as just soaps or in kits with other products) and shipped.
And the packages are everywhere….
Boxes Boxes Everywhere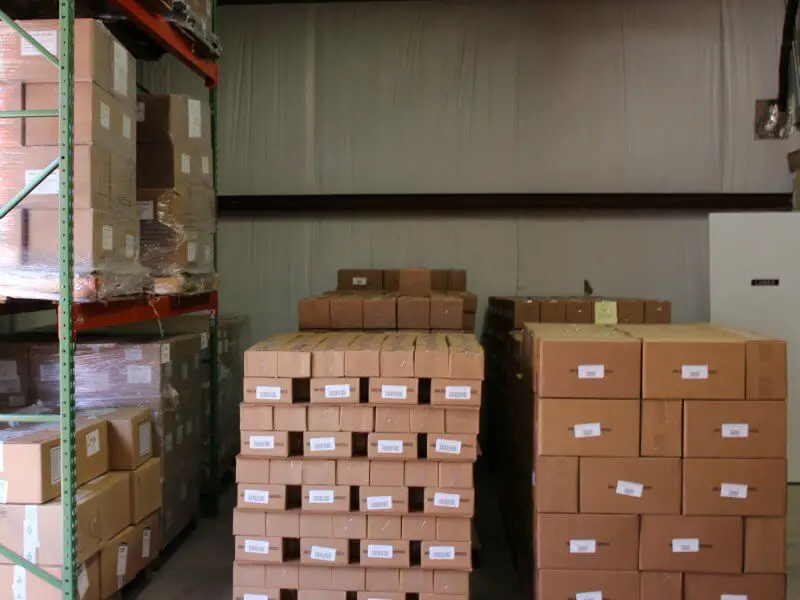 Pictures do not do the scope of the operation justice.  The manufacturing and warehouse facility is about 12,000 square feet and in places is filled floor-to-ceiling. Some large shipments are sent via tractor-trailer, while other shipments destined for regional distribution centers (Target and Walmart for instance) go out via the United Parcel.  Shipments to Amazon are special–they're packed differently to accommodate the way Amazon "pick" items in their warehouses.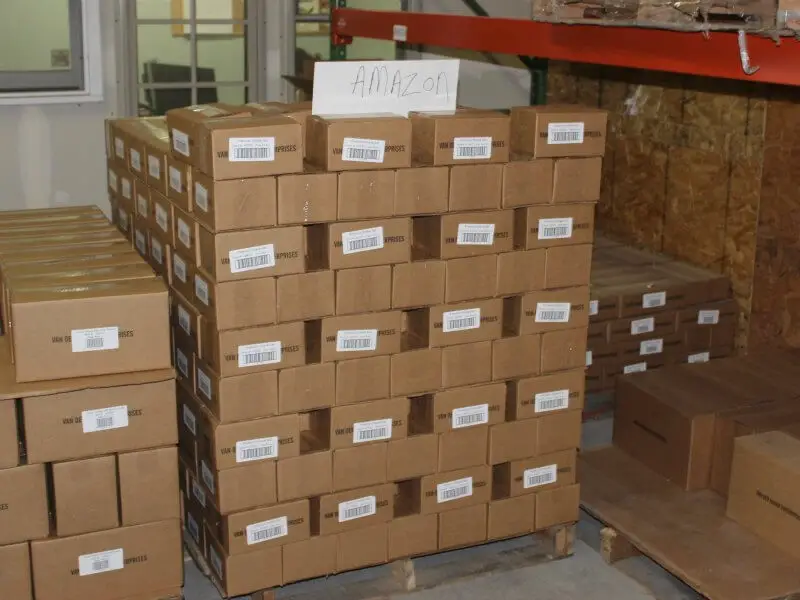 Along with the soaps, the shaving brushes are assembled on-site: the brush hair is imported but the handles are made by a company not far from Liberty Hill (badger hair brushes are imported fully assembled).


But the whole place runs with only about a dozen people (increasing slightly during the holiday gift-giving season).  The day of the visit they were doing a run of the "green box" shaving kits.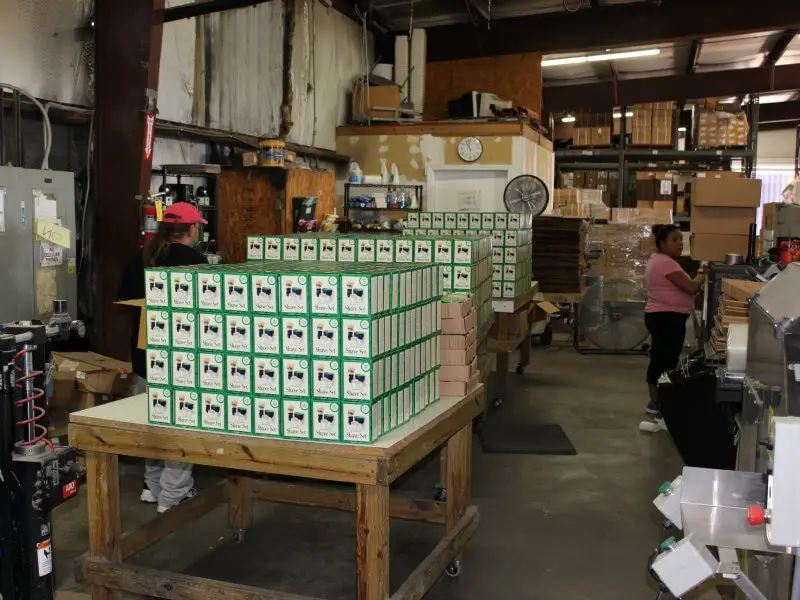 Value Philosophy, Growing Company
How did they get to this point?  A "value" philosophy: very low overhead, no advertising (though they do use a PR firm to send samples to media outlets), and growing the company slowly.  They are under no illusions about their products.  The base products are "good enough" for a great price and available widely enough for "the average Joe" to give traditional wet shaving a try.  Speaking of availability, they have been able to demonstrate their value to the big retail corporations as well.  The bottom line is that giving Van Der Hagen shelf space is more profitable than giving the equivalent shelf space to a competitor.


And within the last few years their growth has allowed them to start branching out into upgraded or related products.  Their premium shaving soap (scented and unscented) performs competitively with many of the glycerin-based artisan soaps while still being a great value.  The "orange box" kit has been selling extremely well and offers an upgraded experience (Amazon even has a version with a badger brush).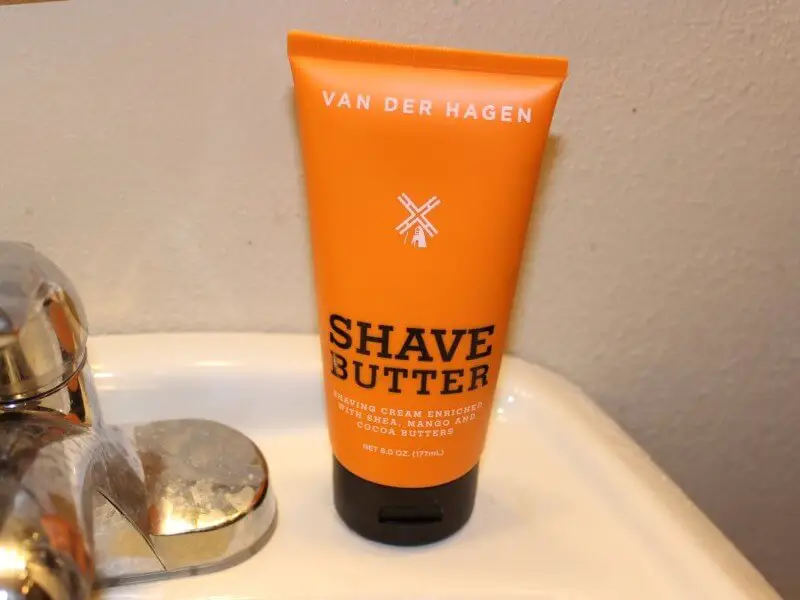 They also just launched a "shave butter," a brushless (though it can be used with a brush) shaving lotion.  I have tried it and it performs well.  A double edge razor they import has sold much better than their expectations and they are considering offering more razors.
For Van Der Hagen, customer attitude towards traditional shaving was "meh" 15 years ago.  But it's "done a complete 180" over the past few years, with kids remembering how their grandfather shaved, and they're ready to ride the wave….