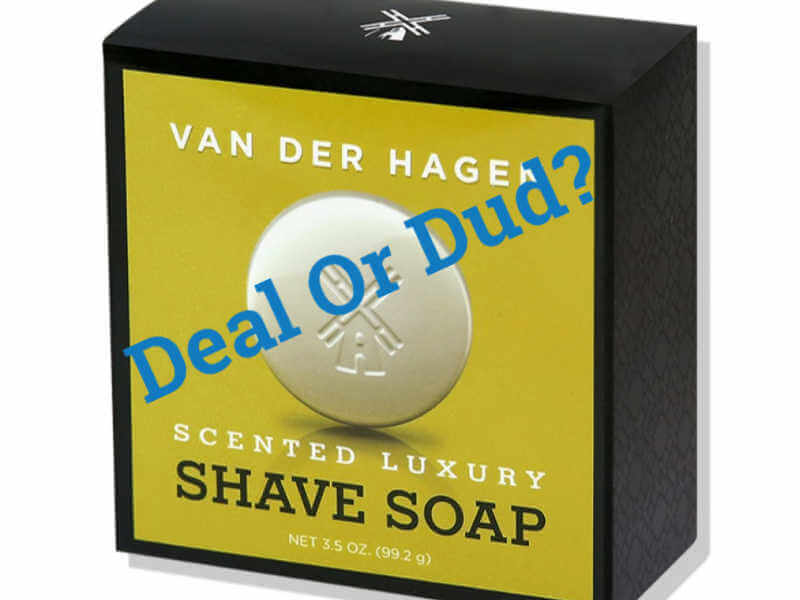 Since I've immersed myself in the world of wet shaving, I've mostly been a shave cream kinda guy. But when a reader of Sharpologist asked if I had ever checked out Van Der Hagen shave soaps, I thought I'd give a puck of their Scented Luxury Shave Soap the Deal or Dud try!
Honestly, I rarely have the patience to load my brush with exactly 21 swirls to get it perfectly ready for a shave. I'm more of a "is it ready yet?" person. But, contrary to the dozens of creams that I currently own and the dozens more on my wish list, I do own a couple of pucks of the hard stuff. Taylor of Old Bond Street, Crabtree and Evelyn, D.R. Harris, but that's about it.
Some History
The parent company, Van Der Hagen Enterprises, was sold to Universal Beauty Products in 2016. That's when shavers noticed more boxes of "Scented Luxury Shave Soap" show up on store shelves. The company apparently was limiting the tried and true "Deluxe Shave Soap."
The main difference between the two was that the older Deluxe was made with Shea Butter while the Scented Luxury is made with Glycerin and Mango Butter as well as Shea Butter.
Ingredients: Propylene Glycol, Water, Sorbitol, Sodium Stearate, Glycerin, Sodium Laureth Sulfate, Sodium Myristate, Sodium Cocoyl Isethionate, Triethanolamine, Butyrospermum Parkii (Shea Butter), Mangifera Indica (Mango Butter), Theobroma Cacao (Cocoa) Seed Butter, Titanium Dioxide, Fragrance.
My Experiences With Van Der Hagen Luxury Shave Soap
My local grocery store had the Luxury Shave Soap for under five dollars (US). I'm always a little wary of really cheap shave stuff. While I don't have any visible scars from past adventures, I do retain bad memories. But I'd seen this soap at a lot of different stores and I figured a terrible product couldn't keep selling right? I mean, eventually Americans stopped buying Yugos.
The puck inside is the same one that comes with the set VDH shave set. The smell of the soap wasn't overpowering and smelled clean. Not too perfumey. VDH also offers an unscented Luxury Shave Soap as well.
I had read that this soap took well to a slightly wetter brush, so that's what I tried.
After about 15 swirls I think I had a pretty well-loaded brush. I then went to work to see how it would lather up in the scuttle.
It whipped up into a good amount of lather although it did have some bubbles in it. Not the creamiest of lather but not runny.
The smell was a bit stronger now, but not unpleasant. Time to see if it would protect my face!
It had pretty good slickness and cushion without the lather being too thin. I did three passes and at no time did I think I was scraping my face, which is how some other cheap stuff has felt. My skin didn't feel dry afterwards, which is always a good thing. I've had some creams and lotions that left me feeling like I needed to reach for the wife's Oil of Olay.
A couple of times I was in a rush in the morning and just rubbed the puck over my face and hand lathered. I got the same type of lather as with the brush. In fact, this has become my "hurry up" soap when I need to scrape and go. The box says that it can also be used as a regular soap and on occasion, I've used what's left in my goatee to get all the happy parts clean. Double score!
I've now used this soap for several months and still enjoy it.
So while it's not the most complex shaving soap out on the market, for the price, around five dollars, Van Der Hagen Scented Luxury Shave Soap produces a good amount of decent lather and performs outside its weight class.  That's why I'll call this one a deal!
Be sure to check out some of my other "Deal Or Dud" posts:
EZ-Blade Shaving Gel Deal or dud?
Burt's Bees Shaving Cream, Deal or Dud?
Have you tried Van Der Hagen Luxury Shave Soap?  Leave a comment below with your impressions!