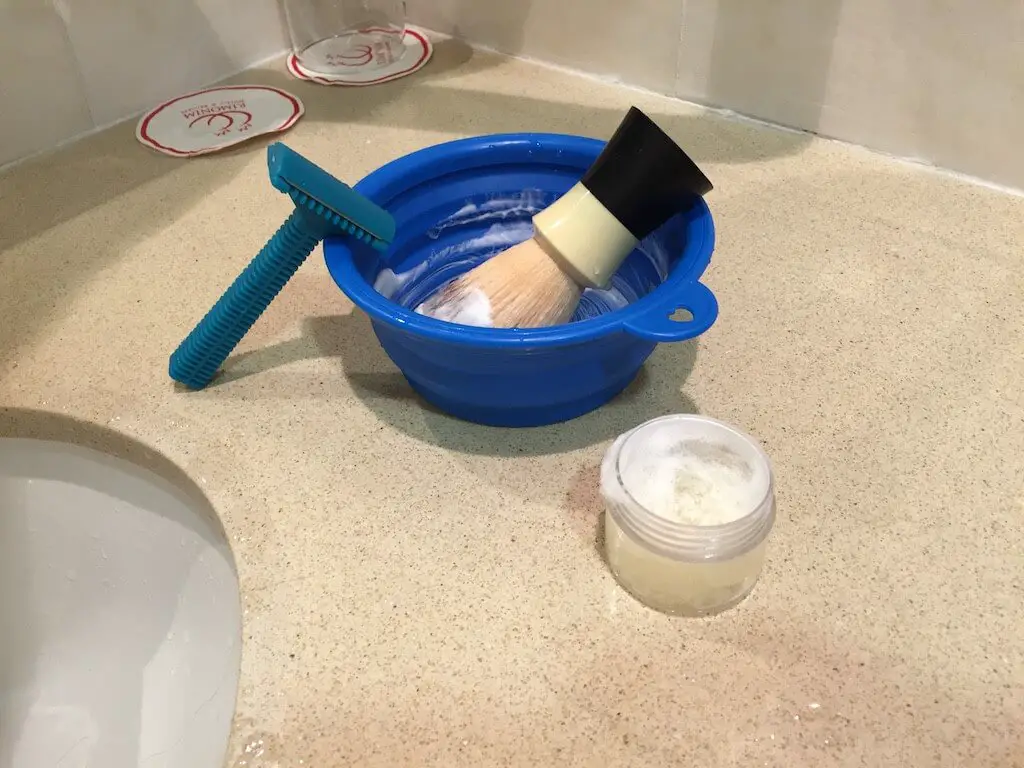 I fly several times a year, both domestically and internationally.  I've flown through Los Angeles, Boston-Logan, JFK, LaGuardia, Reagan International, Raleigh-Durham, Toronto, Las Vegas, and Tel-Aviv and San Francisco, and that's just since November. How is it that I DE shave in all these locations, when I prefer to not check a bag?

Traveling through TSA -The problem
TSA rules make it difficult to travel with a DE. Sure, we could all get cartridges, but we know that's an inferior product, inferior result, and when traveling, we need to look our best.
The rules in question
TSA, and other country's airline security forbid blades that can be removed from the head of the razor in carry-on. Injector razors, DE razors, single edge razors, shavettes, DEvettes, and straight razors are all not allowed. Safety razors are allowed, without blades, in carry-on, but may be inspected. Some TSA screeners seem to believe that if they see the razor, the blades must be nearby in the bag, and search thoroughly for them. Disposable razors, whether completely disposable, or cartridge razors where the cartridge is disposable, are both allowed in carry-on.
Which is where it gets interesting.
What I've done up until now…
On a few trips to LAX and SEA, I've checked a bag with blades, or had blades waiting for me at my destination. But on many of these trips, it's been untenable or undesirable to check a bag. There's something very liberating about knowing your luggage can't be misplaced, and that you don't have to concern yourself with blades.
My three razors that have been in my carryon bag have been the RazoRock Baby Smooth with an MR5 handle, a Dorco PL-602 plastic razor, and my carry-on only warrior, my travel shaving secret, the 4777-02 Medegen Medical Products, Unweighted Razor in Turquoise.
If I need to get through LAX in a hurry, there's no use in waiting the 45 minutes to an hour for the baggage carousel, on top of having paid $25 to check a bag that could have flown if it hadn't been for razor blades. It really is that bad.
Also, security staff at the airport are supposed to let a safety razor go through, provided it doesn't have a blade in it, but on more than one occasion, my bag has been searched because the Maggard MR5 handle has looked unusual or questionable to them. I really don't need the slow-down or the displeasure of a TSA worker pawing through my bag.
When I went to Tel-Aviv, none of the security blinked at the Maggard handle, which I brought because I wanted to try Israeli-made blades in Israel. It turned out, I had a very difficult time finding a place to buy blades, and was glad I'd packed the Medegen in carry-on, so that I was able to shave without having to purchase a cartridge razor.
The solution, and where I've taken it
The Medegen 4777-02 disposable surgical prep razor is my travel razor of choice now. [Ed. Note: these razors are usually only available in lots of 100.  Amazon link* for example.  Readily found on eBay as well.]
It's an unweighted, square handled, super-grippy handle with an open comb head. I believe the blade to be a Personna Med Prep blade, but have not disassembled one to find out.
I've taken it through RDU, LAX, SEA, LAS, YYZ, BOS, TLV, JFK, LGA, DCA, and SFO. That is to say, enough airports both domestic and international to say that it's not a fluke, but that it really seems OK to travel in carry-on.
Why is this even necessary?
The intersection of DE shavers and travelers is growing.  U.S. residents logged 1.7 billion person‑trips (defined as one person on a trip overnight in paid accommodations) for leisure purposes in 2014 – and there were 452 million person-trips for business travel in the same time period.
TSA reports seeing more DE razors coming through security, without quantifying what more means. The prevalence of new vendors and new razors being made available indicates pracitioners of our form of shaving are growing, which both means it should be easier to buy blades at the destination, but while that catches up, it means more of us need to have a travel plan sorted out for a shaving kit.
It's difficult to buy blades in many destinations. In many non-US locations, you get turned away, with people saying, "too old," "try an independent cosmetics supply shop," or "try an independent pharmacists." Checking blades, or sending ahead (if you have made travel plans well in advance) are the only reliable methods of shaving with a DE on a trip, until now.
What's in my travel kit?
My travel shaving kit consists of
Medegen open comb 4777-02 disposable surgical prep razor
ChiseledFace.com 24mm Fauxmere synthetic knot in an EverReady 100T handle
silicone pet water bowl (collapsible, perfect for bowl lathering)
a sample of First Canadian Shave Soap Polar Vortex (early formula) pressed into a small travel container
How's it perform?
My first experience with one felt a little harsh, but having used them a few times now, I've got the hang of it, and it delivers a very, very smooth shave without complaint.
It wasn't hard to find the proper angle, and provided I use as little pressure as possible, it's a good shave, especially in the context of traveling. It's light, and easy to maneuver around the face. When I travel, I want to have a good result, and an easy shave, without bringing a metal razor that draws attention from security. While I'd like to have the same experience I get as at home, being on the road requires a few concessions. For me, that means not using the weighted metal handle that I normally use, since that handle has attracted scrutiny on a few occasions.
The Medegen's blade is a medical prep blade, sealed inside the head. Because the blade is not removable, it is a disposable razor. According to TSA rules, disposable razors can fly carry-on. I have never had to point this out to a TSA worker in the airport, because they've never once questioned it. This is how it's possible to travel with a DE Safety Razor with a blade, and not get questioned.
Summing it up
And as I say, it's gone through all these different airports, sometimes multiple times, and been smooth sailing through the Pre-Check line, as well as the general passenger line. It's never once been the cause of a slow down or suspicion.
The Medegen is an open comb head, and while it's very light (it's unweighted plastic; this is to be expected,) it's a very close, smooth, comfortable shave. Do I prefer metal razors to it? Yes. Will it do for a week's trip? Absolutely, with flying colors.
There are other disposable medical prep, or surgical prep razors that should also be able to fly without issue, but this is mine. What they all have in common is that the blade is sealed in the head, and that they're available in bulk qty of 100 for about 50-60 USD. That works out to 1.60 to 2 dollars a razor. Is that more expensive than our blade cost for regular DE shaving? Yes. Is it a better alternative than falling back on a cartridge system for travel, or checking bags? Unquestionably.
I understand that many men would rather make no concessions and have the same shave on the road as they get at home. However, the tradeoffs here mean not losing luggage by not having to check it, traveling light, not concerning yourself with blade availability at the destination, and not having to give up DE shaving for cartridges. In this respect, it seems like a small victory for the old-school shaver.
*affiliate link