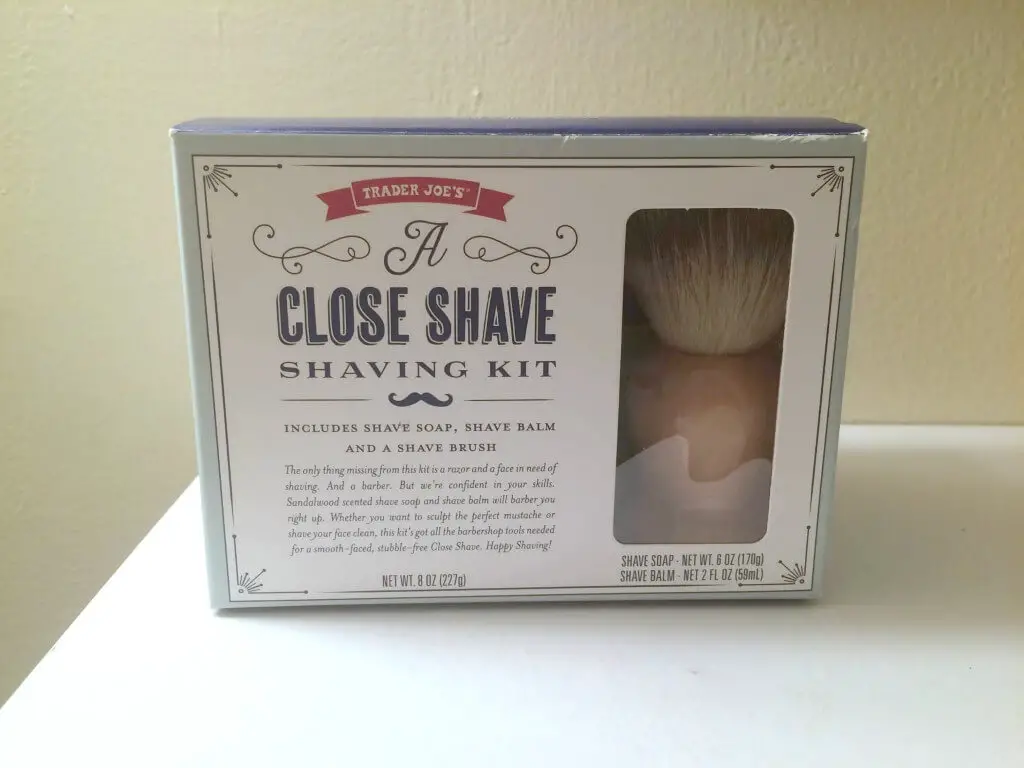 Traditional wet shavers are always on the look-out for products located in brick and mortar stores. It's understood that most wet shaving buying is done online, where images and customer reviews help visualize future purchases rather than touching, feeling and smelling the product in person.  Trader Joe's is a popular specialty grocery store, known for their cookie butter, specialty ice cream and now wet shaving products.
Trader Joe's
Several months ago I heard Trader Joe's began carrying a traditional wet shaving kit. Being the good wet shaver I am, I made a point of visiting the store nearest me to check it out.  The kit was complete with a brush, soap and aftershave balm.  Priced at $9.99 I couldn't resist. I walked out of the store excited for the journey ahead of me.
When I returned home I quickly opened the box to find everything as described inside.  I decided to try it out for a few weeks to see if this kit was the real deal.
Packaging: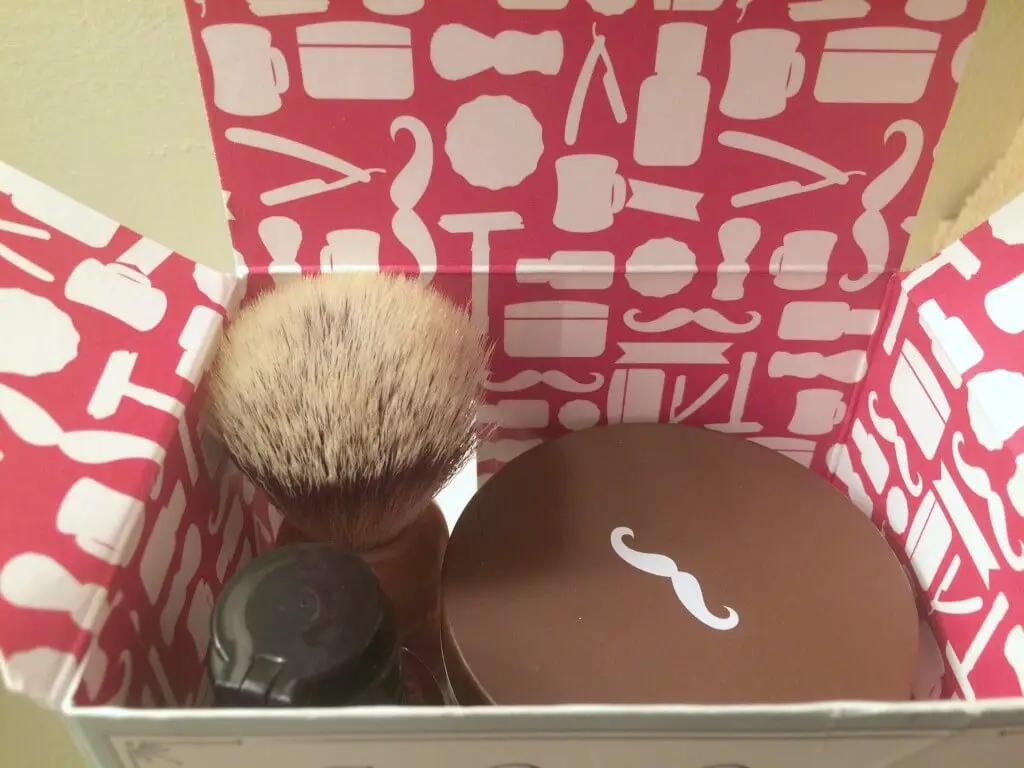 The packaging has a classic design with a little flair that fits in with Trader Joe's persona. The description on the front of the box is easy to read as well as the directions for use on the back.  The front window gives a sneak peak of the products at hand and slightly reveals the box lining, which is filled with illustrations of razors, brushes, mustaches and other traditional wet shaving apparel. Open the box and there lies the brush, soap and aftershave balm as expected, neatly organized and ready for use.
Soap:

The soap is a generous 6 oz. tub which is full to the top. It's very soft, and one can almost consider it a "croap" (cross between a soap and cream). The bright yellow color really stands out and is noticeable when shaving.  The sandalwood scent is present but may be a tad lighter than most sandalwood soaps you're used to. It's fresh with hints of cinnamon which I found to be very pleasant.
Brush:
When I first held the brush I was very surprised. The brush is light yet solid. I feel that most wet shavers prefer heavier brushes but for those who don't, this would work for you. The handle is made from a light wood and houses a basic synthetic knot that is soft to the touch.  What really impresses me is how balanced the brush feels.  It feels like the handle and knot have a 50/50 weight distribution ratio making it very easy to control.
Balm:
The 2 oz. balm matches the soap perfectly in regards to scent. It's creamy and not at all over-powering.  I have a feeling the soap may out last the balm but at $9.99 I can't complain. It's in a sturdy plastic squeeze bottle that feels durable and strong.
Performance:
I used this set-up for several weeks with both safety and straight razors.  I performed both "face" and "bowl" lathering techniques to see if there was any differences in performance. I used the included brush the entire time in order to get the full effect of the products as a kit and to eliminate any factors that may inhibit the manufacturer's desired result.


The soap performed well, creating a rich lather that was unexpected.  A small dip of the brush and the lather lasted a full three passes when face lathering. It was slick, thick and did not break down while shaving. The glide was nice and I thoroughly enjoyed every stroke. There is a bit of menthol in the soap and it's noticeable but not over powering and does not burn in anyway.
As for bowl lathering, I found it a tad difficult to get the same results. I tend to use more water when performing this technique and this soap seems to perform better with less water. Once I figured the correct water to soap ratio it worked well, but I still feel face lathering is the way to go with this particular set.
The brush performed as intended although the weight of the handle may be subjective for some.  Those who are into heavier handles may find this brush too light. The size and shape is about average and the finish on the handle helps with grip and comfort.
The synthetic knot is not overly absorbent which pairs well the softer soap. It's easy to see how the two complement each other. The knot's backbone (knot strength) gave the brush a solid feel and can hold up to even the most intense latherer. The few weeks I used this kit the brush did not shed one hair, and I can assure you I did not go easy on it.
I wouldn't perform any "Break In" rituals (processes to make a brush flexible) to this brush as it's ready to go right out of the box. I did notice it open up slightly after the second or third shave, but it's not very noticeable.
As for the balm, I put a dime size drop in my hands after every shave.  My face felt clean, soft and the scent was not over powering nor the menthol. I do wish the scent lasted longer but for the price of this kit it's really hard to complain.
Overall:
Trader Joe's did a great job with this kit. These products perform well and are a true value. A great gift for you, any wet shaving convert and/or shaver alike. Check it out here !
About the Author:
Joe Borrelli is a long-time wet shaving enthusiast and collector.  He hosts the Wet Shaving News Podcast and runs his own self-funded website http://shavestraightandsafe.com/  to help inform the community of new information involving the wet shaving world. Joe holds a BBA from Florida Atlantic University, and currently works for the nation's largest wine/spirits/beer retailer. In his spare time, he enjoys traveling with his wife Linda, outdoor activities and collecting wet shaving apparel. Find out more about Joe here.