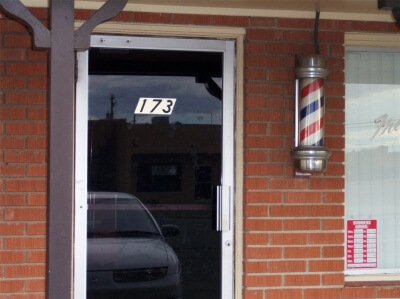 First, let me introduce myself. My name is Kenny. I am 38 years old, born and raised in the San Fernando Valley and converted to traditional wet shaving a little over a year ago. The best grooming decision I ever made. I can't really remember what prompted me to search YouTube for shaving, but at the top of the long list of shaving videos: Mantic59.
Who was this guy? Why would he devote a whole channel to shaving?
Let's just say I am so thankful to Mark for all the hard work he's put into this topic.
Obsessed? Him? Never.
***
On New Year's weekend, I decided enough was enough. A new year was upon us, and I wanted to start off clean. And for Pete's sake, if the Mayans were right about 2012, I needed to be presentable when I meet my maker!
In the recent past, I scoured Yelp for a reputable barbershop in my area. I found one called Manny's Barbershop in Van Nuys, CA. Since my experience there (for haircuts) was quite good, I decided that I would have a revisit.
There are four barbers there: Manny, two other guys and a woman on the end. The woman on the end had done a good clipper cut on my hair before. Manny and the other guys were busy, so she was the person for the job.
The haircut went fine. Nevertheless, I decided to treat myself to my VERY FIRST barbershop shave. What's another $15, right?
THE PREP
She started off with some warm lather a hot towel on the face. So far, so good. Felt wonderful and relaxing. It was nice to be able to lay back and let someone else do the prep for a change.
THE SHAVE
After prepping my beard, she proceeds to start the shave. She had what appeared to be a regular disposable safety razor, but I wasn't sure how many blades it had. She didn't speak much English, and I only speak un poquito Spanish. The last time I was there she shaved another guy using a straight razor. "That's weird."
Then, the horror began. She starts scraping my face. Hard.
At first, I didn't know what to think. A few times I grimaced and voiced my discomfort. She said she would go slower and not press so hard. Stupidly, I let her finish the shave. I'm still not sure why I didn't stop mid-shave. Maybe, I'm a masochist. I don't know. The only time she broke out the straight razor was to line up my sideburns (before the shave) and to get the little area right below my nostrils.
Needless to say, I opted out of the aftershave (alcohol-based) and had her use some lotion. My face was so raw and bloody, and I had such bad razor burn, I just wanted to get out of there. So, I left.
This is what my face looked like just after. Believe me, it hurt much worse than it looks. This never… let me repeat… never happens when I give myself a shave.
When I got home, my face was burning so bad, I had to get some help. Luckily, the guys at the Original Mobile Barbershop were so helpful. They said to use a cool compress and head over to see Brian at Friend's Beauty Supply in Valley Village, CA, for some stuff to help heal my wounds. Luckily, they are just up the street from me.
The staff was extremely helpful and friendly there. Originally, it was suggested that I use Tend Skin, but as I have a sensitivity to acetylsalicylic acid, I couldn't use that. Instead, I got some cactus gel from The Healing Desert. This stuff is AMAZING. Within a few hours, my face felt better. I have to say that this stuff also makes an incredible aftershave and moisturizer. It's very similar to aloe gel, but I think it works better.
After the pain subsided some, I called back to speak with Manny, but he had left early because of the holiday. Needless to say, the guy who answered got an earful. Respectfully, I told him that she has no business shaving anyone else until she gets more training, and that her technique (or lack thereof) was completely wrong. He only could offer an apology. I'm going to call back and speak with Manny soon.
So, that's my tale of woe. Next time, I'm going to go to the OMBS or Art of Shaving to see if I can get a real shave. It's more expensive; I hope it's worth it.
I let a few days go by before my first shave after the "incident". I wanted to wait until I was completely healed. What a great shave I gave MYSELF!
Semogue 830 boar brush
Erasmic cream
1948 Gillette Superspeed w/Feather blade
Thayers Alcohol-Free Cucumber Witch Hazel with Organic Aloe Vera
The Healing Desert cactus gel
Pre de Provence aftershave balm
We would love to hear your own experiences. If you can recommend a good barber or spa for a shave in your area, let us know!
[Note from Mantic59: In the coming weeks several professional barbers will be discussing what to expect in a barber shave, how to get the best shave experience at a barbershop, and what the barber's attitude towards shaving is!  If you are a barber and would like to contribute please leave a comment.]