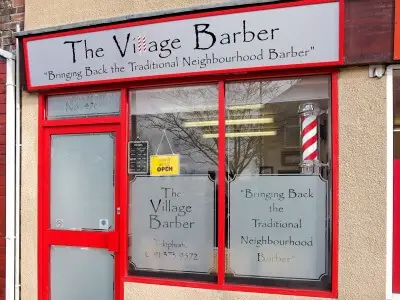 As a traditional barber in the UK who first learned the art of straight or 'cut-throat' razor shaving in excess of thirty years ago, I have seen many changes to the way in which it is exposed to the paying public – and not for the better either!

I learned the noble art in the days when you were expected to learn all aspects of it, as well as every other aspect of barbering, as part of a five (5) year 'contracted' learning period which consisted of a three (3) year indentureship (apprenticeship) followed by a further two (2) years as an 'Improver'. Whilst this will seem an awful long time to today's youngsters, it really did allow for a thorough training and a progressive build-up of the necessary knowledge and experience needed to become proficient in all aspects of the trade, most certainly including wet shaving.
I don't know about the USA, but here in the UK in the last couple of decades we have in my opinion, dramatically dropped our standards as far as appropriate training in the trade is concerned (this appears to be the case with all trades sadly). With many now being awarded 'certificates' after as little as twelve (12) weeks training, it is hardly surprising that standards have dropped. Indeed, some barbers are now specialising in 1, 2 and 3 day 'shaving courses' which purports to train employees sufficiently in order to start straight razor shaving as part of the services offered within their shop. The arguments for and against such 'training' is no doubt for another discussion but, in my opinion, such clearly insufficient training, and perhaps more importantly experience, has undoubtedly led to the decline in quality of the 'traditional' barber here in the UK.
The "horror story" from Kenny (tattooyu) about his experience with a recent visit to a 'barbershop' for his first wet shave as posted on sharpologist.com is perhaps a case in point and perhaps goes some way to suggest that a similar problem exists in the USA too. Kenny's comments can be seen here.
I have to say that, professionally, Kenny's woeful tale leaves me saddened but, alas, not at all surprised due to the modern obsession with 'cashing in' on what should be a dedicated art. Far too many 'Male Grooming' parlours are springing up, mainly employing hairdressers masquerading as barbers and with the sole intention of making lots of money from the undoubted sharp rise in the modern male grooming industry. In my opinion, they 'cheapen' the long-standing and well deserved reputation of the authentic traditional Barber who has spent many years honing and improving on his skills picked up over many years of experience.
So then, let's ask some questions that may be pertinent to a gents visit to a barbershop for a traditional wet shave.
What should a customer expect?
The very least that any customer who pays good money for a wet shave should expect is to be attended to by a professionally trained and competent barber who has sufficient expertise and experience to carry out a comfortable, safe and ultimately relaxing procedure using a 'cut-throat' or open razor.
When I shave my customers, particularly if it's their first visit, I take time to help relax them by talking to them about correct shaving technique, something that they can take away from the experience and put into practice at home when they shave.  It's a simple fact that, in my experience, the vast majority of gents do not shave correctly. This is due to two main reasons: 1/ who teaches a guy how to shave? Most are 'self-taught'. 2/ Men can take the lead from adverts which are extremely misleading, unattainable and just plain wrong!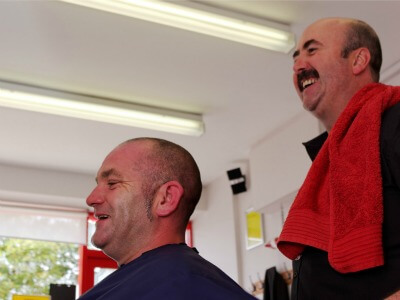 I notice with interest that many barbers in the USA charge similar prices for their shaving service as they do for haircutting. This is not generally the case in the UK and certainly not for me. I charge over double the price of a 'standard' cut for one of my shaves. Yes, there are additional costs involved for me (hot towel steriliser, shaving oil, soap/cream, balm, etc) but the first and foremost reason I charge what I do for one of my shaves is the simple fact that customers are primarily paying for my expertise.
What questions should a customer ask before their shave?
In my experience, most gents who are being shaved for the first time don't really know what to ask and those familiar with the process don't really see the need to ask questions. However, I tend to start the process by asking them some questions about their shaving regime. Once the conversation has been initiated, most will then open up a little.
With that said, gents who have the undivided attention of an experienced and fully competent barber should take full advantage of the opportunity by asking for advice on how best he should shave correctly, with his own skin type and beard growth in mind.
What kind of information should a customer convey to the barber?
In my experience, there are two types of customer when it comes to shaving – those who want to talk through their shave and those who just want to relax and, in many cases, fall asleep. However, a customer should advise the barber of any particular allergies he has which would have a direct impact on the type of products used for the shave. As an example, someone with a nut allergy would not want a product used that contained, for instance, sweet almond which could be an ingredient in a pre-shave/shaving oil. He could also advise of any particular sensitive areas of his beard which the barber should be aware of.
What attitude should a barber have towards his customer?
First and foremost, an attitude of respect, patience and a desire to give the customer an experience that he will want to repeat again and again.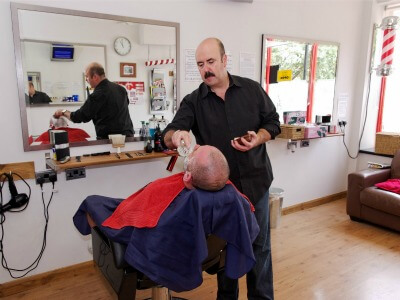 Should customers be disappointed if the barber uses a cartridge razor to accomplish the shave?
Absolutely! Unless by prior arrangement by way of tuition, a wet shave at any authentic, traditional barbershop should always be undertaken using a 'cut throat' or open razor.
If you book into a barbers for a 'professional' shave and arrive to discover that a cartridge razor will be used – walk out – or better still, ask before you book the shave. The shave is obviously being undertaken by someone who is NOT competent enough to offer you a 'real' barbershop shave but who simply wants to cash in on the current resurgence in the wet shaving experience!
In conclusion then, experiences like the one Kenny suffered simply would not happen if you do your homework before booking an appointment. Any professional barber who is competent in the art of wet shaving will not be offended if you ask questions as to his experience and expertise.
A well executed open razor shave is, for me, the ultimate experience in male grooming. Therefore, if you find a barber who has the knowledge, expertise and skill to let you experience it, truly enjoy it – for it is sadly a dying art!
Village Barber UK
www.villagebarber.com