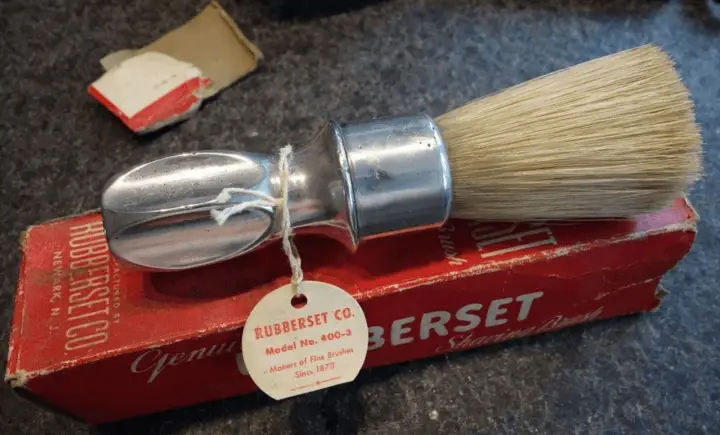 As one of the most recognizable pieces of wet shaving hardware to date, the Rubberset 400 has earned its place in the history books.  It's been replicated dozens of times and always receives attention during online auctions. Few wet shavers out there are not familiar with the unique design, and many will agree that the handle itself is very comfortable to use.    
This month commemorates the 70th Anniversary of the patent for Rubberset 400, so what better way to celebrate it than with a history review. 
History:
"There is nothing so irritating as a good example"-Mark Twain 
*Note from the author : Out of all the history reviews I've written regarding wet shaving, researching this one had to be one of the most difficult.  The Rubberset brush unfortunately changed hands several times and most of the documented history was lost.
Based out of Newark New Jersey, the Rubberset company is credited for creating the unique process of setting a knot made of animal hair in a rubber based compound. This process was invented/patented in 1878 and was originally used for paint brushes. Setting the brush knot in  rubber proved to hold a stronger bond, which led to a more durable brush that would last longer and provide more consistent results.  
According to an interview with the company's ceo published in 1917, the business started out life in 1847 as the Celluloid Harness Trimming Company (CHTC) and was owned by Andrew Albright, who was known to be very susceptible to new inventors and ideas.This led to several ideas never making the production process. In 1887 a man by the name of J.A. Reed brought a paint brush with the bristles set in  soft rubber instead of shellac, resin, or glue which was the norm of the time. Albright liked the idea and the company eventually changed to a hard rubber for durability. 
At the time, the paint brush division of CHTC was not the focus of the company, as the profit margin was significantly lower than that of the company's other endeavors ( such as gold inlaid harness trimmings for horseman) and was often discarded as no one believed a 25 cent paint brush could make an major impact in the company.  It was mentioned that the brushes were made because they "had to" due to demand and no one else would do it. 
After Mr. Albright died and leadership was transferred over to his son, Andrew Jr,. did the company get involved with shaving brushes.  Although not involved much with the company until then, he was very open to new ideas. 
In 1904 one of his employees (unfortunately not named) noticed the countless advertisements on shaving soaps, creams and other products and brought the idea to Albright Jr "why not shaving brushes?" It would be more profitable than paint brushes (as shaving brushes were in demand and sold for a premium)  and the process of making the brush would be very similar, so they could use many of the same tools/machines in production. His vision was a separate entity of the company dedicated to shaving brushes, and a new venture for the business.  Albright Jr. liked the idea and gave his approval of the new department. 
Although initially not successful, the company launched the shaving brush line and it remained stagnant. Albright invested approximately $100,000 ( Equivalent to $2.8 million in 2021) in advertising over a time span of two years and soon realized how important advertising was in order to get ahead in the shaving industry. Business picked up but Albright felt they could do more.  He doubled the advertising budget (to $100,000 per year) and increased production. It wasn't until 5 or 6 years after the launch did the shaving brush department start producing profits, but by then Rubberset was well known all over the world. 
Soon after, The Rubberset company began mass producing toothbrushes in the modern design we see today, which was a big part of the company until it's sale to Bristol Myers in 1934. 
The Rubberset company was eventually purchased by Sherwin Williams in 1956 where they eventually phased out shaving brushes from their portfolio. It's estimated that Rubberset made well over 1 million shave brushes in the 49 years the company produced them.  
Rubberset 400: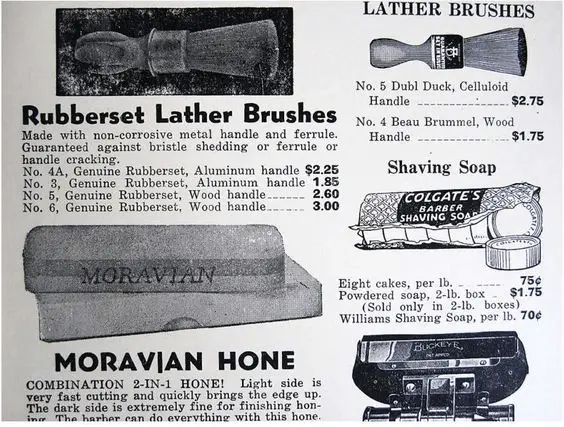 Although it's not entirely known when the 400 actually made its debut, there are advertisements from the1930s until the mid-1950's, so it's difficult to pinpoint exact production dates. (the above advertisement is unknown).  Unfortunately my attempt to find out more about it went empty handed as the current parent company has no archives indicating the 400). I was able to find the actual patent paperwork ( below) which indicates it was filed in 1938, issued in 1941, and invented by Barnett Buddish.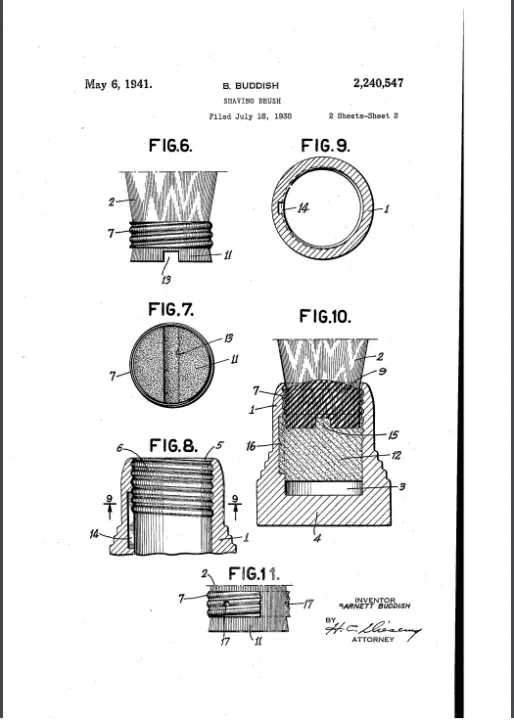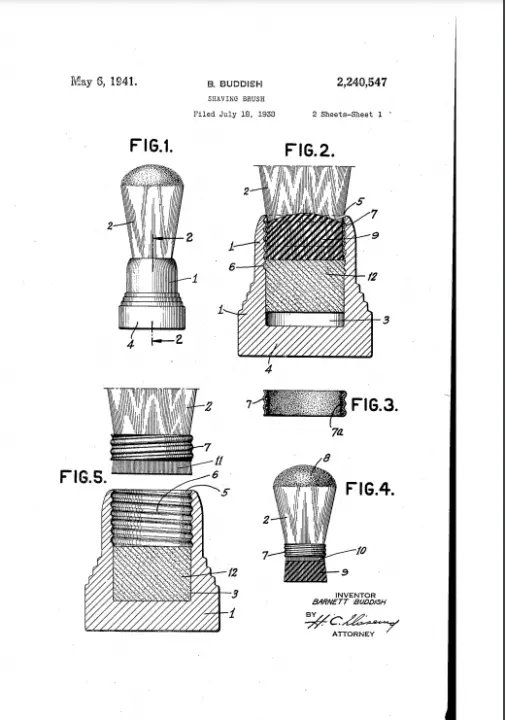 There were three versions of the brush: the 400-3, 400-4, and an unnumbered brush. All brushes required a 24 mm diameter knot. The 3 or 4 indicator represents the length of the original boar knot with the 4 being slightly longer than the 3 and the unnumbered version being in the middle (at least from my observation of owning all 3 at one time).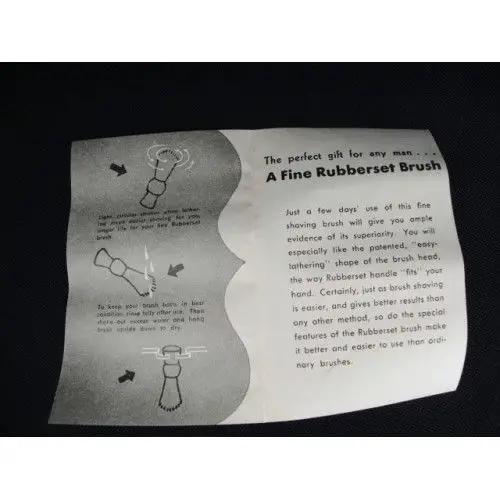 All versions of the 400 are made of hollow aluminum, weigh about 73 grams and are constructed of two pieces, a ferrule (which holds the knot) and the handle. Originally, all versions of the 400 contained a large boar hair knot as seen in the images. 
There are many artisans/companies alike making homages to the 400, some even making replacement ferrules so users can have multiple knots available for their shaving rotation. Personally, I consider this to be a major plus as it allows you to enjoy the design of the handle, with the ability to try different knots depending on the mood you're in.  (See below)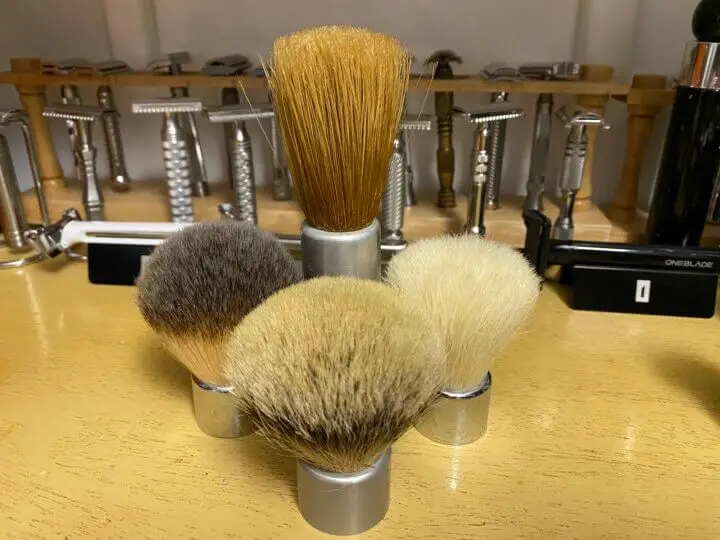 Popular Homages:
*Note: Homage brushes are in no particular order. Author is not affiliated with any of the vendors. 
[Editor's Note: PAA and Etsy (tidd.ly) links are Sharpologist affiliate.]
Here are several "Homages" to the Rubberset 400.  There have been many replicas of this brush, most being of the original two-piece design, and in a multitude of materials (such as plastic, stainless steel, aluminum) all different price ranges. 
Switchback 400 from PAA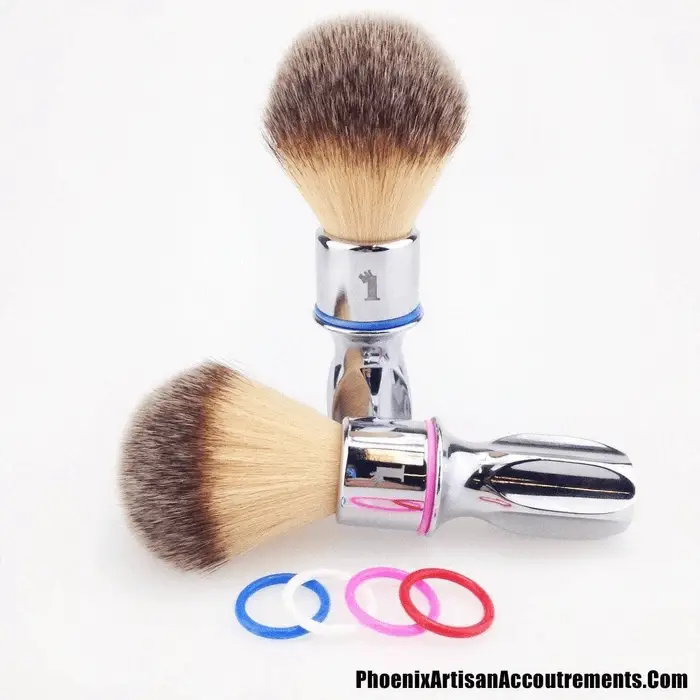 PAA is known for their homage to classic wet shaving products over the years, and they came out with the Switchback 400 several years back. Based on the original design, PAA has since made a new version called the Aluminus which is made from solid aluminum, due to customer requests for a heavier handle from the original. 
PAA also makes ferrules for the Switchback, which are also compatible with the original 400 so you can have multiple knots for both brushes.
Alpha T-400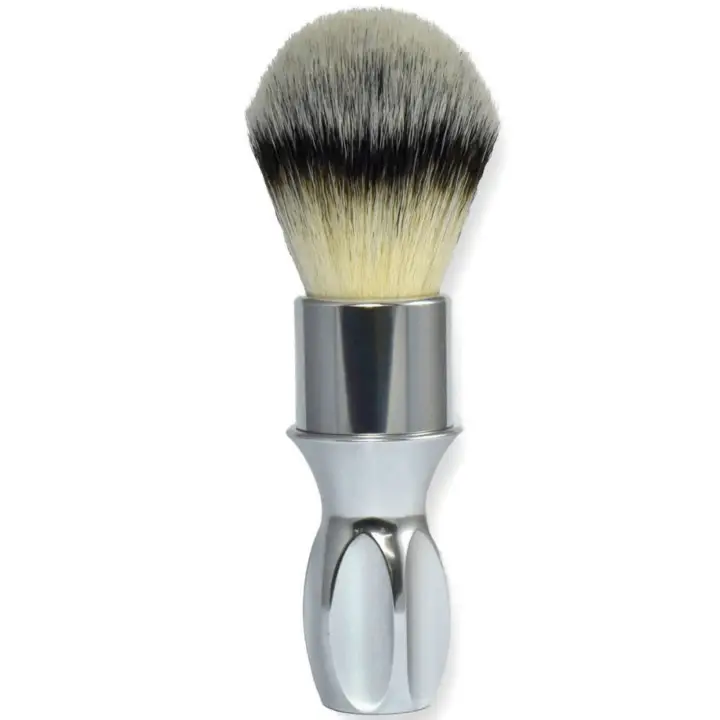 Made from aluminum, this tribute brush is a close replica with a deep polish. Made of 6061 aluminum, with a multitude of different color ferrules available. Based out of Hong Kong. 
Razorock 400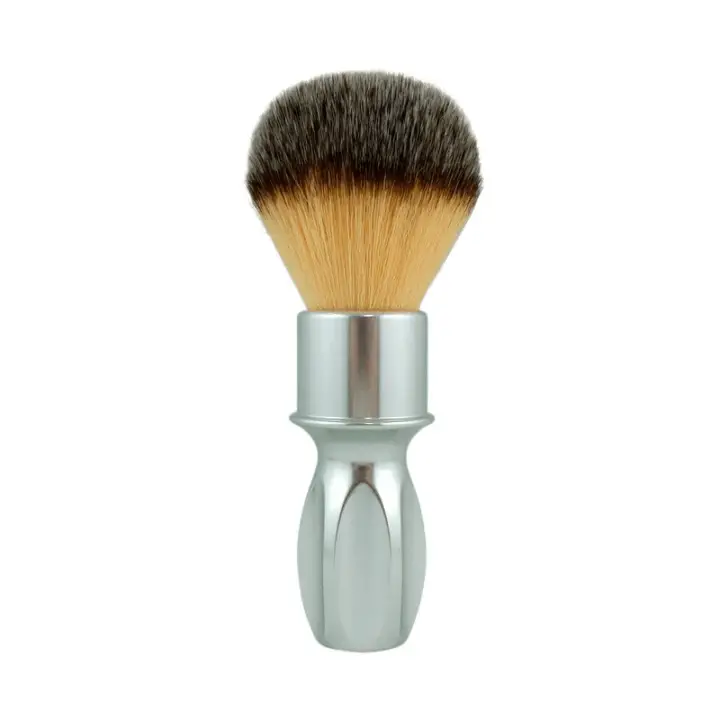 One piece design, this Razorock 400 brush has the design without the high price.  Also available in plastic and aluminum mosty with synthetic knots. 
BSB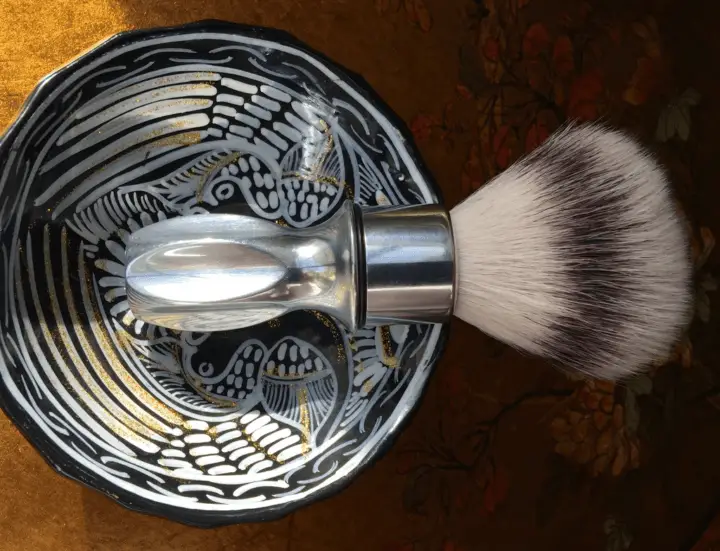 Made in Spain, this homage brush was available in aluminum, stainless steel and titanium. Based out of Spain.  No longer produced. 
Solinger Staul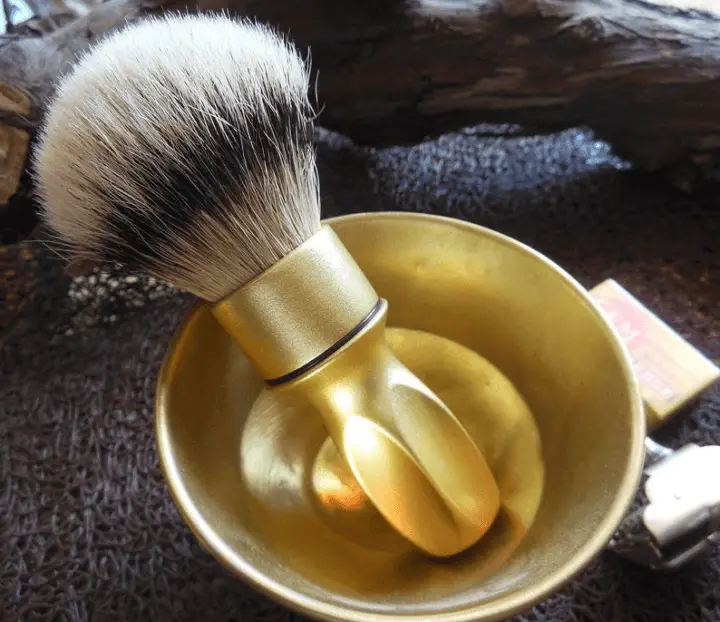 Composed of ABS plastic and built in the traditional two-piece design, this replica is completely hand-turned on a basic lathe using basic techniques.  Available in several colors.  Product of Germany. 
AP 400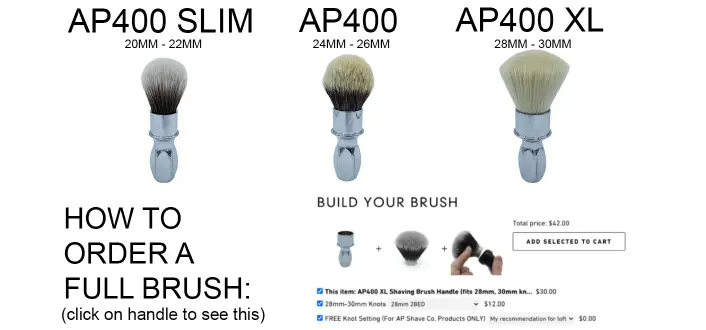 AP Shaveco has several versions available, such as the Slim (20-22mm knot) , 400 (24-26mm knot), and the XL (28-30mm knot)
The site allows you to build your brush, choosing the material/size of the handle, and a knot of your choice. All handles are a one-piece design, so ferrule changes are not possible with this brush.  Based out of Canada 
Value Today:
The Rubberset 400 is known to get some serious attention on auction sites when posted. There is still a decent amount out there, but the demand still outweighs supply keeping prices on the higher end. Expect to pay $80 to $100 for a brush that needs restoration (polish and new knot), $120-$150 for restored model (depending on the knot some can go much higher) and $185-$200+ for a new in the box.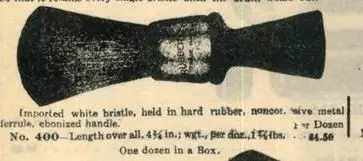 Conclusion:
The Rubberset 400 is a true piece of wet shaving history, being one of the most recognized brush designs of all time. It's fun to collect but even more fun to use hence why it's been sought after and replicated by many people in the wet shaving industry. Happy Anniversary Rubberset 400!