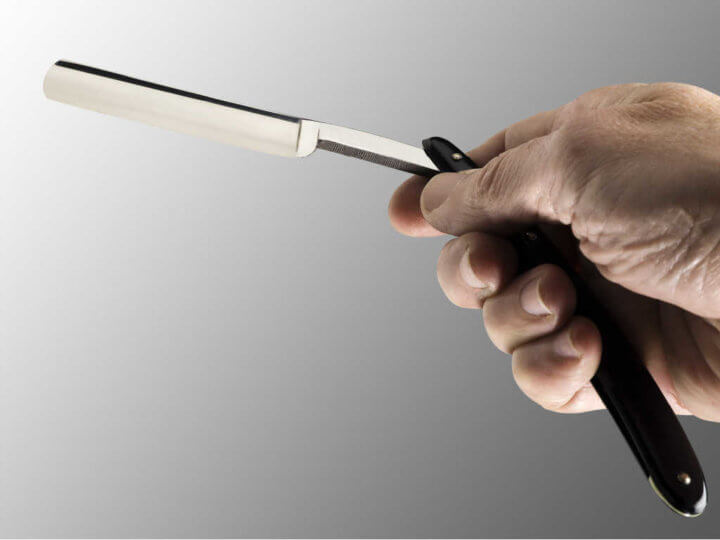 The straight razor has played an important supporting role in some movies.  Here are three examples with commentary on their usage.
The Straight Razor In Barbershop (2002)
This movie revolves around the social life in a barbershop on Chicago's South Side. It's filled with characters including Eddie, an old barber with strong opinions and no customers; Jimmy, an educated barber with a superiority complex who can't stand Isaac, the new, white barber who just wants to cut hair; Ricky, an ex-con who is trying to stay straight; Terri, a hard-edged woman who can't seem to leave her two-timing boyfriend; and Dinka, a fellow barber who is madly in love with Terri but doesn't get the time of day.
In this scene, Eddie shows the others how to shave properly while talking about what barbering used to be:
While there isn't a whole lot of "screen time" with Eddie actually wielding the straight razor, it does look like he's using it properly (along with making a decent lather), though his stropping looks a bit sloppy.  According to Cinema Review:
Cedric the Entertainer doesn't cut hair in the film, but he does perform a different trick of the barber trade: the straight-razor shave. "The barber consultant on the movie worked with me about the technique and what I should do with the straight razor," he says. "Once I had the strokes down, it was cool. I actually enjoyed it. I don't know if the actor getting shaved enjoyed it as much, though. Only a few band-aids and some anesthetic involved."
The Straight Razor In Sweeney Todd (2007)
An adaptation of the Victorian "penny dreadful" tale of 18th century "demon barber" Sweeney Todd of Fleet Street cuts the throats of unsuspecting clients in his London shop.
In one part of the movie, Sweeney Todd (Johnny Depp) and Signor Adolfo Pirelli (Sacha Baron Cohen) have a shaving contest:
Again, though we don't see Sweeney Todd actually shaving in this clip there are some interesting bits.  Pirelli strops sloppily while Todd's stropping is careful.  Pirelli uses a far-too-steep angle on his razor.  Todd carefully makes his lather and examines the client's beard.
Johnny Depp was not as concerned with shaving as he was with lathering.  From Contract Music: "Having worked with sharp objects before, everything was fine until I had to shave someone. The shaving cream made me really nervous. It was the most uncomfortable moments of my life. "I had to shave poor Alan. He really didn't enjoy it, so I'm sure, in that sense, he probably hated working with me. "I didn't go to a barber shop to learn but, at the same time, I didn't really slash anyone's throat, like my character does. I've never really experienced that full on thing."
The Straight Razor In Skyfall (2012)
One episode of the famous James Bond movie series, MI6 comes under attack and 007 must track down and destroy the threat.  This famous scene accounted for a dramatic (though temporary) spike in internet search engine queries about straight razors:
Some observations: Bond lathers with a brush (kind of poorly but it's difficult to tell from the camera angle) but when he raises the straight razor to his face it's obvious Daniel Craig doesn't know how to use it.
Actress Neomie Harris really did learn to use a straight razor for the movie, though.  Here she reminisces about shaving Daniel Craig for the movie:
Conclusion
There have been some famous shaving scenes in movies but few of them "get it right."
What other movie shaving scenes deserve attention?  Leave a comment below!