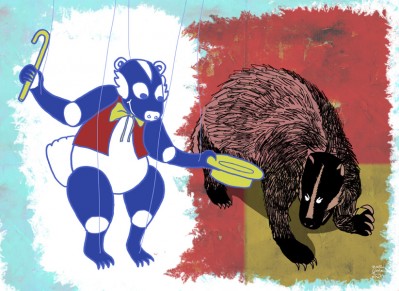 [Forward from Mantic59:] This is the next-to-last installment of Sharpologist's series on the new generation of Synthetic hair shaving brushes (part 4, part 3, part 2, part 1.)  This post is written by Wim Bouman.
1.  What synthetic brushes did you test for this project?
MÜHLE 'Classic' 33 K 257 (23 mm, 2011, 'Silvertip Fibers')
MÜHLE 'Classic' 33 K 256 (25 mm, 2012, 'Silvertip Fibers')
HJM 31 P 8 S/GR (black fibre)
Omega 290049 Syntex Shaving Brush (Black)
Omega 343312 Synthetic 'Artificial badger' Shaving Brush
2.  Have you used synthetic brushes prior to 2011? What did you think of them? What strengths and shortcomings did you find?
I used the MÜHLE 39 K 256 (2009, synthetic fibre). It is a beautifully made brush, the usual MÜHLE build quality, but the knot to me is a bad performer. Sloppy heat and water retention. I could not get it to lather properly then and I still can't.  Its main strength is the quick drying.
3.  Do you find significant changes in the new generation of synthetic brushes? How would you describe the changes you found? What advancements did you find, if any.
The changes are substantial indeed. The MÜHLE silvertip fibers are a step up from the old synthetic hair, and so is the new artificial badger from Omega compared to the Syntex versions. Also the black fibers from MÜHLE are a big improvement in softness and backbone.
 4.  Are there brushes that stood out for you in your tests? Why?
The MÜHLE Silvertip fibers. These brushes provide a firm yet flexible backbone. The MÜHLE Classic 23 mm is definitely not a stiff nor a floppy brush. The regular Classic (33 K 257) is on the mild side. MÜHLE has been so kind as to make me two other Silvertip fibers brushes, with modified handles and knots. Lowering the loft to 52 mm and flattening the shape of the head will produce a knot that has more resilience.
The tips of these Silvertip Fibers are on the soft side of the spectrum. I found these to have a very tiny amount of scritch, and a bit of a prickly feel. Yet, all in all a soft comfortable brush.
I found the tips comparable to the Semogue 2010 LE, and a bit softer than Simpsons Best, Manchurian or Super Badger. They are certainly less prickly than the 2011 Semogue LE badgers I have (and which are to be fair not totally broken in yet).
I would say this brush is a medium dense brush. I found the Simpsons Berkeley to come close in terms of density. It might feel a bit less dense though to the high loft bulb shape.
This brush picks up soaps and creams fast. I find it incredibly easy to make a good lather with these Silvertip fibers. I face lather exclusively, but can imagine the loft being equally suitable for bowl latherers. At 23mm I think the knot is a good size, but I hope in the future we see even larger knots in this fiber, like H.I.S. has been able to produce.
The MÜHLE 23 mm is an efficient brush. It is not a lather hog at all; at the end of the shave there is usually not much left that I have to rinse out. It holds water sufficiently enough to make lather easily and consistently. Lather is built fast and consistently. I used this brush with tallow and glycerin soaps and some creams as well. With hard soaps, these silvertip fibers really shine. The regular MÜHLE with its bulb shape and flex also was very efficient and pleasurable to use with creams. Heat retention is one of the issues often mentioned with synthetics, but in my experience the MÜHLE 3has no problems with it. James has  noted that these new synthetics are also very frugal in their loading; it really takes a little product to go a long way. All in all, the performance is on par with some of the renowned brushes I mentioned earlier.
These MÜHLE  brushes are built with good materials, fitting to e.g the 23 mm's price point of 42 euro, 35 GBP or 55 US dollars (that is, in the European webshop. MÜHLE prices are regrettable higher in the USA.) That is Simpsons Berkeley or Commodore territory, and I think the MÜHLE easily matches the Simpsons quality standards. In the Semogue range, this will buy you a Semogue 2015 HD. I feel the MÜHLE Classic mm is also at least at the same level as these Semogues. Neither of my MÜHLE synthetics did ever shed a hair.
The color of the brushes is either deep black, a traditional ivory and MÜHLE seems to be spot on with this material. The color looks as good as any Simpsons I have. It is a warm, deep ivory that I find very pleasing and neat.
The hairs are made to resemble real badger hair and that is done quite tastefully. It surely looks more attractive than the old version, with its white and grey plastic look. It has been suggested that the brush would look as good if not better without the three band silvertip pattern and that might very well be true. I could also imagine it to be dyed in a two band pattern. Yet this color and pattern will seamlessly blend into a shaving den and that is a plus to me.
This brush does definitely feel high quality to me. The handle has some heft to it, is beautifully made without any scratches, dents or production errors. The MÜHLE logo on it is very detailed and yet still clearly visible.
The knot behaves like natural hair, though when touching it it might feel a bit different than natural silvertip. Compared to my Simpsons 57 LE or a Semogue 2010 Limited Edition Silvertip, the MÜHLE might feel a bit softer, but compared to my custom MÜHLE Silvertip the feel is almost the same. When looking at the knot shapes, I think that this also might be caused by the typical shape of the MÜHLE knots. They are large, blooming ad bulb shaped knots with a certain airiness of fluffiness to them, whereas my British and Portuguese brushes tend to have lower lofts and more density. The brush splays much better than the earlier versions. Silvertip fibers are easy to maintain and dry very fast.
5.  In what areas did you find new synthetic brushes most improved? Where do they need further improvement?
The new generation synthetics, the Omega Artificial badgers and the Muhle Silvertip Fibers and Black Fibers alike, have improved in performance and feel. I really did not achieve good lather with the earlier fibers and now these synthetics are amongst the most effective brushes in my den. Also the new fibers look better, they don not have that plastic look.
6.  In your opinion, are there areas where further testing is indicated? Please describe.
In the case of synthetics, bigger could be better. Due to the light nature of the fibers, it is my theory that they would really shine in larger diameters. Recently  MÜHLE has come out with the 25 mm Silvertip Fibers. No doubt also a great brush and a real nice alternative for the big brush appraisers. Yet, in order for that brush to really show its excellent capabilities, I think the loft needs to be a bit lower. The loft as far as I can see is around 60 mm. That is quite big, if not too big with this bulbous shape.
Another of our hopes is that the silvertip fibers become available in shapes other than the the typical MÜHLE bulb shape. As beautiful as they are from our experiment with the lower lofted brushes we also learned that MÜHLE is able to produce not only a perfect up scaled handle (which I think will attract many wet shavers) but also a fantastic flathead knot shape.
7.  Do you have any summary comments regarding your findings? Would you recommend them to others?
I would recommend the Silvertip fibers, the Black fibers and the Artificial badger knots to any wet shaver.
The new generation Silvertip Fibers are the biggest leap forward compared with the previous editions. The MÜHLE 23 mm model is a great all rounder, that offers tremendous value for money. In fact, its quality and performance outclass the majority if not all of the brushes I know around the 55 dollar mark. They really are that good.
The black fibers are like softer, more cloudy versions of the silvertip fibers. The difference is that the black fiber knots are made by machine, the Silvertip fibres are tied by hand as MÜHLE has stated after a question on the Shavenook. The other difference is the color and diameter of the single fibres. They perform excellent and will be a gem for people who love softer yet firm brushes. To me, their handles do not appeal as much as the classy silvertip fibers handles, so I hope one day MÜHLE will offer a wider choice of handles.
The artificial badger also impressed me, after the experience with the Syntex knots. The Omega brush is built with good materials, better than was expected considering the price point of 17 GBP or 26 USD (though I have seen it on sale for as much as 45 USD).  In boar country, that is Semogue Owners Club territory, and I think the Omega does match the Semogue quality standards. It is also the same league as the new Muhle black fibers. The Omega did shed a couple of fibers though, but nothing dramatic. Omega has made this brush in a barber style design, which I find very attractive. It also works well to me. A simple plastic stand is included, which is a nice touch but in my den does not see much use. The material of this brush, called Ovangkol, is not without debate as the tree that provides it is threatened with habitat loss. Had I known that before I bought the brush, I think I would have chosen another handle indeed.
I think the Omega is another example of synthetics having usually relatively high lofts for their diameter to work well. I face lather exclusively, but can imagine the loft being equally suitable for bowl latherers.  All in all, these artificial badger knots are an improvement compared with the previous Syntex editions. The Omega 343312 model is a nice addition to any den, and a great entry in the world of synthetics. It certainly is value for money.
It is tempting to compare this brushes to natural silvertip badger brushes, for many in the wet shaving community the holy grail or at least a common reference for quality.  I do think however that synthetics are a class of their own, just like boars and horse hair brushes, and have their own merits and are to be judged by that. This particular brush to me is an excellent one, and for its price hard if not impossible to beat. It also gives some of the much more expensive silvertips I have a good run for their money.
I also feel that synthetics are in a league of their own. Just as badgers have their unique qualities, so do synthetics. I like my MÜHLEs a lot, for their efficacy as well as for their look and feel. And I would not want them to try to be like any other type of brush at all. And like there are good and bad boars, good and bad badgers and good and bad horse brushes there will be good and bad synthetics as well. We certainly have seen some bad synths, so the current wave of new generation synthetics is a real treat.