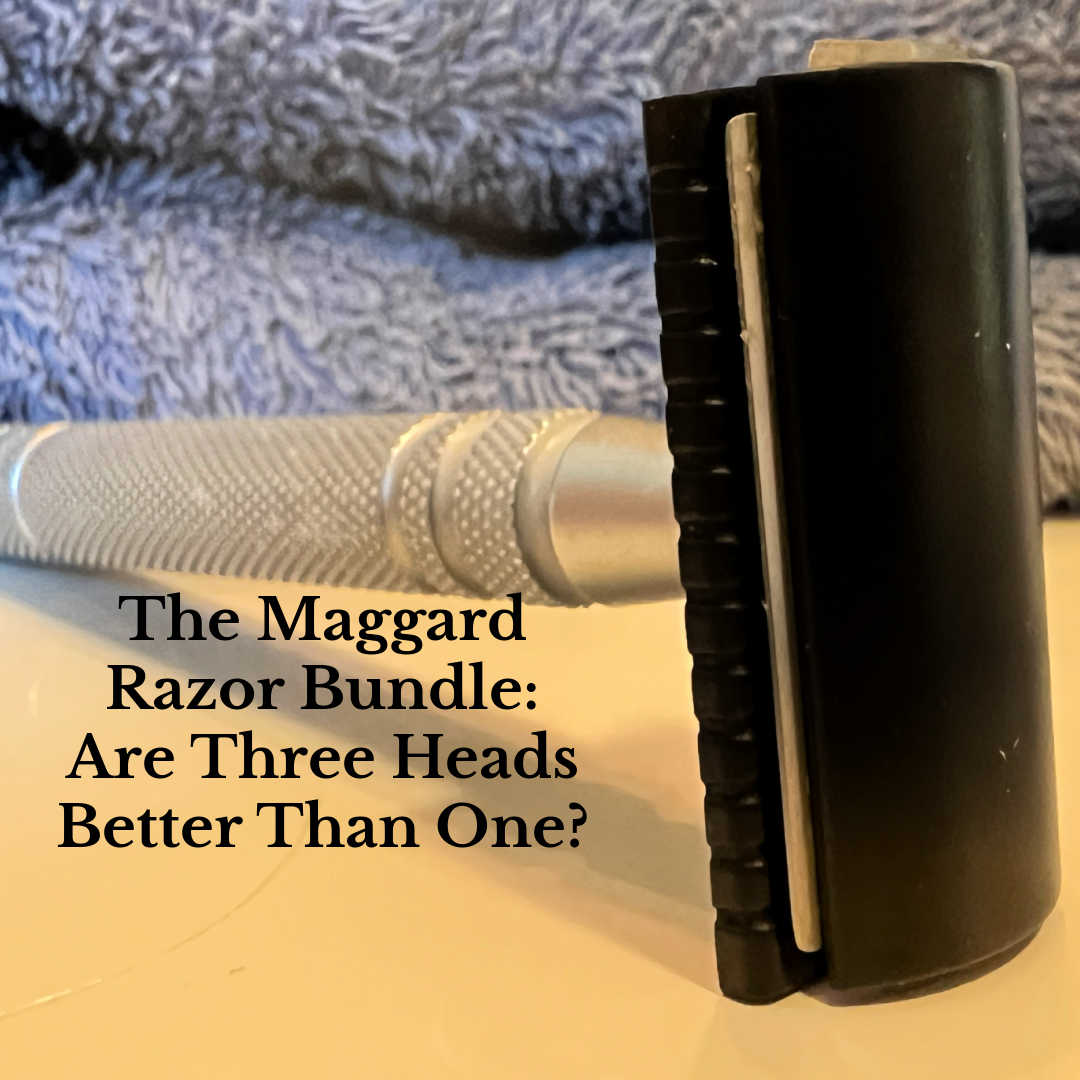 You can spend a lot of money on a fixed-setting double edge (DE) razor nowadays. High-end models (https://sharpologist.com/more-luxury-razors/) can set you back over $250, with manufacturers touting their materials and extremely tight build specifications. No doubt these are top-quality products but trying new razors at those price levels is prohibitive for many shavers (including this writer!).
Maggard
The proprietary DE razors from Maggard Razors in Adrian, Michigan represent the other end of the price spectrum. Maggard offers its own brand of closed, open and slant razor heads that can be purchased separately or with a Maggard brand handle. The handles and heads use the industry standard M5 x 0.8 threading so you can pair any Maggard handle and head. If you already have a 3-piece DE razor, its handle and head likely use that standard.
The closed heads, the subject of this review, are made from plated zinc alloy with a range of finishes including chrome, gray, matte black and silver, and anodized multicolor. Owner Brad Maggard describes the three available aggressiveness settings as mild (the V3M model), mild-moderate (V3) and moderate-aggressive (V3A). 
The company does not provide information on blade gaps for the different heads, Maggard explained by email: "We don't have published gap measurements, similar to how other bigger name manufacturers don't publish gap numbers on die-cast zinc alloy parts. This is because the tolerances aren't as tight as CNC machined razors.  We recommend looking for razors made from higher quality materials if you want published gap numbers and higher accuracy components."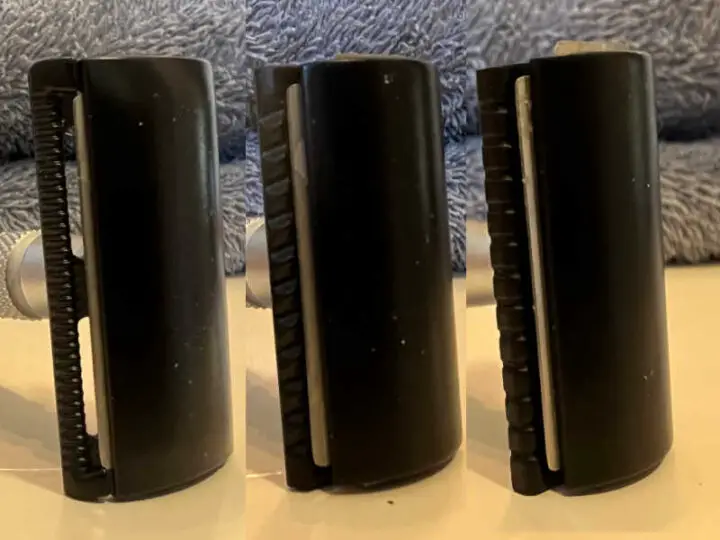 The V3 series handles and heads are inexpensive. The handles, most of which are made from stainless steel and come in a range of sizes, cost $19 each. Single heads cost $9.95; several sets combine a handle and head for $24.95. But what attracted me to these razors was the availability of two-, three– and four-head customizable bundles costing $16.92, $23.88 and $31.04, respectively. For $49 (including shipping) I bought a V3M, a V3 and a V3A head with a MR1 handle, all in black finish. 
With hindsight, I should have ordered a larger handle because the MR1 was slightly smaller than I prefer or I should have skipped the handle completely because I already had several other handles that fit the Maggard heads. Consequently, I did not use the MR1 handle for the review shaves.
Low prices are good for the budget but cheap razors can be bad for your face. So how did the Maggard heads perform? I followed a standard setup for the shaves with preshave lotion—can't be too careful with unknown razors!—and Castle Forbes shave creams combined with several different blades.
V3M: Mild
From the website: "We've sourced a new safety razor head design that provides an extremely efficient shave with an incredibly mild feel.

These heads are designed similar to a vintage Gillette Tech in that there are not alignment pegs – the blade is aligned with corner notches in the top cap.

There is a substantial gap between the blade edge and the safety bar – -but, at the same time there is very little exposure. This creates an extremely comfortable, efficient shaver that runs through multiple days growth with ease but is so comfortable you'll barely feel the blade!"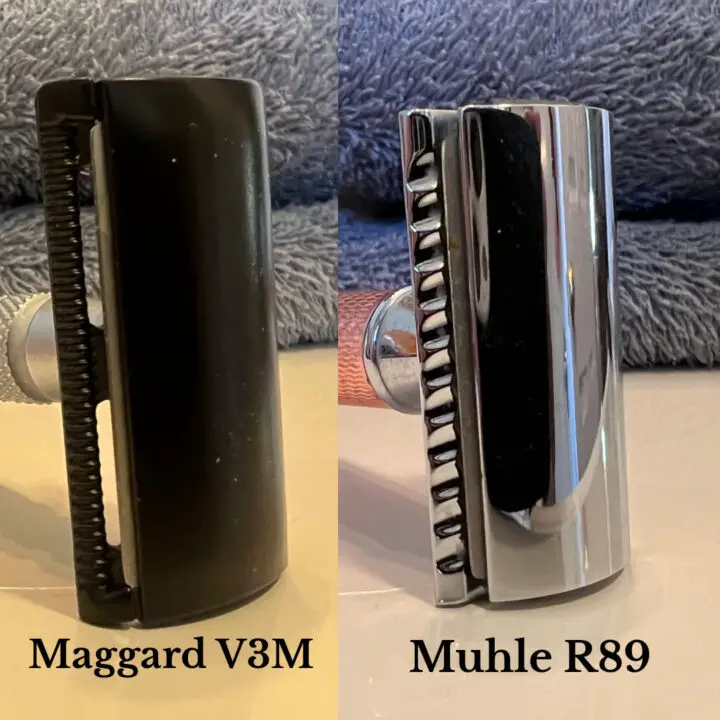 The description is accurate. When I first examined the blade gap I was surprised at its larger size compared to my other mild-rated razors, which include a Mühle R89 and a Feather AS-D2, both of which I pair with Feather blades. I started with an Astra Green blade and it had a small exposure. The blade alignment looked very slightly uneven but I lacked a precise way to measure that. My initial impression was that the shave seemed unusually close and I felt my face before starting on my neck. The results were surprising—the closeness of that first pass normally would take me three passes with my other mild razors. Results were the same on my neck with a surprisingly close shave.
I should have stopped at this point but I cycled through my usual three passes. Bad move. Although the V3M didn't cause any nicks, three passes did leave the right side of my throat tender and pink. 
That result guided my next few shaves. I tried an Astra Blue blade for three passes but the results were similar. My final experiment was a Lord blade, the mildest one I have, for  one-and-a-half passes, being careful to avoid any excess pressure on the second pass. This method worked and the result was a DFS that was closer than three-pass shaves with my other mild razors. 
When I asked Brad Maggard about the V3M's unusual gap/exposure design, he explained that the combination was selected because: "It just works well!  It has minimal blade feel but it cuts very cleanly.  We figured it would be ideal for people who can't handle a full three passes. With one or one and a half passes you can get a relatively smooth and presentable shave." Wish I had asked that question up front.
V3: Mild-Moderate
From the website: With a moderately aggressive but comfortable shave, this is a great option for beginners trying out a double edge safety razor for the first time. Shaves just as well as many of the big name brands with no noticeable difference in quality.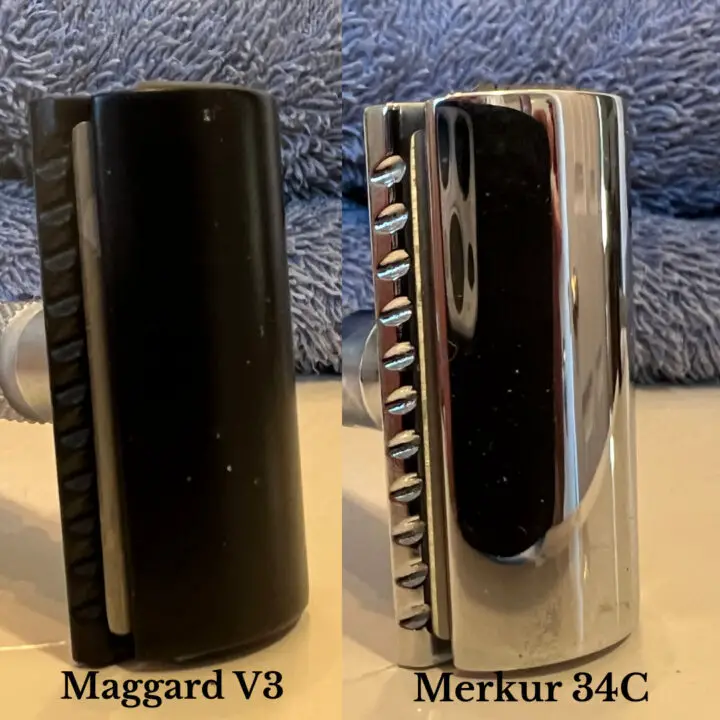 Same software as V3M shaves and same progression from an Astra Green blade to Lord. My standard for comparison in this category is a Merkur 34C with a Feather blade–that's my most frequently used combination–which gives me a close, no-hassle shave with  two and a  half passes. The V3 head did not work well for me, though. The shaves were close but I couldn't prevent hot spots under the corners of my mouth and on the side of my throat after the first pass. (I have a fair complexion and any shaving irritation is obvious.) Conclusion: This head was too aggressive for my skin, which I rate as slightly sensitive, even with a Lord blade.  
V3A: Moderate-Aggressive
From the website: "Our V3A (Aggressive) closed comb safety razor head is for those looking for a bit more "bite" in their shave. With a wider blade gap, more exposure, and less blade curvature, this razor is great for those looking for more control over their shaving angle. Be careful though, the V3A can bite!"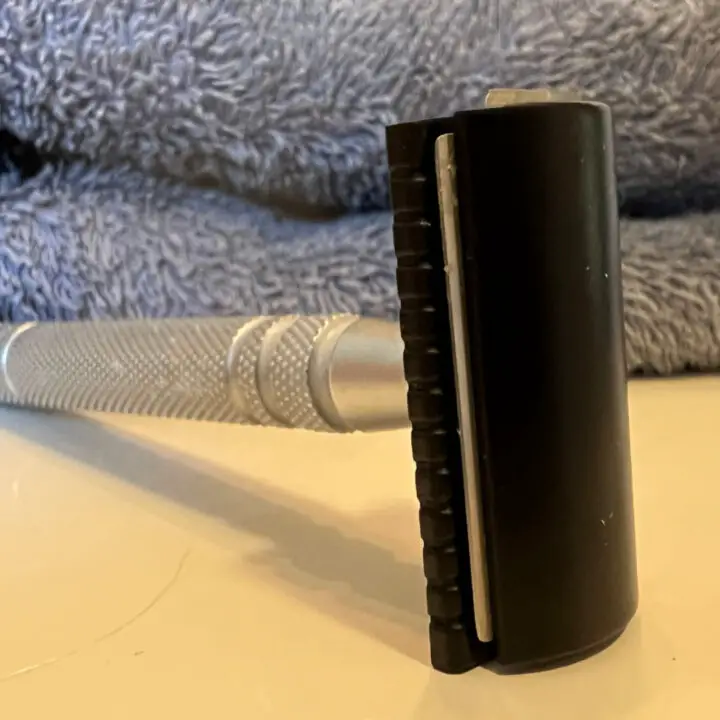 That description worried me. The V3 was rough on my skin and I was hesitant to use the V3A because other aggressive razors have produced mixed results. I don't normally shave with aggressive razors and my last experience was reviewing a Merkur 39C for Sharpologist (https://sharpologist.com/merkur-39c-review/). Fortunately, my concerns were misplaced. The V3A paired with a Dorco blade, which is slightly more aggressive than a Lord, produced surprisingly mild, irritation-free, one-and-a-half pass DFS results. I expected blood and guts but these shaves were by far the most comfortable of the three heads. The shave was more blade-intense but my skin felt very good afterward with no tenderness. I don't know why, but this head worked very well with my skin, as did the Merkur 39C. 
Overall Impressions
I think Maggard's approach of selling inexpensive heads separately or in discounted bundles creates a good value for shavers. You can experiment with different aggressiveness profiles for under $10 per head—less with a bundle—and if you already have a three-piece razor handle you like you can use that. Overall, I'd rate them as much more aggressive than other razors in their categories, at least compared to my usual razors, so keep that in mind if you have sensitive skin. One cautionary note: The Maggard heads are not stamped with identification marks. They ship in separate plastic bags so I suggest storing them in the bags until you can recognize each head visually if you buy different models.
The handles and heads come with a six month from date of purchase warranty and given the quality of Maggard Razors' customer service, I believe they will honor their warranty. When this order arrived, I couldn't find one of the heads in the box. I emailed the store and Brad Maggard wrote back in five minutes that he had packed the order himself and he asked that I double check. Sure enough, the missing head had fallen out when I was unpacking the box and it landed silently on a kitchen counter stool's pad. That's great service.