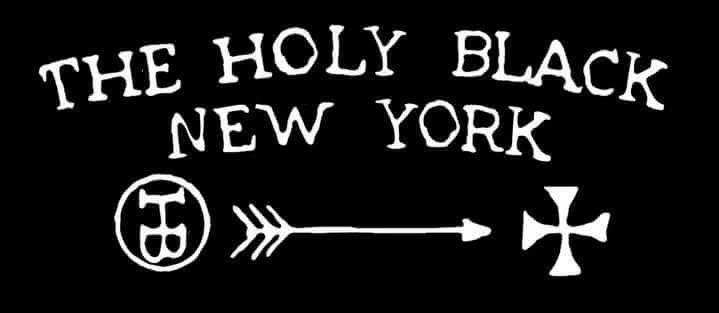 From secret stashes, to pomade grease guns you never know what they'll be up to next.
I caught up with Stefan the owner on The Holy Black and was able to find out some very interesting facts about the company.  Before we get into that, let's discuss a little history of this well-established artisan.
About:
The Holy Black was created back in 2013 by Stefan Vincent, a vintage barber shop and straight razor enthusiast. His journey started when he was just old enough to shave, inheriting his Italian immigrant grandfather's straight razors and strops from when he was a barber in Brooklyn New York. Intrigued, Stefan  began collecting and eventually restoring them.  The love of traditional wet shaving soon had him trying different soaps and aftershaves where Stefan became interested in making his own.
He created his own Bay Rum and started giving away samples to see how it came out. Stefan received positive feedback from the recipients and soon began receiving emails from others about purchasing the product. He opened a small webshop with a greater selection and began selling out his stock immediately. In short, The Holy Black was formed.
The name itself (The Holy Black) is actually a form of cowboy slang.  The line "I only shoot with The Holy Black" was a popular saying amongst those who carried guns and preferred using traditional black gunpowder over newer, cheaper alternatives that were becoming popular.
Today,  The Holy Black is an artisan making and selling products under their own name and the Caswell Massey Line. They are known for their special release products that are usually seasonal and very limited as well as their regular stock items.
Innovation: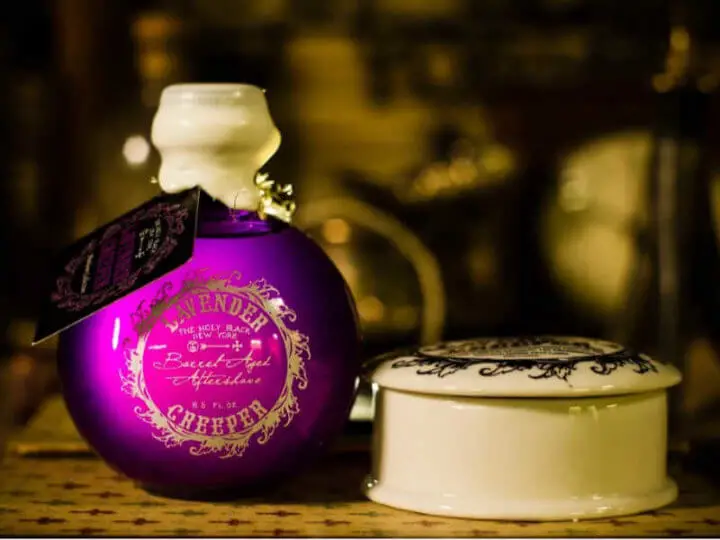 It's no surprise that the popularity of The Holy Black really took off when they started with their highly marketed releases.
Here are a few of the very popular ones:
The Creeper Line
A summer seasonal product that has menthol in the base.  There have been three releases (Lavender, Tangerine and Ruby Red).  Aftershaves are barrel aged for over one year. These items have a decent amount of menthol in order to give the user a cool feeling for several minutes after application.
Tell Tale Heart
Inspired by the works of Edgar Allen Poe this limited edition box set came with soap, aftershave and EDP all in a custom package. (Scent:Dragons blood, Oud(agar/aloeswood) and sandalwood).
Jeckyll and Hyde Box Set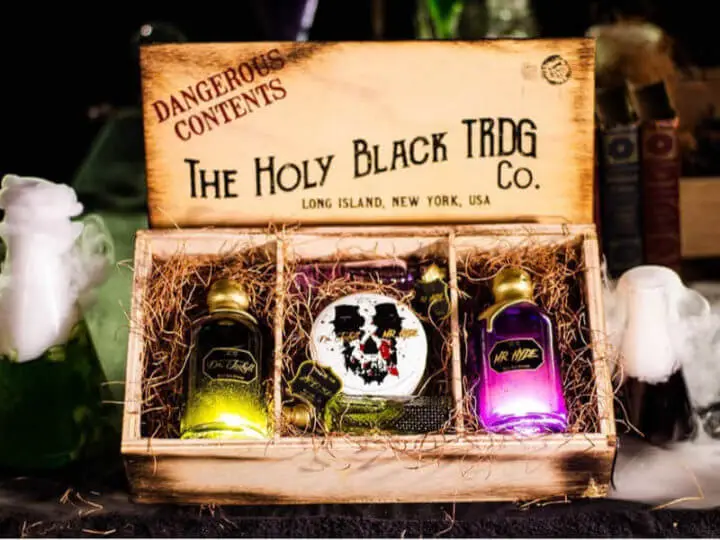 Jeckyll and Hyde is a set that is designed to combine ingredients to make a new scent. The handmade box actually lights up when opened creating a unique package.
Christmas Cookies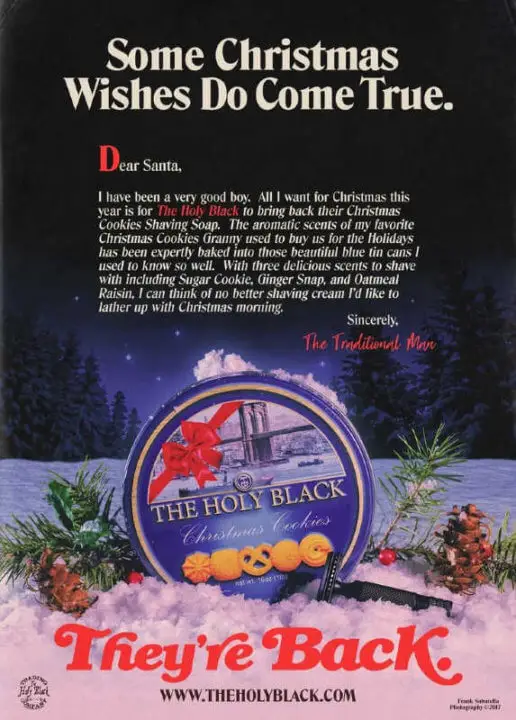 This set contains over one pound of soap with different scents based on a popular Christmas cookie tin that many of us grew up seeing at the holiday table.
Regents Line
Derived from an ancient recipe within the vault of Caswell Massey, comes Regents.  This particular scent is a collaboration between The Holy Black and Caswell Massey ( The first American fragrance and personal care product company.  Established in 1752 CM scents have been worn by John F Kennedy, The Rolling Stones and George Washington).
The recipe was found in a leather-bound book from the 1800's (more on that in the interview portion of this article).  When Caswell Massey and The Holy Black decided to recreate the scent, they used as much of  the same essential oils and process as the original that is available today.
The formula consists of  Rosemary, Neroli, Bergamot, Orange, and Lemon in coconut oil all very popular of that time.  (Check out this article regarding 18th century shaving for more information)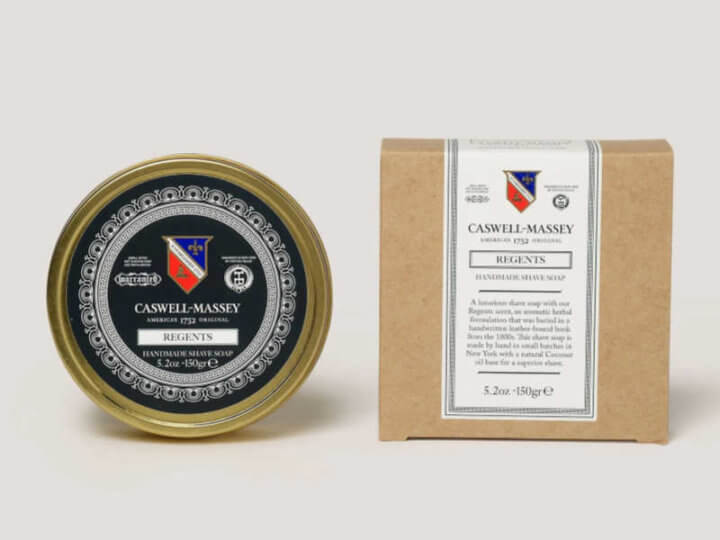 Recreating this particular product was a big step in the wet shaving world.  It's one of the first collaborations between an artisan and mainstream producer and kicked off the partnership between the two. A step that will forever be remembered in modern wet shaving history.
Interview With Stefan via Email:
I was able to catch up with Stefan the owner and founder of The Holy Black recently via email.
Here was our conversation:
1. The collaboration between The Holy Black and Caswell Massey might be one of the most epic ever. I understand the recipe came from an old book CM had from the 1800's.
How did you begin the partnership with CM and what were some of the challenges to make this great scent?  Did you find out any ancient secrets or crazy facts about the past?
My brother actually met the new CEO of Caswell-Massey at a barber event a few years ago and got us together, we are all into old barbering antiques and design so it was just a natural fit. When we visited their headquarters and saw the archives we were blown away. They've got an amazing collection of barber and apothecary antiques dating back to the 1700's. We spent hours sifting through old handwritten recipes and advertisements. It's pretty much the mecca of American wet shaving. They even have sealed original bottles of fragrances and other products. They're the oldest continuously running consumer product company in the country dating back to 1752 and they made fragrance for George Washington, JFK and many others throughout history, so to be able to resurrect an old formula for them was a dream come true. (I have included a photo of the original Regents Formulation for your article.) The biggest hurdle with a project like that is translating the measurements to something a little more modern as well as identifying fragrance components that may not be available anymore, or may be called something else.
2.  Do you make all the soaps for CM now?  Aftershaves?
We are currently making all of their shaving soaps in multiple fragrances. Supernatural #6 and their Almond fragrances are my personal favorite, and we still make Regents for them as well.  We work very closely with them so you can expect to see other collaborations from time to time.
3.  The Creeper Line of soaps and aftershaves are extremely popular. The balance of menthol combined with strong citrus notes seem to be getting better each year.
How did you come up with the formula and how many did you go through to make it just right?  How long in advance do you start making the next year's batch?
The main thing with the Creeper is that I like to keep them to a single, refreshing note, and we want the cooling effect to compliment the fragrance; that is why we tend to lean towards citrus or eucalyptus/camphorous scents like lavender. The most important part was figuring out which cooling compound to use, and then to experiment with different concentrations. I got the idea from the e-cigarette/vaping community that has been using koolada for years. It is also used in gum and candy and was developed for shaving cream in a can. I have noticed that some other Artisan soap companies have now started to try to emulate it, but I think you'll find they can't quite get as cold as the Creepers without sacrificing their latherability because of a little secret we figured out by accident. For the prep time, we start aging the alcohol in oak barrels one year in advance for each run. We use perfumers alcohol and pretty much turn it into whiskey, but please don't drink it.
4. I know you guys put a lot of time into the Halloween releases. It looks very challenging to say the least. How long does the preparation take to make them a reality?
The Halloween projects are a labor of love, We start them usually early in the summer, as far as design, sourcing and working out all the bugs. We try to make as much of the packaging and product in house, from building and printing the boxes to tying and wax dipping the bottles.  This year we have something very special, expect to see some teasers very soon; so if you're thinking of pre-ordering something else, you may want to wait to see what we have in store. I can tell you here exclusively that it will be a soap/splash/EDT combo with some other goodies, in a tobacco forward fragrance and it will be the most elaborate packaging we have done to date. The price point will also be lower than our Jeckyll and Hyde project from last year.  
5. Anything you'd like to add ? Any new things on the horizon?
We've got lots of fun stuff on the horizon before the end of the year, we have a huge Secret Stash drop coming in a couple weeks that will include all three Creepers in our standard packaging, as well as almost every fragrance we have ever made, so make sure you follow us on Instagram and sign up for our newsletter on the website to stay in the loop. We also have our annual Black Friday Extravaganza live show and a fun Holiday release in the pipeline. Keep an eye out for a bunch of giveaways on our Instagram and some weird collaborations with some companies outside of the wet shaving community. Also our Daily Vlog on Youtube is starting back up in the next week or so, and I think that's pretty much everything we have on the schedule.
Conclusion:
Whether it's the hype, uniqueness of the releases, or the performance, The Holy Black has really dialed into the needs of wet shavers from all around the world. Their ideas are truly unique and have wet shavers wondering "what's next".
It's really nice to see that with all the cool packaging, videos and social media attention, that The Holy Black's products seem to perform well and are fun to collect.
About The Author:
Joe Borrelli is a long-time wet shaving enthusiast and collector.  He hosts the Wet Shaving News/Talk Podcast, runs his own self-funded website http://shavestraightandsafe.com/  and operates a YouTube channel to help inform the community of new information involving the wet shaving world. Joe holds a BBA from Florida Atlantic University, and currently works for the nation's largest wine/spirits/beer retailer. In his spare time, he enjoys spending time with his wife Linda & son Anthony, reading, writing, outdoor activities and collecting wet shaving apparel. Joe has also written several dozen articles for online publications such as Sharpologist and How to Grow a Mustache.  Find out more about Joe here.