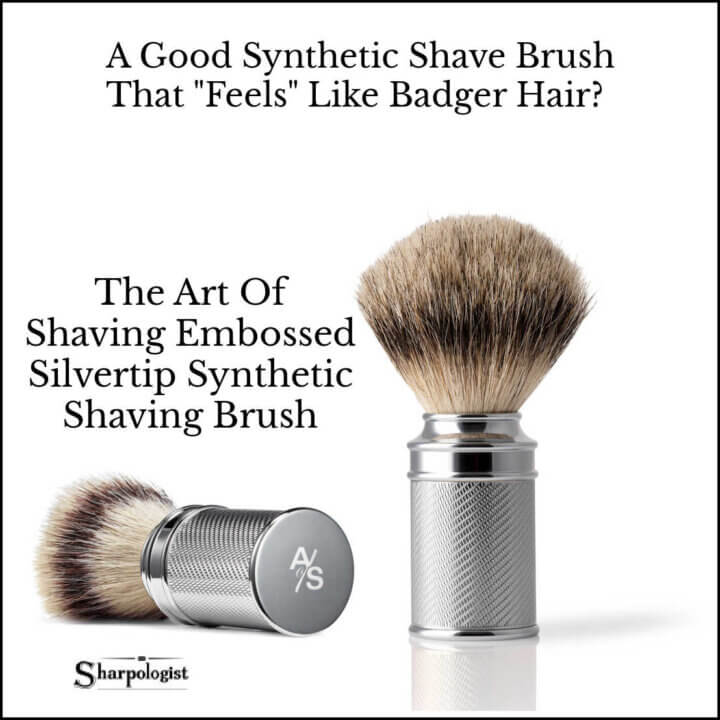 A few years ago The Art Of Shaving (TAOS) committed to eliminating animal hair (specifically badger hair) shave brushes from their product line.  The Art Of Shaving Embossed Silvertip Synthetic Shaving Brush is their first step in making that commitment a reality.  But how well does it work?
The Art Of Shaving Embossed Silvertip Synthetic Shaving Brush
From the website:
The Embossed Silvertip Synthetic Shaving Brush recreates the natural brush experience with soft synthetic fibres that effectively generate warm, rich lather. Its embossed handle brings elegance to your shaving experience while also adding improved grip….
…A blend of 0.18, 0.15, and 0.10mm straight, crimped, and and tapered synthetic fibers.
My Experience With The Art Of Shaving Embossed Silvertip Synthetic Shaving Brush
[Note: I received this brush at no cost for review purposes but my opinions here are my own and have not been reviewed or approved by The Art Of Shaving.]
Let's get the elephant in the room out of the way first.  This brush bears more than a passing resemblance to the Muhle 31M89 synthetic "Silvertip Fibre®" brush.  However there do appear to be some minor differences between the two:
The TAOS brush is a blend of three fibers (mentioned in the previous section).   The Muhle brush does not specify fibers on their website, just saying that there are "several" different fibers (though one of my knowledgeable brush gurus claims there are seven types of fibers).
Muhle specifies their brush is "Vegan" while TAOS makes no such claim on this brush.
And of course the TAOS brush has an embossed logo on the bottom of the brush.
The box that The Art Of Shaving synthetic brush comes in states that it is made in Germany.  So I suspect that TAOS and Muhle get versions of this brush from the same original equipment manufacturer (but I have no proof one way or the other: I asked both TAOS and Muhle about it and got a non-committal answers).
TAOS does not have brush specs on their site. My "back of the envelope" measurements are:
Loft: 100mm
Knot: 21mm
Total Height: 4 inches
Weight: 130g
All this aside, how well does the brush, you know, work at building lather?
Actually, for me, pretty damned well.  The size of both the knot and the handle, plus the over-all weight of the brush, let me grasp this brush securely and gives me excellent control over how I apply lather. As for building the lather itself it retains water (and heat!) very much like a good badger hair brush.  If you have experience making shaving lather with a good badger hair shave brush, your experience with this brush should be quite familiar.
Conclusion
[Note: The Art Of Shaving links are affiliate.]
Unlike many other synthetic brushes I have that perform well otherwise, the TAOS synthetic silvertip brush "feels" more like real animal hair on my skin.  And "where the rubber meets the road"==making lather–is quite easy and familiar too.  The Art Of Shaving Embossed Silvertip Synthetic Shaving Brush is an excellent successor to their badger hair shave brush line.  The brush is available on the TAOS website.