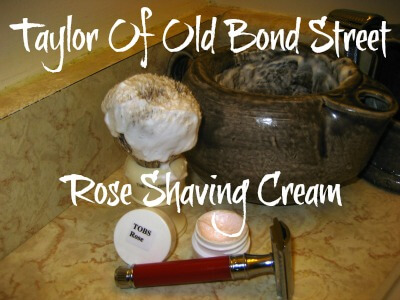 Good Day folks, after posting a few reviews on my own review site, our good host Mantic59 has graciously offered to host a few of my reviews on this here fine website. Needless to say, I'm honoured, and will be posting here frequently. 
[Ed. note: Amazon and West Coast Shaving links are affiliate.]
So, to start things off, I'll be reviewing Taylor of Old Bond Street Rose shave cream. TOBS describes it as a "floral accord with notes of rose and geranium with hints of spicy clove and cinnamon."
It lathered up nice and thick, although didn't produce too much in the way of volume. The lather provided a nice cushion, as well as being just slick enough to give a good shave, but not much more than that. It's pretty much what I've come to expect from any of the TOBS creams; I've not seen much in the way of variation of the performance of their creams between the various scents that I've tried.
The scent was quite nice. Exactly what it says on the tin, as some might say (warning, TV Tropes link), it was a pleasant odour that smelled just like roses. It isn't quite my favourite scent for shaving, but it's definitely exactly what should be expected. Strength-wise, it was spot on. It came on strong, without being over-powering, and didn't fade at all during the shave. It didn't linger at all on me after washing off my face, however the scent did linger a bit over half the day in the bathroom.
8/10 Scent Pleasantness
10/10 Scent Strength
8/10 Lather Quality
A full 150g / 5.3 oz tub goes for about $18.00 on Amazon.  Also available from many other sources including West Coast Shaving, Maggard Razors, and Bullgoose Shaving.
Overall, I give it a 8/10. Your mileage may vary depending on just how much you like your floral scents of course, personally speaking, I generally prefer them to be tempered by something else. I highly recommend it if a nice strong rose scent is something you think you'd like.
Ingredients: Aqua, Stearic Acid, Myristic Acid, Potassium Hydroxide, Coconut Acid, Glycerin, Triethanolamine, Sodium Hydroxide, Parfum, Methylparaben, Propyl Paraben, CI 17200