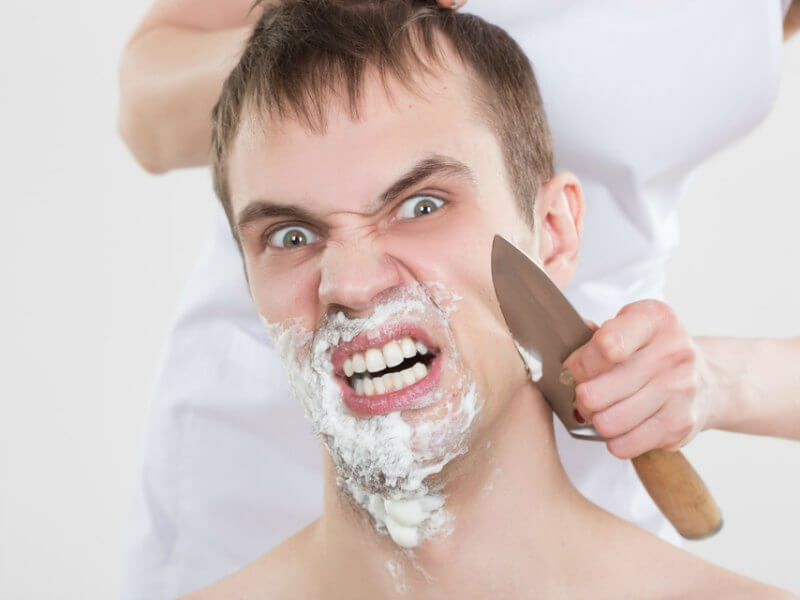 Hobbies are usually something that most men have and you can usually get them to talk about their favorites with little prompting. Hell, sometimes it doesn't take anything more than eye contact. "Got a new driver last week!" "Bob, you know I think golf is a good walk spoiled, but I'm happy you have a new driver, whatever the hell that is."

Polite Interest?
But when it comes to wet shaving, I've found the responses from my friends run the gamut from politely interested, like I was talking about a polyp that I had removed, to the screwed up face showing the "what the hell is this guy talking about" look. That's the face I call an Amway face. "It's not REALLY multi-level marketing….!"  My friends and family know me. They know I've gone OCD on things at points in my life. And they, both men and women, seemed to understand:
Me: "I'm into cigars!" Them: "Well, it smells bad but it is considered sophisticated!"
Me: "I'm really getting interested in guns!" Them: "He served in the Army. They let him have loaded weapons, right?"
Me: "I'm really starting to love Scotch!" Them: "It keeps him occupied and quiet. And snoring. And away from the guns."
But for some reason, it's a whole different attitude when I try to impart my excitement for wet shaving. I just can't seem to get them to understand that it's MORE THAN JUST SHAVING! This is the point where they have strained smiles on their faces and start to back away and look for exits. I believe I would have been one of those people before I saw the light. "And the Lord came down and said "Load thy badger brush. And Jay saw this and agreed that it was good!"
Dad
That's probably because of how I was raised. Nope, not blaming society or my parents for my ignorance of all the good and great things in the world of wetshaving. It's all mine.  But, to understand how I became such a late bloomer (I discovered wet shaving at age 40) you have to understand my Dad.  He was an optometrist and was blind as a bat. His eyesight was very bad. (His grandmother told him that if he did "that" too much as a teenager, he would go blind. He replied that he just wanted to have to wear glasses.) He literally couldn't see in the mirror to shave without his glasses. No surprise that at the earliest opportunity, he switched to an electric razor. I grew up with the buzzing sound coming from the bathroom as my Dad got ready for work.  He saw shaving as a chore. Something to get out of the way as quickly as possible with the least amount of muss and fuss.


So when I started shaving, I saw it as the same chore. Granted, it was different back in the late 80's. The porn 'stach of the late 70's and early 80's had morphed into the mullet. I thought it looked better too. Little did I know that I would cringe later at the photos of me with my "business in the front and party in the back" look.
But I was a product of my environment, so I got an electric. It was a cheap one and felt like a weasel was tugging the hairs off my face. "Wow! That must be why my Dad doesn't like shaving!" I eventually got a better electric and basically stayed with that way of shaving for the next two decades.
Granted, if I was wet shaving when I joined the Army I don't think that would have gone over well at Basic Training. "Private, what in the name of God's green earth are you doing?" "Loading my brush Drill Sergeant! This Mitchell's Wool Fat is a real bugger to get lathered." "DROP AND GIVE ME A HUNDRED!"
Fast forward to after 2011: Now that I had expanded my shaving horizons and realized just how great it could be, I wanted to tell friends! I wanted tell family!
As you may have guessed, reaction to my new "hobby" went from mildly interested "better than those damned cigars!" to downright scornful "you actually spend money on that crap?"  I found that it was definitely an uphill battle to try and get more of my friends and family to understand that taking the time to care how they look is important. Not only does it help with your self-esteem, you look better and feel better. They have always associated it with clothes, cars and hair products while I was trying to get them to understand that it really starts in the morning with a shave.
I believe the difficulty goes back to how society portrayed shaving for decades. It was a chore, something to get over and done quickly without any fuss or muss. Knock it out and then start your day. But as the big shaving companies kept jacking up the prices of their cartridges, I believe more and more men started looking at how they could save money and maybe even put a little time and effort into their daily chore.
Evidence is as simple as the 2006 episode on The Today Show. Correspondent Cory Greenburg showed how you could get a close shave like your grandpa did, feel better and look better at the same time. I've read that sales at a couple of on-line stores skyrocketed after that segment aired. That, coupled with how the wet shaving world has expanded in the last couple of years, (see my first article) it shows that more men and even women are seeing that taking the time to take care of your face is an investment in yourself and how you and the world view you.
I have had limited success in trying to convince friends and family that this is actually something they should try, and not scoff. About 3 years ago I good friend of mine said that he's a wet shaver. "Hallelujah, I thought! I'm not alone!" I was a bit disappointed to learn that he has one brush, one razor, uses one cream and is content. Although he's in the wet shaving crowd, I feel like he's short-changing himself by not buying more and more and more! Of course, that's the OCD talking. Another friend was using an electric and he's now come over to wet shaving side. It's good to sit and chat about what soaps and creams we're trying although we sometime get weird looks from co-workers.
Going Low Key
So I've decided to take more of a low key approach to get across my love of everything wet shaving. (Well, not everything. Williams Shaving Soap smells like a urinal mint, IMHO.)  I hoping that they notice my BBS shave, smell my Bay Rum or D.R. Harris aftershave, and notice how good I feel in the morning after a great shave.
Either that or I could try a lot more eye contact to really get my point across, but seeing as how that didn't work the past 4 years, I think I'll stick with feeling good, looking good and smelling even better.
How do you talk about wet shaving?  Leave a comment below!