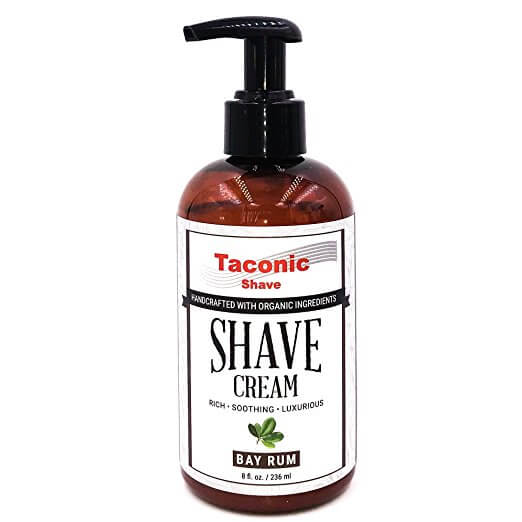 Taconic, known for their "value-priced" shave products, has recently launched a new line of shave creams that come in a pump bottle.  I got some to try, along with their new aftershave splash.

Shave Cream
Full disclosure: I was involved with testing and evaluating some of the interim formulations of the shave cream while it was being developed.  This cream took a while to "get right."  Some formulations worked well but clogged the pump.  Others had some ingredient separation.  Some just didn't perform particularly well in my "hard" water.  But Taconic's blender persisted, and with the addition of some somewhat unusual ingredients, finally hit the right balance with a great product!
Shave Cream Ingredients: aloe vera leaf juice, glycerin, steric acid, myristic acid, potassium hydroxide, safflower seed oil, coconut oil, cellulose, fragrance blend, radish root ferment filtrate, lactobacillus, cocos nucifera coconut fruit extract, sodium lactate, sodium borate, zinc oxide, silk protein, allantoin, willow bark extract.
Scents include:
Bay Rum ("…hints of cinnamon, bay leaf and citrus…"),
Urban Woods ("a modern take on a classic barbershop blend of cedar, tobacco & bergamot"),
Excalibur ("a classic fresh, clean scent with notes of musk, mahogany & teak wood."), Eucalyptus Mint ("…a unique combination of essential oils for a cooling & refreshing shave."), and
Lavender Lime ("…herbal lavender and bright citrus notes.").
I have the Bay Rum and the Excalibur scents.  I think the Bay Rum scent is a bit assertive on the cinnamon fragrance but is otherwise a decent take on the classic (I'm told that the scent formulation may be tweaked in the future for a more accurate Bay Rum scent).  The Excalibur scent for me is light and woody mostly, with muted musk notes.
The lather is perhaps a bit thinner in my "hard" water but nevertheless pretty solid.
The performance of the creams I have is great–both with and without a brush.  I think cushion is excellent and lubrication is outstanding!  In fact, it very much reminds me of my all-time favorite shave cream, Wm. Neumann's Old Fashioned Soda, another product in a pump bottle.  But Taconic is 75% of Neumann's price.  Post-shave feel is also very good.
Aftershave Splash
Taconic also took the opportunity to introduce a new aftershave splash into their lineup, with the same scents as the shave cream.  I only have the Excalibur scent in this product.  If you're a fan of "the burn" in aftershave splashes, this is not for you.  If, on the other hand, you're like me and think the alcohol sting is not your thing, Taconic's aftershave splash may give you a light alternative to the typical aftershave balm.  I find it nicely calming and moisturizing, again reminding me of another favorite product of mine, Lucky Tiger Aftershave And Face Tonic.  I'll definitely use this during the hot, humid Texas summers!
Aftershave Splash Ingredients: Organic Herbal Extract (Aloe Vera infused with Witch Hazel, Japanese Honeysuckle, Chamomile Flower, Willow Bark, Calendula Flowers, Goldenseal, and Lavender Buds), Glycerin, Citric Acid, Polysorbate 20, Allantoin, Proprietary Fragrance/Essential Oil Blend, Phenoxyethanol, Caprylyl Glycol and Menthol.
Taconic's new shave cream and aftershave are making their way to distributors, including Super Safety Razors and Amazon (affiliate link).