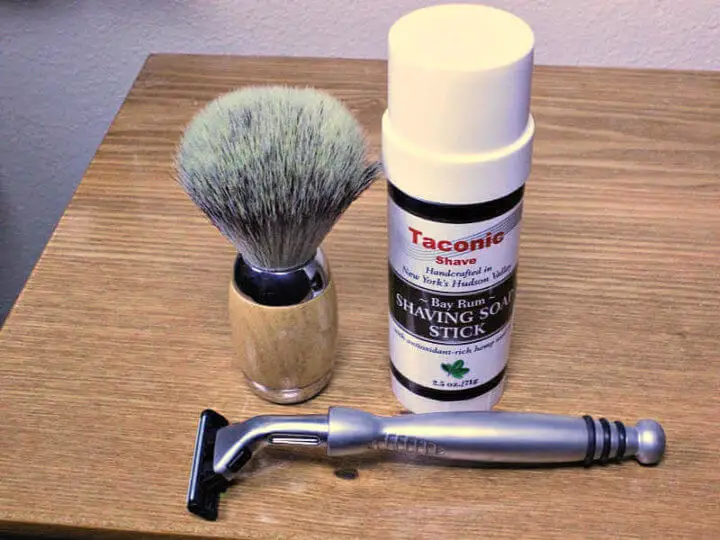 Taconic, mostly known as a "software" (cream, soap, aftershave, etc.) brand, has recently started offering some shaving "hardware" as well.  I got their Sensor-compatible razor and a couple of their shave brushes.
Wood And Chrome Shave Brushes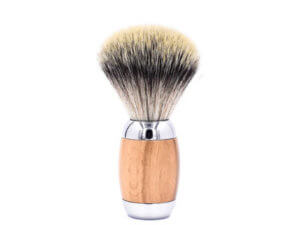 Howie, the owner of Taconic Shave, recently got in touch with me about their new line of shave brushes.  Howie's proud of the line, particularly their value pricing, and offered a couple for me to try.  There are "silvertip," "mixed badger," "pure badger," and "synthetic" versions of the brush (Amazon Affiliate links.  Also available at Super Safety Razors): I received a "mixed badger" brush and a "synthetic" brush at no cost.  Although I did not promise a review in exchange I do think there are a couple noteworthy aspects to these brushes that deserve attention.
All of the brushes have the same dimensions: 22mm knot, 2.95 inch loft, and 2.3 inch handle.  These brushes are relatively heavy at 3.8 oz (109 grams) but I find them well-balanced and they fit nicely in my hand.  All the brushes come with a stand for storage and display.
The "fit and finish" of the brushes I have is excellent: the handles seem to be well-constructed and I have yet to see any stray hairs in the wash basin (or on my face).  And I'm pretty rough on brushes.
The mixed badger brush performs as expected.  But the synthetic brush is particularly noteworthy to me.  The description provided by Taconic is somewhat innocuous:
"Taconic Shave's Premium ultra fine synthetic bristle brush is the best alternative to badger and boar brushes for vegans, those who do not want animal products or those with sensitive skin. These extremely soft bristles create an astounding lather. The brush dries quickly, making it ideal for travel or home use. The handsome wood and chrome ergonomic heavyweight handle was designed to make lathering easier."
What it doesn't say is how close this brush feels to a badger brush.  Admittedly I do not have extensive experience with all the new types of synthetic hair shave brushes coming onto the market (though I am in the process of acquiring more!).  But this brush has the backbone feel of a mid-grade badger brush.  And though the tips have been dyed a cream color that's more on the yellow side than the off-white side, it resembles one, too.
In any case, I really like how this brush performs!  The weight is heavy enough to drop to the bottom of my wash basin of hot water for a full soak (I have a number of brushes that are so light they just float on top)–yes I know I don't have to soak synthetic brushes like animal hair brushes but this brush seems to hold residual heat better than most.  Building lather is easy and very "badger-like" in its characteristics.  For the price/performance ratio alone I think this brush is a great deal.
Sensor Compatible Razor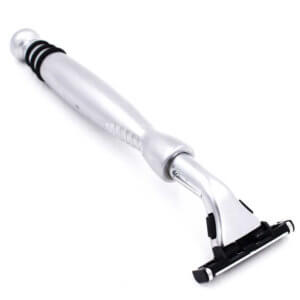 Full disclosure: I was involved with testing some of the interim designs of this razor.  I received a production unit at no cost as a thanks for my help with testing.
Taconic looks to fill a void by providing some better handle options to older cartridge designs.  Their Sensor-compatible razor is a heavyweight alternative to the normal plastic version you may find in the mega-mart.  From their webpage:
"Taconic Shave's Sensor Blade compatible razor accepts all Gillette Sensor blades and is the one that you thought wasn't being made anymore! Ours has the quality that will rival any that were ever made. This is a solid metal razor that has that "heavy in the hand feel" with a NEW enhanced grip design with ridges on the handle. Both beautiful and economical, this combination delivers an extremely smooth and close shave. This razor accepts any standard blade cartridge that is Sensor compatible."
The weight: 3.4 oz. and the length is 5.5 inches.  The handle is chrome plated with rubber rings for a better grip.
Sensor razors are by nature weighted away from the head but the balance is decent here and the weight feels good to me.  In use this razor performs as I expected with a Sensor compatible cartridge.  It's a good, solid razor.