Two years ago, I was member of a group of wet shavers who wanted to look at the new crop of synthetic brushes entering the marketplace. We wanted to see if there were significant changes from the synths we had used in prior years.  This article will not recap our work, but rather look at the growth of interest in synthetic brushes. None of us claim that our work changed attitudes—only that changes have occurred since our project began.

The group decided to conduct a testing program during the Spring of 2012. We purchased brushes and swapped them back and forth amongst ourselves. In all, we tested 19 different synthetic brushes from nine manufacturers. We did not attempt an exhaustive testing program for every available synthetic brush since that was not necessary to meet our project objectives.
Members included me, Teiste Brito, Wim Bouman, Gary Carrington and Mark H (mantic59). At the end of the project we all agreed that the new generation of brushes was, in fact, different and improved from the brushes we had used in the past.
We published our findings on shaving websites starting in June of that year. Sharpologist led the way with over 20 feature articles on the topic. By the end of the project, Sharpologist had become the world's leading web resource for information about synthetic shaving brushes.
The group published multi-part feature articles including "The New Breed of Synthetic…Shave Brushes" and Gary Carrington's series "Synthetic Fibers—A Historical Perspective…." Gary's work to categorize the "Generations" of synthetic brush fibers is so well known that it is now part of shaving lexicon worldwide.
When we began, I thought it would be interesting to look at attitudes toward synthetic brushes before and after the project's testing program. I conducted a pre-survey on a large shaving forum in June 2012. I repeated the same survey on the forum a couple weeks ago. I wanted to see whether there were changes in attitudes or acceptance during the intervening two years. Both surveys are "snapshots" of the first 100 responses from each year.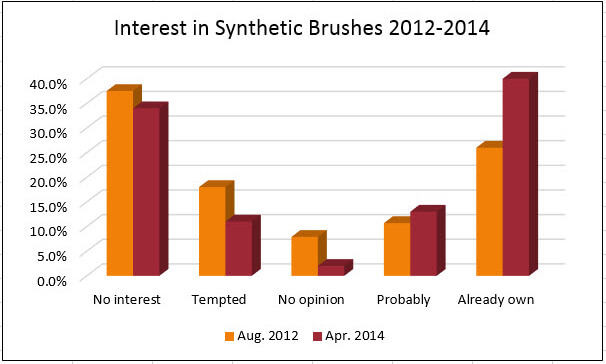 Findings
Respondents indicating "Little or no interest" in synthetic brushes declined by 9%.
The percentage of those who indicated they were "Tempted" to buy a synthetic brush was down by 36%. I did not expect this. One possible explanation is that those who were tempted formerly had actual plans to buy, or had already purchased one (See below).
The number of respondents expressing "No opinion" was down a whopping 75%.
Those indicating that they will "Probably" buy a synthetic brush soon is up 22%.
The percentage of shavers who indicated that they "Already Own" a synthetic brush is up by 54%.
Conclusions
 Increase in the popularity of synthetic shaving brushes is undeniable.
 There has been significant increase in the number of shavers who will probably buy a synthetic brush in the near future.
 Fewer shavers report that they have little or no interest in synthetic brushes.
The percentage of shavers who report that they already own a synthetic brush is up by 54%. A detailed review of responses shows that many owned have more than one synth—usually 2-3.
The percent of shavers reporting they had no opinion is the most-changed category. It may be that shavers have more information and are better educated. As a result, they are more likely to have opinions one way or another.
More than one-third of those responding said they were less tempted to buy a synthetic brush than two years ago. Greater exposure and discussion about synthetic brushes may have served to reinforce their desire to use natural-hair brushes only, or they tried and didn't like synthetic brushes.
Whether our team helped to increase the popularity of synthetic shaving brushes is for others to decide. I think I speak for the the team in saying that we recognized the possibility of change, and curiosity led to our involvement. We anticipated the coming wave and decided to ride it.
The project interested me personally because I believed that shavers would want to know about these new brushes. I was able to convince an articulate and experienced group of evaluators to join me. This increased my confidence that the end result would be a balance of opinion.
Whatever success we may have had is due in large part  to the leadership role taken by Sharpologist.  No other website provided such comprehensive coverage of this topic, or was more timely in reporting it.
Related Posts:
The Maturing Market
Generations
Historical Perspectives
The New Breed Of Synthetic Brushes (Summary)