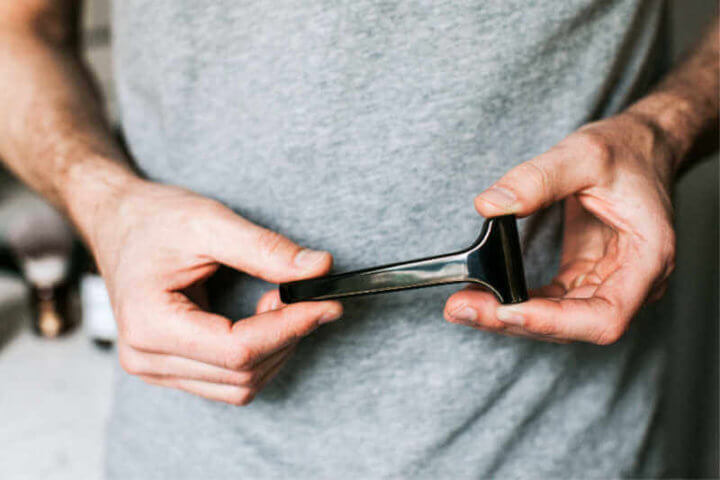 Sharpologist has featured the Supply Injector razor a few times over the years and it is a popular razor among readers.  So I reached out to Patrick Coddou, the founder of Supply, to get a little more background on him and his company.

Give us a little background on yourself.
I'm a proud Texan, born and raised. I was born in Dallas, grew up in Houston, went to college in Austin, and now live in Fort Worth – so I've covered most of the major metropolitan areas. I studied Mechanical Engineering at The University of Texas and received my Masters in Business from Southern Methodist in Dallas.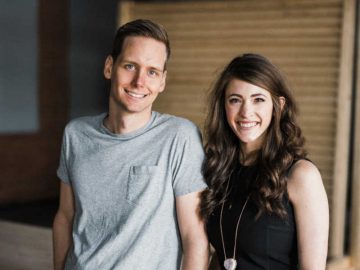 After studying engineering, I began a career at the world's largest military aerospace contractor, Lockheed Martin. I spent more than eight years there – roughly half of it was working on classified programs in the infamous Skunk Works division (the part of company responsible for inventing iconic aircraft like the SR-71 and F-117), and the other half working on the F-35 fighter aircraft.
When did you first get interested in 'old school' wet shaving?
My very first razor was a vintage Schick Injector that was given to me by a member of a well-known wet shaving forum. I was doing some research for a shaving blog I owned at the time, and mentioned in the forum that I had never tried an injector razor. Next thing I know, there was one on my doorstep. Not only was that my first introduction to the unbelievably smooth shaves that injector razors provide, it was my first introduction to the kindness and generosity of the wet shaving community. I was hooked on both the razor and the community immediately.
Like many newbies out there, my first brush and soap came from Van der Hagen. They were cheap entries into wet shaving, but I quickly replaced them with Proraso products, and now I only use my own products (Ultra Lather Shaving Cream, Silvertip Synthetic Brush, Healing Post Shave). I'm a little biased, of course. But when I design products, I make them first for me. So I have no reason to use anything else, because they're exactly what I want.
How did you become interested in "Injector" razors?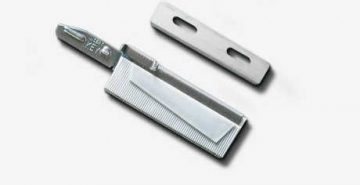 I was hooked on injectors from the very first shave. I've tried most of the popular DE razors available on the market, but none have given me a shave as great as the injectors have. Injector blades are twice as thick as DE blades, which really puts some "oomph" behind the shave. I've personally always felt that the thickness and rigidity of the blade allows it to plow through the hair much more effortlessly than DE blades can. The selection of blade brands is much smaller than the DE selection, but I haven't found a need to experiment past the readily available Personna and Schick brand blades. I love them both.
Why did you decide to leave your "regular" job to start Supply?
For a bit of context, I ran Supply for a year and a half as a "side hustle" while working at Lockheed Martin. As the company continued to grow, the time needed to run Supply also grew to a full time requirement. I was at the point where the amount of time I could spend on Supply was holding back the company's growth.
So, I took the leap. I did the math, and I figured that I had a year's worth of "runway" to crank our business up from a successful side business to a no kidding full-fledged startup. One year. To make it – or break it. I figured if I couldn't turn a profit in that amount of time, it just wasn't meant to be – and I would shut it all down. Thankfully, a year later, we had blown every goal we set out of the water, and we haven't looked back since.
What is involved in the crowdfunding process?
We are proud to be a Kickstarter born-and-raised company, and we are unbelievably grateful to the thousands of Kickstarter backers that have supported us along the way. We've raised close to $500,000 in crowdfunding to date, and it's safe to say we would not exist without the success of our campaigns.
Our three crowdfunding campaigns have been wildly different in terms of preparation, execution, and results – so it's hard to draw a distinct "roadmap" for each one. But in general, we approach product development with the same crawl-walk-run approach that I learned in the Skunk Works. We design a rudimentary concept and then we prototype and iterate.
We will sometimes go through dozens of prototyping rounds before we get a product right. I've always viewed engineering as a sort of professional guess-and-check. In other words, we start really solid ideas about how a product should be designed, but we never really know if we're right until we get our hands dirty and actually prototype a product.
The part I've had to learn through trial-by-fire is large scale manufacturing. Our early manufacturing woes are no secret to our customers and fans. I've learned a lot (and lost a lot of money) by choosing the wrong partners and making the wrong decisions when it comes to manufacturing. But it's all been worth it!
What is Supply's most popular product?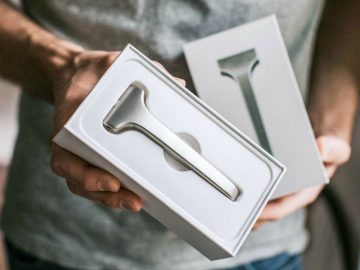 It probably comes as no surprise that our most popular product would be the Single Edge razor. We offer four finishes of the razor (Classic Matte, Mirror Polish, Matte Black and Jet Black), but the most popular finish to date is our original Classic Matte razor. It never hurts to go with the classic!
A very close runner up is our Single Edge Starter Set. It includes our Ultra Lather Shaving Cream, Healing Post Shave, and Silvertip Synthetic Shaving Brush. We've put just as much care and attention to detail in these other products – and they really shine when used together.
What is Supply's newest product?
Newest to our lineup is the Single Edge Razor Stand. It is, by far, the most requested product we've had over the past few years. It is custom designed for our Single Edge and seamlessly matches the unique contours of the razor. We offer it in both our Classic Matte and Matte Black finishes, and there really is no sleeker way to display your Single Edge (if I do say so myself).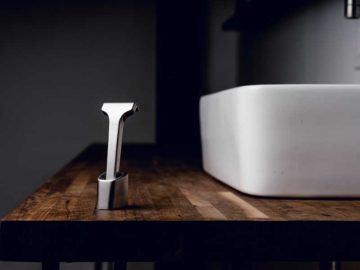 What advice would you give to shavers using the Supply Single Edge razor for the first time?
In terms of general technique, shaving with The Single Edge is almost identical to double edge safety razors. The biggest differences are (1) the angle you hold the razor, and (2) the feel of the shave.
The angle is very easy to find because it's "built in" to the razor for you. You simply place the head of the razor flat against your skin, and begin taking short, light strokes. The correct angle to use is actually about 10-15 degrees rotated from neutral, and your hand will naturally gravitate towards this angle as you begin shaving. It's extremely intuitive.
The feel of the shave is somewhat different from double edge razors, in a good way. Many customers comment about how they don't even feel that the razor is shaving. We attribute this to the thicker blade and unique shaving geometries inherent in the razor. In addition, the corners of the blade are protected, reducing nicks as you shave.
What is coming from Supply?
Our company mission is to solve real problems for real men. Every product launch you can expect from us will solve a distinct need than men experience in the bathroom (and beyond). We've always believed that if we could prove to our customers that we can solve their problems of irritation, ingrown hairs, and a general dissatisfaction with the shaving process, then we've won their trust – and have earned the right to solve other problems for them.
That said, we have exciting products in the pipeline for 2019 (and beyond) that address other significant problems that all men face, regardless of shape, size, age, or color. We can't share anything specific at this time – but to say we're excited would be an understatement!
What are *your* favorite shaving products?
Outside of my own products, I love experimenting with different vintage Schick injectors and have quite a few I'm proud to have in my collection. The adjustable Schick injector with the dial on the back is my personal favorite.
As far as Supply products go, I'm pretty obsessed with our Marble Shaving Bowl. When warmed up, it retains heat three times better than ceramic, and includes micro-ridges in the bottom that create an amazing lather. There's literally nothing like it on the market.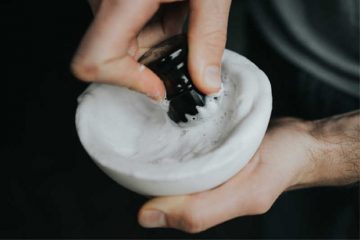 I've also been amazed at how integral our Healing Post Shave has become to my daily routine – regardless of whether I've shaved or not. It's an aloe and witch hazel based formula that makes my skin feel amazing. My favorite scent is Lost Provence, which is Lavender-based with amazing notes of basil and sage. I've actually always hated Lavender scents – but I can't get enough of this one.
Have a follow-up question for Patrick?  Leave them in the comments below!