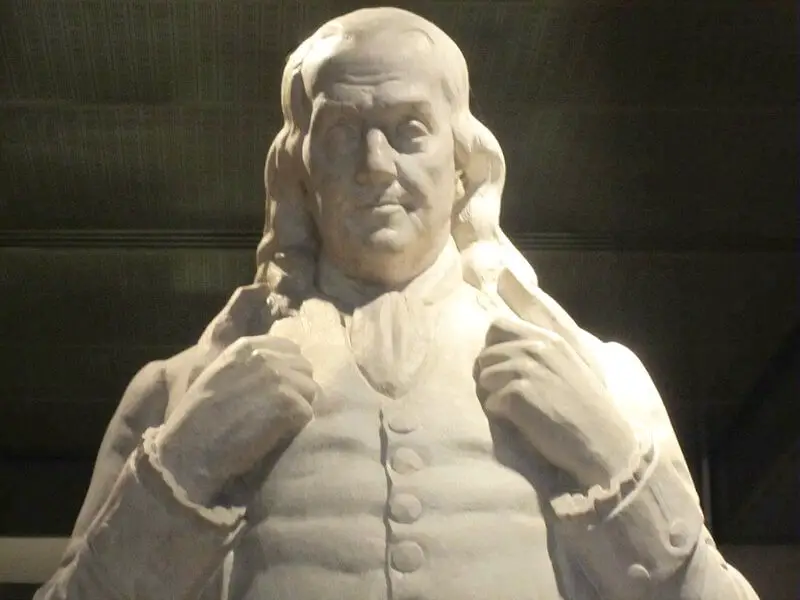 I wanted to hate Stirling Soap Co.'s Ben Franklin soap! Okay, well let me explain.  I should preface this by saying any discussion of scents is always YMMV. What is precious to one man could be equivalent to "poison" for another. So take what I say next about the scent to be my own opinion.

Ben Franklin Shaving Soap – Scent vs. Performance
Any soap that includes the explanation "…smells like an older gentleman's pantaloons at the end of a hot July day in Philadelphia, drafting important documents with no air conditioner." Is bound to make you a little suspicious of what it will do to your olfactory senses. The fact that later on in the scent description "Root beer float" is mentioned only slightly assuaged my worries. What did they say about curiosity again?? Once I received the soap and gave it a good whiff I am not sure if the first or even the second description of the scent is what came to mind (perhaps the aforementioned fine gentleman's pantaloons soaking in a root beer float?) but I did know one thing, I did not like it, not at all! In fact, call me "Sam I am" (see Dr. Seuss) but I really didn't want to try this soap just based on the scent! Not that I have anything against Ben Franklin, great American that he was. Even if I am a Canadian! Then I remembered how often I tell my 5 year old son to not be a "Sam I am" and to try new things. He always does in the end so I felt why should I be any different? "Give it a try Sam, practice what you preach"…so I did!
I used my normal preparation with hard soaps. As hot as the tap water can get, I let a layer sit on top of the soap which was sitting in a screw top container. I put my 26mm Silvertip brush into my shave scuttle with the water up to just halfway past the bristles to soak. After my shower I refreshed the hot water on top of the soap and dumped most of the water out of my brush and emptied the scuttle, then dumped the water from the top of soap. I then held the soap container sideways over my scuttle and proceeded with circular motions to make lather in the container with all of the proto lather dropping into my scuttle. After about a minute of this I moved to my scuttle and started to build my shaving lather. It didn't take long. I found this soap was relatively thirsty and took a healthy amount of water. After less than a minute of work, I had some wonderful yogurt consistency lather, perfect for my straight razor shave.
I won't lie and say I enjoyed the scent even after applying the lather to my face. But the quality of lather, my word!! I've used many top soaps from many soap makers. Both artisan and corporate. I have without a doubt, not found a soap to be its equal as far as slickness goes. My gold standard for soaps is Mike's Naturals and Tabac. This soap had comparable glide and cushion but even better slickness. I usually can judge slickness when I remove the lather from my lips with my finger and rub my fingers together to judge the quality of the lather. It's my final test if you will, before I put blade to face. When I did that, I knew I had a winner. Superb quality. The shave was with one of my straights that had a less than superb edge but still quite usable. I knew that going in, I wanted to see how this lather would protect me. Well it did.
Absolutely no ill effects afterwards on my super sensitive skin. Very impressive indeed. My head shave immediately after was the equivalent.
Another indication of slickness in a soap is after rinsing off the soap residue from your face (or head also as in my case) and just having water on the skin you can tell how slick your skin still is. I just kept rinsing and rinsing, it took a while before I felt no slickness at all. Some guys don't like this. I do. It means the soap will protect your skin far better than one that rinses off super easily like some others I have. I could even feel some residual slickness in my scuttle after an initial rinse. Amazing!!
The ingredient list is all natural. Bonus points! Any product in my book that works this well and has all natural ingredients gets big props. It just goes to show you don't need a laundry list of chemicals with questionable side effects to get great results. A lot of the big name English brands use some very interesting unpronounceable ingredients. I'm very glad there are more and more artisans that are providing great quality products that work even better than the corporate products with skin friendly ingredients. I have sensitive skin that can react to very strong scents or excessive chemicals. Though the scent was strong in this one, I did not get any skin reaction at all and to the contrary, my skin felt wonderful after the shave.
I think these soaps are very under rated for how much discussion I hear about them on the major wet shaving boards. I am definitely going to end up ordering some more of these soaps based on how this one performed. But not the Ben Franklin…sorry Ben!
Cushion 9
Glide 9
Slickness 10 (yes a 10. I rarely ever decide something deserves a 10. This one does)
Ease of use 8 (it is a hard soap after all, but lathers quite easily with a bit of prep)
Value 10 (Outstanding! Most of the Stirling soaps are around the $6 and change mark and weigh around 4.5 Oz. with the higher priced essential oil ones around $9)
Scent *I'm taking a Mulligan on this one…since I am so biased against the scent I don't think it would be fair to assign a number. Suffice to say there is no shortage of other scents to pick from!
Author, Attila Szamoskozi: I discovered the world of wetshaving about 3 years ago thanks to online mentors like Mark (Mantic as he is known online) and GeoFatboy. Since then I progressed from using various DE razors to exclusively using Straight razors. One of the great joys in our hobby is trying different products and tools and with the great selection of items now available to us there is no reason to ever be bored with our routine of shaving! In fact, shaving is something I still look forward to every time.