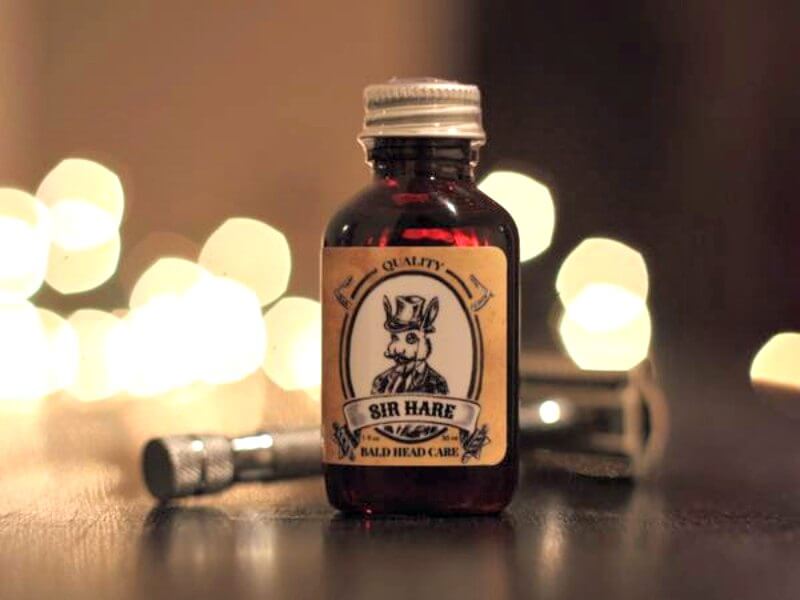 I was skeptical: I've made my own oil once ended up throwing most of it away. Whatever they've done with this formula, Sir Hare has figured it out.

More On Sir Hare
First off it's an oil, and oils aren't for everyone. It takes longer to shave as you need to clean your blade more often. To clean the blade out you will need to tap on a hard surface. You're looking at an extra 5-10 minutes depending on how long it's been between shaves. It works best for me with 1-2 days growth (the bottle says 1-3 days, but I don't recommend using this product on three days growth unless you have fine hair).
I tested an assortment of razors with this oil, and there's only one I wouldn't recommend.
I shaved with the following razors:
A cheap disposable 2 blade razor
A 5 blade cartridge
A DE razor
the ATX Head blade.
The only one I wouldn't recommend was the ATX Head blade. This is not a knock on the actual shave itself, but rather the cleaning of the blades. As I said earlier to get the hair out of the blades it does require some tapping on the sink (or what ever you use to clean your blade). The shape of the ATX makes that difficult without removing it from your hand which defeats the purpose of the razor in my opinion.
But I digress.  Lets get back to Sir Hare.
The oil that I received was the Beach Bum scent, there's a couple different scents and I would be interested in both the Gentleman and Lumberjack fragrances. That being said the essential oil combination is wonderful and they hit the name on the head, I smell like I just put on some Banana Boat to go sit in the sun after a shave. The best part is the essential oils linger for a seriously long time. I'm a night shaver, and I can still smell the essential oils well into the morning.
The ingredients also show that they know what their doing. I'm not going to talk about all the ingredients you can check them out on the site sirhare.com, but one of the main ingredients is Tea Tree oil. I'm not sure if you are aware of this, but Tea Tree oil is an amazing all natural antiseptic/antibiotic. That alone sold me, I keep a bottle of Tea Tree oil in the medicine cabinet on the ready for all sorts of cuts and scrapes.
Do I recommend this product?  It depends. I'm a fan, but as I said shave oils are not for everyone.  If you're looking for a good shave great fragrance staying power and can deal with the extra time and maintenance then yes I recommend this product. If you're not willing to deal with the time and maintenance then no.
I don't see a little more time and effort as a downside. It's more time away from the "honey do" list, if you know what I'm saying.
Related Posts:
Headblade ATX