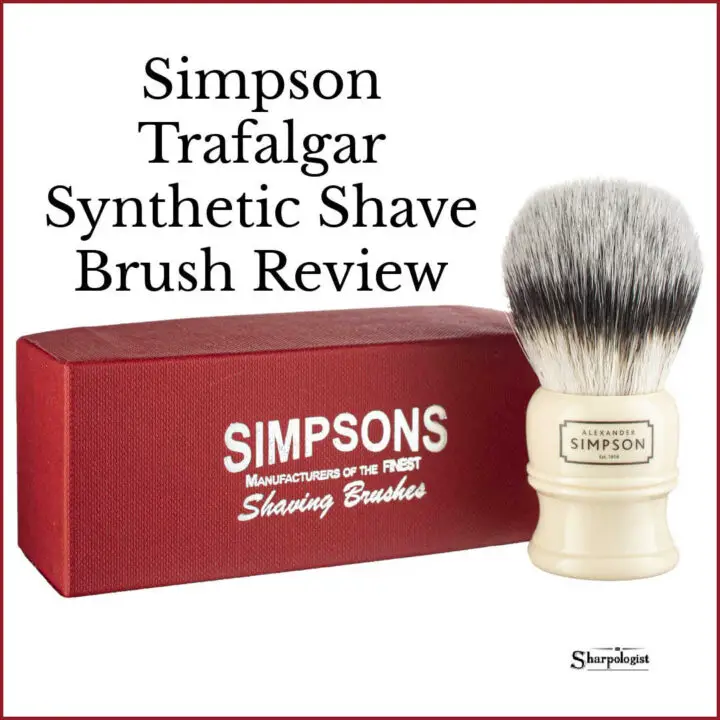 I recently purchased a Simpson T2 Trafalgar synthetic fiber shave brush.  Here is my review.
SimpsonTrafalgar Synthetic Fiber Shave Brush (T2)
From the Simpson website:
"The Trafalgar is the latest offering from our new line of Alexander Simpson Est. 1919 shaving brushes. This superbly crafted & eye catching lathe turned handle is filled with our uniquely sourced Sovereign grade synthetic fibre. The Trafalgar Series combines superb performance and build quality at a price point that brings smiles all round."
Trafalgar T2 Approximate Specifications:
Overall brush height – 90mm
Handle height – 46mm
Knot loft – 44mm
Knot diameter – 24mm
According to Mark Watterson of Simpson the Sovereign fibers are "a 4th generation synthetic fibre manufactured & supplied (as far as we know) exclusively for us."  And sales of the Trafalgar series have far exceeded their expectations.
What Other Reviews Say About The Simpson Trafalgar T2
"…This was my first synthetic and it is soft and feels good on the face. I think I still prefer the badger but there is nothing wrong with this brush. I develops a good amount of lather and absorbs water just like the badger. The synthetic may improve over time but I feel the badger provided more lather and a softer feel on the face. That said I would still buy this again, so much better than the first cheap synthetic brush I bought a few years ago."
"I have been wet shaving / DE and brush for over 10 years…. I was using a best badger brush before this one so that is what I will compare it to and this is my first synthetic brush. I will say that the tips of the brush are a lot softer than my best badger. The size was larger than expected so make sure you check the size. For lather I normally use soft soaps I have a small metal shaving bowl I do have a had time getting a decent lather with the bowl, I have had more success doing a face lather. The instructions say do apply the soap in paint brush style on your face and I find that works best, even though it has taken a few times to get it to work well but after a few tries I have no issues. Now for my only real complaint which is a plus and a negative the synthetic bushes do not hold water like a badger so I find it best to we brush, face dip brush in soap and apply to face it does fell like I am getting more soap on my face and if I need to I lightly dip the tip of the bush in to water and and work it on my face. Not holding more water also means it dries out super fast that is the positive. Also I have noticed if I use a scented soap it doesn't hold on to as much of the scent as a badger brush. The build quality feels really well made and I have not lost any fibers yet. I will have to say the price I paid for this brush around $35 is well worth it I wish I would have ordered one sooner. Even though there is some trial and error as I have found with most things with wet shaving as everything is some one different."
"Soft brush but does not create a thick lather like my badger hair brush. I use this for traveling as the bristles dry quickly."
[Link for above]
"In terms of the knot, while it's not as soft as the Platinum grade fibers in the Chubby 2 synthetics (I have 3 of them with which to compare), the T3 Sovereign fibers are very comfortable. These Sovereign grade fibers feel softer and more pliable than the knot that was in the Simfix SF1 that resembles an ebony Duke 3…. This T3 knot is also much more responsive and "natural" feeling compared to the Thater and Plisson (not Plissoft) brushes which I've had but sold. The Sovereign tips are very soft and the T3 knot is quite dense. It has responsive splay with gentle pressure. Perhaps I've become accustomed to working synthetic Simpson knots, idk, but this brush seems to be a top notch performer. Very impressive." [link]

My Experience With The Simpson Trafalgar (T2) Shaving Brush
My opinions of the Simpson Trafalgar (T2) brush have been mixed (but not necessarily in a "bad" way).
The "fit and finish" of the brush is excellent and up to Simpon's usual standards.  This is particularly noteworthy because of the low cost of this brush (more on that later).  I did see one reviewer gripe about the printing on their brush but mine looks fine (and labels/printing has always been a point of conflict with Simpson users).
From a size and comfort perspective I like the way Trafalgar T2 fits in my hand: it feels good to me and the knot is large enough to be "productive."  The fibers are somewhat firm but still soft on the face–it's not "scritchy" at all, the way some firm animal fibers can be.
That "soft but firm" aspect does, as one of the comments in the previous section mentions, make the brush's hair a little more difficult to splay out on the face.  I prefer face lathering with circular motions on the brush–I think the Trafalgar is more suited to bowl lathering and then a "painting" motion on the face.
To be fair to Simpson, if you read the directions for their other brushes, they have always recommended applying lather with a painting motion (even with their animal hair brushes).  So it absolutely makes sense to construct synthetic fibers in such a way as to support that recommendation.
I'm not knocking Simpson at all…it's just one of those personal preference things.
Where the "rubber meets the road" (or in this case where the soap meets the brush)–performance–the Simpson Trafalgar (T2) synthetic fiber brush has worked well for me.
Conclusion
Traditional shave brushes have been slowly moving to synthetic fibers as both concerns about how some animal hair (particularly badger hair) is "harvested" and as the performance of synthetic technology has improved in recent years.  Personally, I think the latest generations (4th/5th) of synthetic fibers can now compete solidly with some of the best badger hair knots.  And an added benefit is that synthetic fibers generally cost less than the equivalent animal fibers.
And it's doubly pleasing that, as Simpson is a brand well-known for their premium pricing, that their synthetic fiber line is quite approachable.  I think the ~ US $30 price point I paid for the Trafalgar T2 is well within the 'average' price range of competing brushes.
The Simpson Trafalgar synthetic shave brush is available at many of the popular wet shaving product sellers, including Amazon (affiliate link), Bullgoose, Fendrihan, Maggard, Pasteur, and West Coast Shaving (affiliate link).