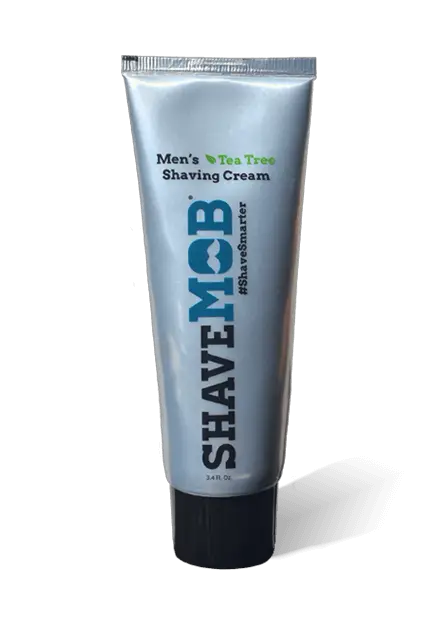 The "shave clubs" have been slowly expanding their razor line with shaving creams and soaps.  Dollar Shave Club was first with their "shave butter."  Harry's followed suit with a shaving cream and a shaving gel.  Now another shave club, ShaveMOB, has upped the ante with their Tea Tree Shaving Cream.

ShaveMOB
ShaveMOB came to Sharpologist's attention a couple years ago in an article about Gillette Fusion alternatives.  The article's testers thought pretty well of them too, so when they announced a shave cream with tea tree I gave it a try: even though it's a "brushless" product (you can use a brush but that didn't really change the performance for me) I'm a sucker for tea tree….  🙂
It's really more of a "mint" kick though, with that scent predominating.  But tea tree is there in enough of a concentration to make a noticeable difference in the moisturizing feel of my skin after a shave.
And from the performance perspective it works very well for me–lubrication and cushioning is very good, even in my "hard" water.
Ingredients: water, glycerin, sodium cocoyl isethionate, sodium lauryl sarcosinate, aloe vera leaf juice, cetraryl alcohol, polysorbate 60, stearic acid, myristic acid, vitamin E, peppermint oil, orange oil, tea tree oil, allantoin, acrylates/C10-30 alkyl acrylate crossolymer, phenoxyethanol, ethylexy/glycerin, potassium sorbate, sodium hydroxide.
Supply is currently limited as they build up inventory and today is the last day you can order some for delivery before Christmas.