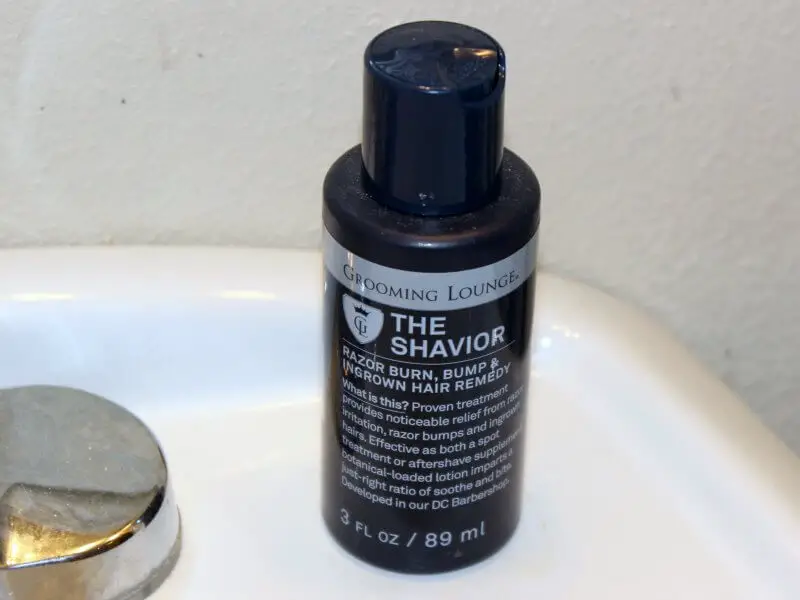 I am always testing (OK, playing with) new wet shaving products. I can usually judge the performance of a product pretty well, whether it be a razor, cream or soap, or something else.  But just the lack of shaving "fidelity" leaves me open to the occasional ingrown hair or patch of razor bumps.  Now I have a way of fighting back, with Grooming Lounge's "The Shavior" post-shave treatment.

The Shavior
Grooming Lounge says The Shavior "…provides noticeable relief from razor irritation, razor bumps and ingrown hairs. Effective as both a spot treatment or aftershave supplement…."  Shavior isn't nearly as harsh on the skin as many other bump/ingrown treatments.  While it does contain Glycolic Acid for exfoliation and Bisabolol as an anti-inflammatory/irritant, it also contains more soothing ingredients like Allantoin and Chamomile.  The full ingredient list includes: Water, Glycolic Acid, Caprylic/Capric Triglyceride, Glycerin, Cetearyl Alcohol, Behentrimonium Methosulfate, Allantoin, Bisabolol, Retinyl Palmitate, Chamomilla Recutita (Matricaria) Flower Extract, Sodium Hydroxide, Fragrance, Phenoxyethanol, Ethylhexylglycerin.  Note that it is paraben, oil, and sulfate free.
Although The Shavior looks like an aftershave balm out of the bottle, it's not meant as stand-along product.  You use it with an aftershave balm or moisturizer.  After shaving you apply The Shavior (either as a spot treatment or as a general application), wait a couple minutes, then apply your aftershave product.  There is a bit of a "bite" when applied, a mild stinging, but I don't think it's anything dramatic.  Grooming Lounge says it can also be used at bedtime.
In my own case, I tend to get an ingrown hair or a patch of razor bumps every 2-3 of weeks or so, usually on my jaw line.  I've been using The Shavior for a couple months now, at first applied all over the face but more recently just in the trouble spots.  I've been completely ingrown/bump-free since I started using the product.  Perhaps more importantly I've noticed that my skin doesn't get overly dry like a lot of other ingrown/bump treatments I've tried.
If you're plagued by this kind of shaving irritation, consider Grooming Lounge The Shavior as something to try.
Amazon links are affiliate.