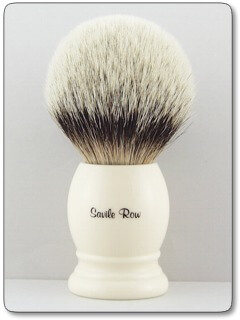 Welcome to the next installment of my shaving brush buyer's guide.  I have been looking at popular shaving brushes on the market.  At the end of the series–just in time for the holiday gift-giving season–I'll update the entire list and create a large, sortable table and also make the data available in a "CSV file" for importing into your favorite spreadsheet or database program.  This post looks at Savile Row shaving brushes (previous entries include Shavemac, Rooney, Truefitt and Hill, Simpsons, and Vulfix). 
Savile Row brushes are primarily available at QED, though I have seen them on other websites as well.  They have a reputation as a solid performer and a very good value.  Many people assume they are manufactured under license by another major brush maker but I have been unable to confirm this.
I admit to having a soft spot for Savile Row.  My very first good badger brush was a small SR23 (no longer produced): a "super badger" brush that put my larger but inferior Tweezerman to shame.  I still use it once in a while.  What are your experiences with Savile Row brushes?
On the table below I've listed the major specifications for the brushes currently being manufctured.  "Model" refers to the model number of the brush.  "Loft," "Knot," and "Handle" refer to the the dimensions, in millimeters, for the height of the hair, the diameter of the hair at the base, and the height of the brush's handle, respectively.  "Hair" indicates what kind of hair is used, along with a "Grade" (if any).  The "Shape" of the hair refers to whether it is a fan-like shape or a bulb-like shape.  Finally, price refers to the Manufacturer's list price in US dollars.  Although I have excersized care in researching these statistics I cannot guarantee they are exact.