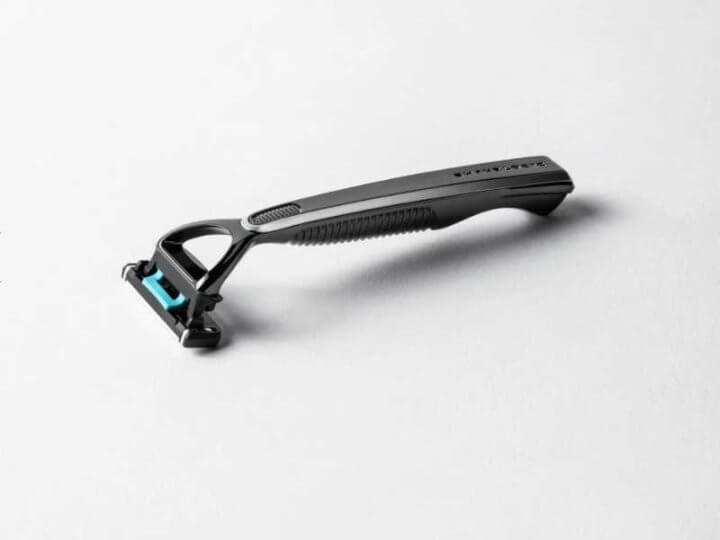 [Updated August, 2021] There's a new player in the cartridge razor space.  Shavelogic has some intriguing technology in their new S5 razor.  I bought one to try.
Shavelogic
The Shavelogic S5 razor has some interesting technology, including a magnetic cartridge attachment scheme and a five blade head that is about the same size as other razor's three blade heads.
From the Shavelogic website:
"Building an industry-defying razor took years of research and development. 11 years, to be exact. It helped us build a lot of revolutionary features into the S5 razor, and chief among them is our rare earth magnetic cartridge attachment….
When we first set out to design a razor unlike anything before it, we knew we needed something simple, elegant, but powerful….
But we also had specific goals in mind: sustainability, safety, and simplicity of design..:
1. Sustainability
The attachment mechanism has three jobs: attach your cartridge to your handle easily, keep it attached while in use, and detach it just as easily when it's time for a new blade. Many legacy razors have a lot of moving parts at the top of the handle that allow you to fasten and release the cartridge as needed. The challenge is that these mean you could have to replace your entire handle every few years. Not only can this be expensive, it's also wasteful.
Using a magnet as our attachment mechanism allowed us to eliminate every moving part from our all-metal handle, and create something that can actually last a lifetime….
2. Safety
…It shouldn't be that hard (or dangerous) to change your blades, and our magnetic attachment offers an ideal solution. By using a unique, asymmetrical shape between the handle and cartridge, we produced a safe and secure cartridge attachment. The magnet also clicks in place, giving you an audible cue that your razor is ready to shave.
3. Simplicity of Design
As we mentioned above, the magnetic attachment enabled us to remove a bunch of small, complex parts in favor of something simple and sleek, without sacrificing performance….
Without the extra parts, we were able to create an open architecture form at the head of the razor, giving users greater visibility of their face while shaving. Think of it like a car with way fewer blind spots. And, we may be biased, but it just looks really cool. It's style comes with a lot of substance, though, since the open-head design optimizes the balance of the all-metal handle, which makes the S5 feel more like a precision tool. It gives you excellent control, and therefore, a better shave."
The Shavelogic S5 razor is available with a "welcome kit" containing the razor and four cartridges for US $25.
My Experience With The Shavelogic Razor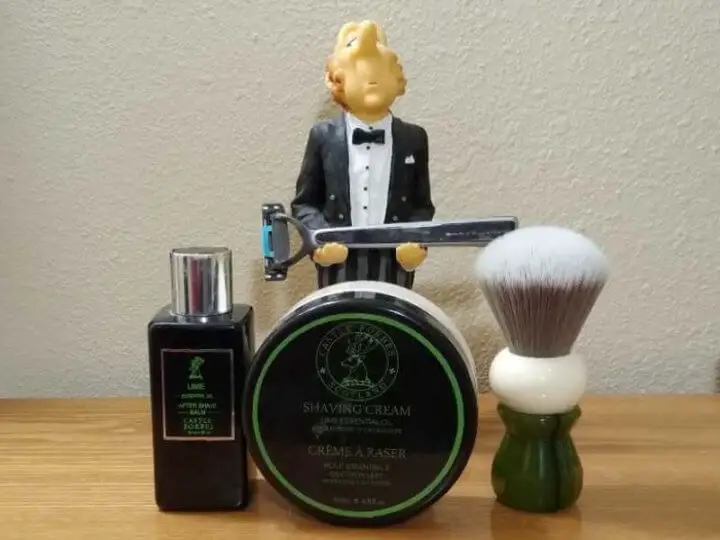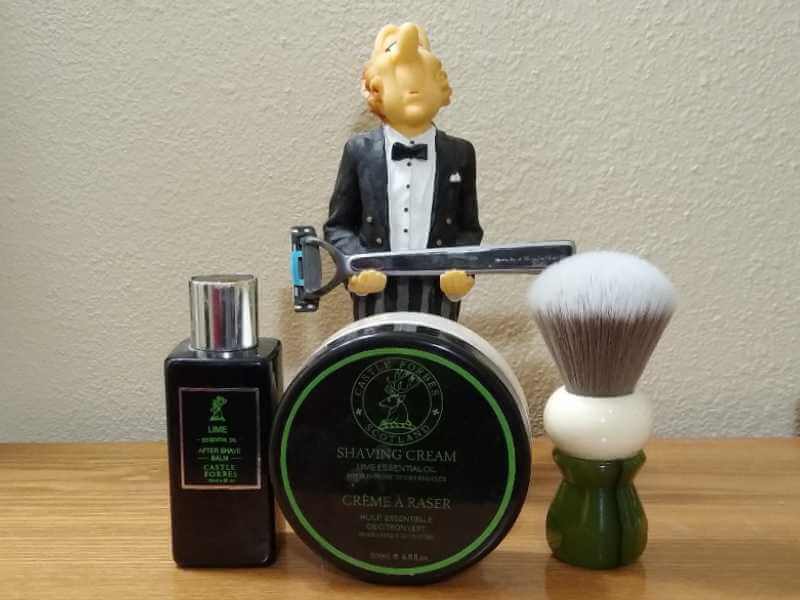 Note: my opinions of the Shavelogic S5 razor are my own and have not been reviewed by Shavelogic prior to publication.  I purchased a razor through normal channels.  Sharpologist is not a Shavelogic affiliate.
The Handle And Razor Head
The Shavelogic S5 handle is all metal (62 grams–about 2.1 oz.– with cartridge attached) and for me pleasantly hefty, well-balanced, and "grippy."
The S5 cartridge is indeed smaller than other five blade cartridges: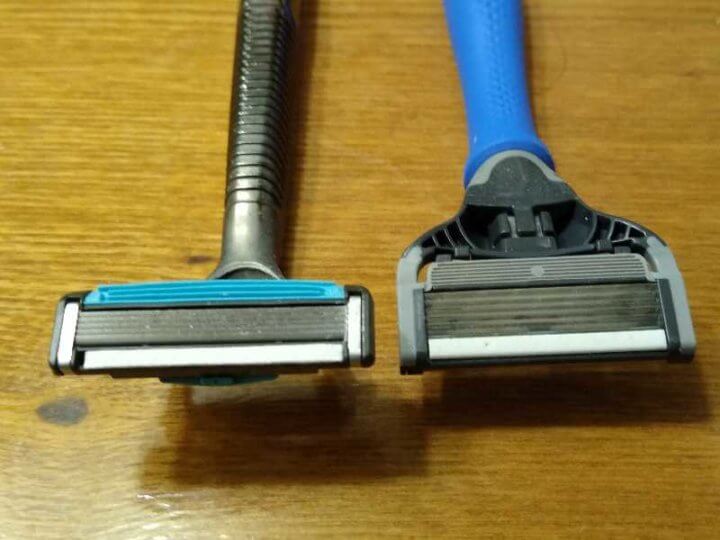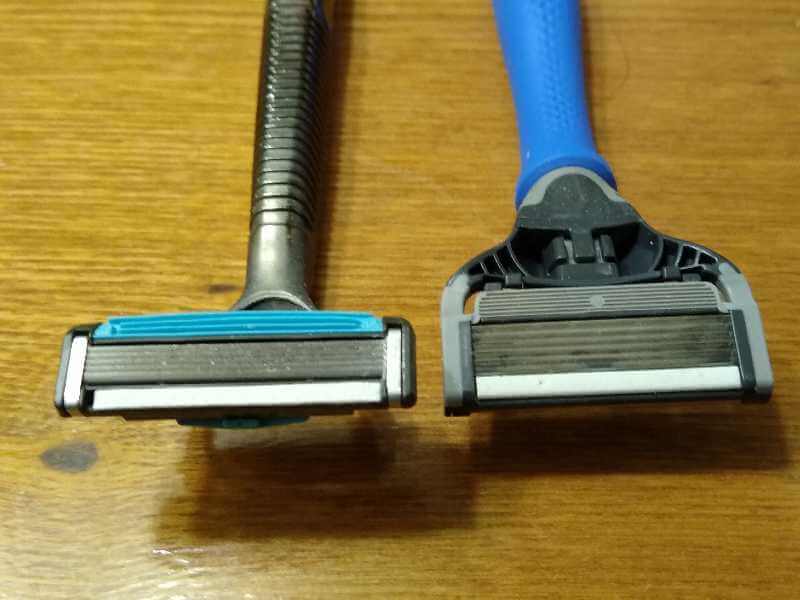 Of course, my first thought is 'why bother with five blades in the first place?'  I'm pretty sure it's a marketing issue but I think if Shavelogic really wants to differentiate themselves from other cartridge razors, use fewer blades (or one!) for an even smaller cartridge head and explain why five blades aren't really necessary.
The cartridge uses a front-facing pivot much like other modern cartridge razors.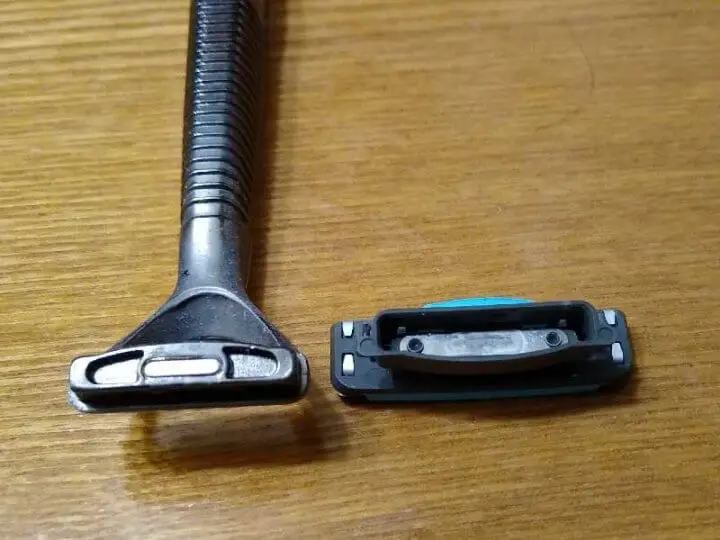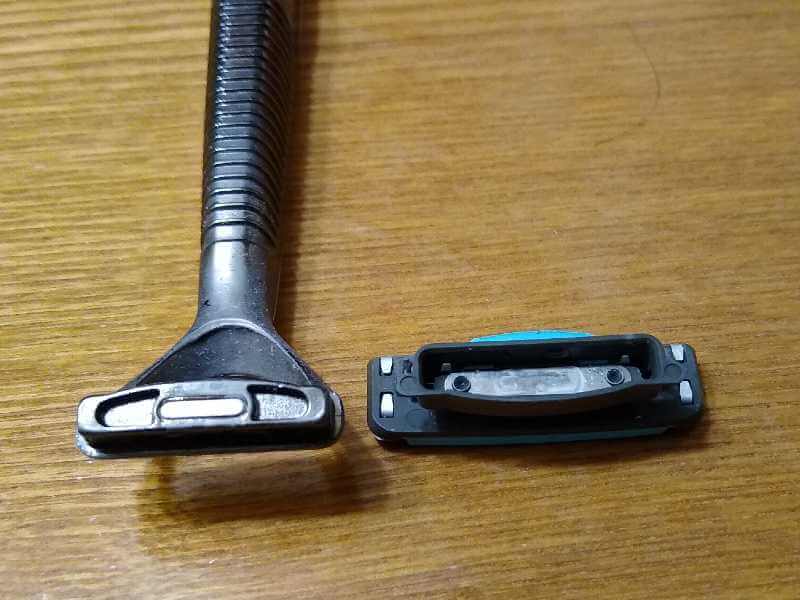 If the S5 razor is dropped the cartridge just sort of pops off without the possibility of busting some little plastic bit like some other cartridge razor head designs (and you can just pop it right back on again).  In the grand scheme of things I think the way cartridges attach to handles have come a long way since the days of the Gillette Sensor but I do believe the Shavelogic S5 razor's magnetic cartridge attachment is kind of nifty.
The Shave
I've been using the Shavelogic S5 for a while now.  I generally prefer "mild" razors and I think the S5 falls squarely into that category.  It appears to me that the angle at which the cartridge blades are set to is quite "shallow."  In fact, a traditional multi-pass "Baby's Butt Smooth" (BBS) result has been a bit illusive for me with the S5.  But a single-pass "Darn Fine Shave" (DFS) quality result is quickly and easily obtainable.
I get just a bit of tugging with the S5.  This could be attributed to blade edge grinding (sharpening) spec. and/or blade edge coatings, or perhaps some combination of specifications.  Not a huge issue for me, but noticeable when compared to the single blade razors I normally use.
You might think the small cartridge head of the S5 would create problems with lather clogging but I have found that it doesn't.  The lather seems to gather on each side of the cartridge head as I shave and a quick swoosh of the razor in water does an admirable job of rinsing lather off.  I'm actually rather impressed by it.
The S5 cartridge price is in the same range as other five blade cartridges–about US $4.00–so cartridge life is a concern.  I get about three weeks out of a cartridge (though I'm usually kind of "pushing it" by the end of the third week).  YMMV.
Conclusion
The Shavelogic S5 razor is an interesting newcomer to the over-crowded (IMHO) cartridge razor space.  It definitely has some distinctive design features, including magnetic cartridge attachment, impressively small cartridge size (compared to others of the same blade count), resistance to lather clogging, and a mild, consumer-friendly shave.  All for a price that's not out of line with other consumer cartridge razors.