Back in March, when I was still fairly new to the world of artisan shaving products, my wife had an opportunity to travel to London for work.  When she asked if there was anything I wanted, my mind began to run through what I knew of British shaving brands.

The Background
I told her I was most interested in soaps and aftershaves – anything she thought smelled good – and dropped her off at the airport.  She returned a week later with a couple of tubs of inexpensive soap from a Paris pharmacy and a lovely pair of Edwin Jagger brushes.
When I found out in September that I would be attending meetings in London the week of Halloween, I had a much more well-developed picture of the world of men's grooming and I immediately began researching the wonders London had in store for me.
Between Google and the good people of Reddit's r/wetshaving, I gathered enough information to form the rough outline of a plan.  As it turns out, quite a few of the most famous names in shaving are located within easy walking distance in St. James's, an upscale area just around the corner from Buckingham Palace.
(Amazon links are Sharpologist affiliate.)
1st Stop, Truefitt & Hill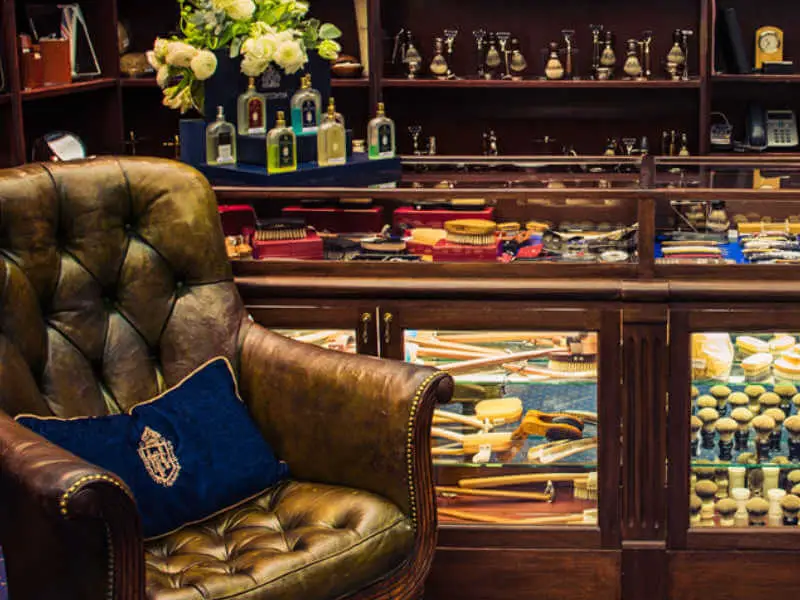 So it was that on a rainy Thursday in November, my wife and I (because she couldn't say no to another trip to London) found ourselves in a cab heading from our hotel in Shoreditch across the city to do a bit of shopping on the high street.  Our first stop was Truefitt and Hill, 71 Saint James's Street, City of Westminster, London.
In retrospect, I probably didn't give Truefitt and Hill a fair shake.  Like many men's stores in the area, it plays home to both a retail space as well as a functioning barber shop.  In the case of Truefitt and Hill, the retail space seemed to be little more than a cramped lobby for the barber shop in back.
The shelves were stacked floor to ceiling with shaving accoutrements: razors, brushes, soaps, splashes, and fragrances. But there hardly seemed to be room to turn around, much less stop and smell the wares.  So, after a very brief look around, we headed back out into the rain and turned north on St. James's Street.
2nd Stop, DR Harris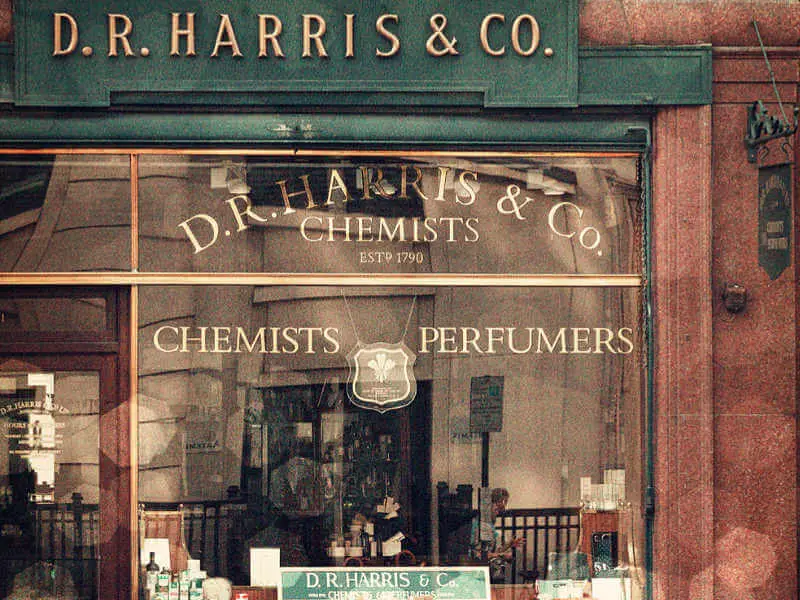 Our next stop was not quite two blocks north and across the street: D.R. Harris & Co., 29 St James's St, St. James's, London.
Compared to Truefitt and Hill, D.R. Harris was downright palatial.  Instead of a barbershop, the back corner of D.R. Harris is a fully stocked pharmacy.  I took my time working my way around the shop and putting my nose on their full line of shaving products.  Based on my prior reading on TryThatSoap, I was expecting to fall in love with their Marlborough scent with its mix of cedar, sandalwood, and citrus.  However, it was Arlington (Sharpologist's review) I ended up walking out with and I don't regret the decision.
The things that stood out for me at D.R. Harris were the very wide array of Dopp kits, the moustache-shaped moustache brushes, and the luxury gift case full of silver-plated everything and gilded crystal stoppers for your entire array of fragrance bottles.
3rd Stop, Taylor Of Old Bond Street

From D.R. Harris, we proceeded around the corner onto Jermyn Street and Taylor of Old Bond Street, 74 Jermyn St, St James's, St. James's, London.
Taylor of Old Bond Street was significantly smaller than D.R. Harris, but not quite as small as Truefitt and Hill.  The shelves along the left hand wall were stocked with the full range of soaps, creams, aftershaves, and fragrances.  In the middle of the shop were a large display of brushes and a similarly-sized display of Dopp kits.  Along the back wall were a wide array of mirrors, hair brushes, loofahs, and that same silly moustache-shaped moustache brush that we first noticed back at D.R. Harris.
I took my time smelling my way down the line of shaving creams and ultimately decided to pick up tubs of Jermyn Street and Lemon and Lime.
4th Stop, George F. Trumper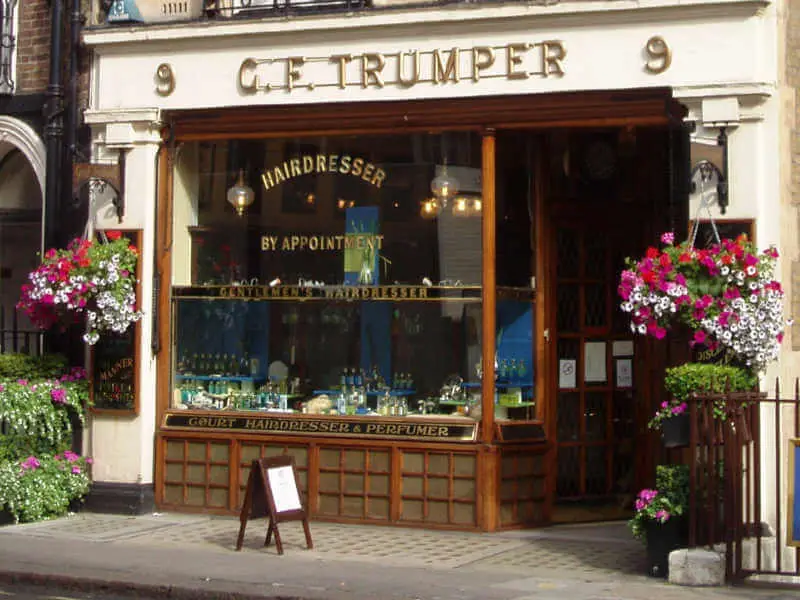 A little ways further down Jermyn Street and around the corner onto Duke of York Street brought us to George F. Trumper's, 1 Duke of York St, St. James's, London.
While the shop was small, it didn't feel cramped.  There was a table at the front with all of their soaps and fragrances as well as a small bowl of coffee beans for cleansing your sniffer.
The cases on the sides were neatly stocked – though not packed – with products: hair brushes, razors, shaving brushes, mirrors… even collar stays.
The thing that stood out for me about Trumper's was the staff.  It was the only store where the staff came out from behind the counter to discuss anything other than whether or not I was ready to check out.  The two-man staff was friendly, knowledgeable, and extremely helpful.  I walked out with a Spanish Leather set and a bottle of their Bay Rum cologne.
Other Stops
We walked past a few other notable shops.  Floris London was on Jermyn Street between Taylor of Old Bond Street and George F. Trumper's.  Piccadilly Arcade, which runs from Jermyn Street to Piccadilly is home to Carlo Anichini.
Penhaligon's was about a block north in Burlington Arcade.  However, after hitting four shaving shops and spritzing a variety of aftershaves and colognes, I didn't really have the nose left to truly enjoy full on perfumers.
Having worked up a bit of an appetite stomping around St. James's, we made our way over to Hotel Café Royal where we had a reservation for afternoon tea.  I had never been to to proper high tea before and if I wasn't already fully dedicated to wet shaving as a ridiculous hobby, I can easily see myself becoming a total tea hipster.
If you have the opportunity to partake in afternoon tea at the Hotel Café Royal, I highly recommend it.  The pianist even played a medley of Star Wars tunes.
On Friday, we spent the better part of the day in one of the most exquisite monuments to consumerism on the face of the planet: Harrods.  I want to call out two particular points of interest within Harrods' six massive floors of merchandise.  First is the luxury men's grooming section known as the Gentleman's Lounge.  There's a staircase in the middle of the ground floor men's department that goes down to the "lower ground floor".  They had a fine variety of bath products and a few high-finish shave kits.  They also had the full array of Creed fragrances available to sample.
I don't even want to think about how many thousands of dollars of merchandise were sitting out on the shelves labeled "tester".  I tried to focus on the experience rather than the price tags.
Upon emerging from the Gentleman's Lounge, we took the Basil Street escalators (the only ones that go all the way up) to the Salon de Parfums on the sixth floor.  Forget the ground floor cosmetics department, this is where the real high-end fragrances live.
I wasn't up there to shop, though.  My objective was unbuyable at any price.  On the advice of one of the wet shaving community's fragrance masters (his company rhymes with Marrister and Bann), I was there to visit Chanel and have a whiff of their original Pour Monsieur EdT.  Unfortunately for me, there was some kind of private shopping event going on and Chanel was roped off.
Takeaways
If I had it all to do over, I don't think I'd have done anything differently.  That said, I am already planning what else I want to do next time I get to travel to London on the company dime.  First, I want to actually get a shave at one or more of the local establishments.  Perhaps Truefitt and Hill would be a more welcoming shop if they had a chair and a razor waiting for me.  Second, I want to do a bit more fragrance shopping, which includes a trip to George F. Trumper's main store on Curzon Street (just over half a mile from the one I visited).  The fragrance shopping will likely also need to be spread across multiple days to avoid olfactory burnout.  Finally, I'm going to make it back to the top of Harrods and find out what Will's so excited about with the Pour Monsieur.
About the Author:
Rob Curtis is a wet shaving hobbyist who works in the software industry between shaves.  He's a failed bourbon blogger with degrees from the University of Kentucky and Southern Methodist University.  He once wore a chicken suit to box a radio DJ.  He lives in Seattle with his wife, two kids, two dogs, and four cats.  He can be found bumming around r/wetshaving on Reddit and occasionally posts ridiculous things on Twitter (https://twitter.com/BourbonInExile)