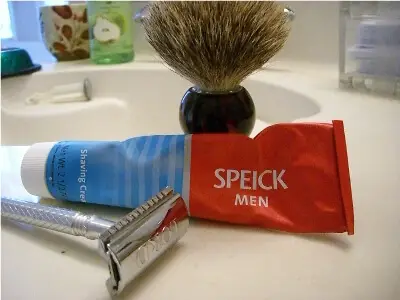 Times are tough, but shaving doesn't have to be a wallet-breaker! You work hard, you play hard, but you shave with little to no pressure (right?). Like many wet shavers, the temptation to buy product is always looming, tantalizing. Such a cruel yet satisfying mistress. In an attempt to quench that thirst, I started combing the online shaving stores and reviews for some of the better rated, inexpensive shave creams.
What about shave soaps?
I don't use them.
Yeah, but… but…
As a newbie, I never was able to get the hang of lathering a soap, so I switched to creams and have used them exclusively since. Perhaps I will try soaps one day.  So, for now, this will be a series of reviews of some of the more affordable shaving creams that I could find to fit my budget. I will be buying one or two new creams at a time as money (and the wife) allow. The price cap will be $15 (not including shipping) unless there is one that pops up that I have to try.
First up…
Speick
Men
For my shaves I use the same prep and post-shave products each time.
Pre-shave: Hot shower, leaving beard wet; Truefitt & Hill pre-shave oil (but to be honest, I'm not sure it really helps); lather beard for at least a full minute.
Shave: 1948 Gillette Superspeed with an Iridium Super blade.
Post-shave: Warm/hot rinse, cool rinse; blot major drips of water with towel but leave beard moist; Pre de Provence after-shave balm.
Scent
The product brochure isn't very specific on the scent notes:
Premium lavender oil has a relaxing effect. Speick Men shaving cream contains real beeswax and has a spicy fragrance for an indulgent shaving experience.
Basenotes does not have an entry for Speick Men, unfortunately.
From what I've read, I would have to agree. It's definitely spicy. My nose detects some of the lavender, a black peppercorn-like note with perhaps a hint of something vaguely like cinnamon. The speick plant might have its own scent which could be the pleasantly medicinal quality I also smell. Not as barbershop as I thought it would be, but that's not a disappointment. Quite a masculine scent. I love it.
Lather
This stuff lathers pretty easily with my Semogue 830 boar brush, even with the hard water in Los Angeles. The lather keeps its structure and moisture nicely through all passes (usually three for me). Feels nice and velvety.
Performance
Good as any high-end creams I've tried (Geo F. Trumper, Truefitt & Hill, Acca Kappa 1869, etc.). I only have one DE razor (shocking I know): a 1948 Gillette Superspeed with Feather or Iridium Super blades. The razor glided over my coarse beard with no dragging. I'd love to say I get a BBS shave (Baby's Butt Smooth for the newbies), but since I'm one of the unlucky few whose skin is too sensitive for an against-the-grain pass, I got as near a BBS shave as one could get with Speick Men… consistently… even with a blade that has 3-4 shaves on it already. My skin was moisturized very well after the shave.
Value
I paid $6 for a 75 ml. tube — that's ~2.5 fl. oz. for us Imperial folks — which I expect to last a few months. Absolutely worth the money.
The Bottom Line
I give Speick Men shaving cream an 9 out of 10 for its great scent and performance at a really great price.
Ingredients:
Aqua
Potassium Stearate
Potassium Palmitate
Potassium Cocoate
Glycerin
Sodium Stearate
Sodium Palmitate
Sodium Cocoate
Cera Alba
Potassium Myristate
Cetyl Palmitate
Sodium Myristate
Lavandula Angustifolia Oil
Valeriana Celtica Extract
Parfum
Potassium Laurate
Sodium Silicate
Sodium Thiosulfate
CI 15985
Limonene
Linalool