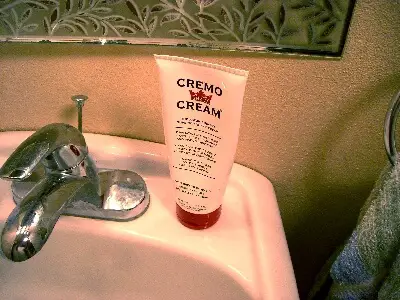 Times are tough, but shaving doesn't have to be a wallet-breaker! This is the next review in my series on affordable shaving creams. From my first review:
Like many wet shavers, the temptation to buy product is always looming, tantalizing. Such a cruel yet satisfying mistress. In an attempt to quench that thirst, I started combing the online shaving stores and reviews for some of the better rated, inexpensive shave creams.
Previous Review: La Toja (Sensitive Skin)
Next up…
Cremo Cream
For my shaves I use the same prep and post-shave products each time.
Pre-shave: Hot shower, leaving beard wet; Truefitt & Hill pre-shave oil (but to be honest, I'm not sure it really helps); lather beard for at least a full minute.
Shave: 1948 Gillette Superspeed with an Iridium Super blade.
Post-shave: Warm/hot rinse, cool rinse; blot major drips of water with towel but leave beard moist; Pre de Provence after-shave balm.
Scent
The manufacturer lists the scent simply as Citrus (Bergamot), which I do believe describes it well. To my nose it is a one-note scent, but it is refreshing.
Lather
A strange beast to say the least. According to the instructions adding less water is better. I don't believe it was formulated for the brush, so I wasn't able to produce lather with the usual consistency. Even though the cream itself is fairly dense, the lather consistently has a more open structure; slightly more foamy than creamy. I feel like I need to use a bit more product to achieve the same amount of lather to which I am accustomed. Seems to take about 60-90 seconds to produce the lather.
(View their FAQ about using a brush and bowl).
Performance
This stuff is super slick! The razor glides absolutely effortlessly over my beard. You know the feeling you get when you move the hand-mallet over an air hockey table? Yeah, kinda like that. The hair that gets shaved off appears to have a much finer cut than with other creams. The shaves I get from Cremo Cream are fairly close, but I've never gotten a really consistently good shave. I feel like it's missing some richness, whether using a shaving brush or not.
However…
When used as a slicking agent with another cream, like AoS unscented, it's incredible. I wish it came in an unscented version just for the purpose of adding slickness to other creams.
(View their FAQ about why there is no unscented shaving cream)
Value
The 6 oz. (177 ml) tube of Cremo Cream has been in my arsenal for a while, so I don't remember exactly how much I paid for it, but the price seems to average $7-9 (US) online.
The Bottom Line
I give the cream a 6.5/10 (9/10).
Why two ratings? On its own, I think it's a fair-to-good cream, but using it as a slicking agent with another cream is where this product really shines. Also, for the money, you just can't beat the price. Miles above canned "goo."
Ingredients: 
Water (Aqua), Sodium Cocoyl Isethionate, Stearic Acid, Glycol Distearate, Cetearyl Alcohol, Macadamia Ternifolia Seed Oil, Polyether-1, Hydroxypropyl Guar Hydroxypropyltrimonium Chloride, Allantoin, Aloe Barbadensis Leaf Juice, Calendula Officinalis Flower Extract, Xylitol, Citrus Medica Limonum (Lemon) Fruit and Carica Papaya Fruit Extract, Olea Europaea (Olive) Leaf Extract, Linalool, Limonene, BHT,Perfluoromethyl-cyclopentane, Phenoxyethanol, Ethylhexylglycerin, Titanium Dioxide, Citric Acid, Fragrance (Parfum)
Mens Shave Cream is paraben free.
Not tested on animals.
Made in the United States of America.
(Read more about the ingredients on the manufacturer's product page)