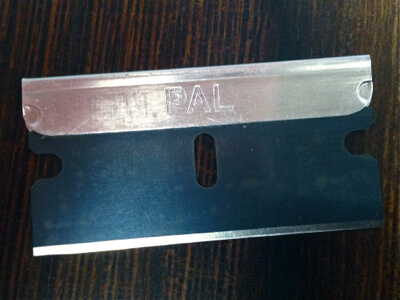 I recently posted a blog entry about why I like shaving with a single-edged razor. Beyond the ease of use, retro/indie feel and possibly superior results, there's one more factor in play:
I don't have to give a second thought about blades.

Before I bought my first SE razor, I spent countless hours researching double-edged blades. Did I want to load the Feathers into my Edwin Jagger DE89 or the Gillette Russian Yellows with my Merkur Slant? Should I try Israeli Reds one week, then Crystals or Derbys the next week? The blade obsession was overshadowing the shaving obsession.
But when it comes to SE blades, you have roughly three options (not counting Injector blades – for those, find a non-chain drugstore and buy the Schick blades). One of those options can be tossed out right away: the Korean made Dorcos, which will cut your face into pieces. They're dirt cheap and found in grocery stored, but don't be swayed. They're horrible.
You can go with GEM Stainless Steel Coated blades, which you can find at Walgreen's. Or you can go with the blue, carbon treated blades you can find at CVS.
For the most part, that's it. They may have different names on the package, but to the best of my knowledge, they're all made by the same companies. Stainless or not. Period.
Even then, the thick blades that look like paint scraping tools (but aren't) are all mostly the same. The variation in SE shaving is in the agressiveness of the razor, itself.
I've heard some aficionados claim that the blue blades shave better, but they literally rust in between shaves if you don't take them out of your razor and dry them off completely. Yes, they rust in one day. That's too much effort for me.
The stainless steel blades obviously don't rust. I get about six shaves out of them, with days two through four being the best. Some people get eight shaves, but given how cheap these blades are (just pennies more than most DE blades), it's not worth it to me to push it too long.