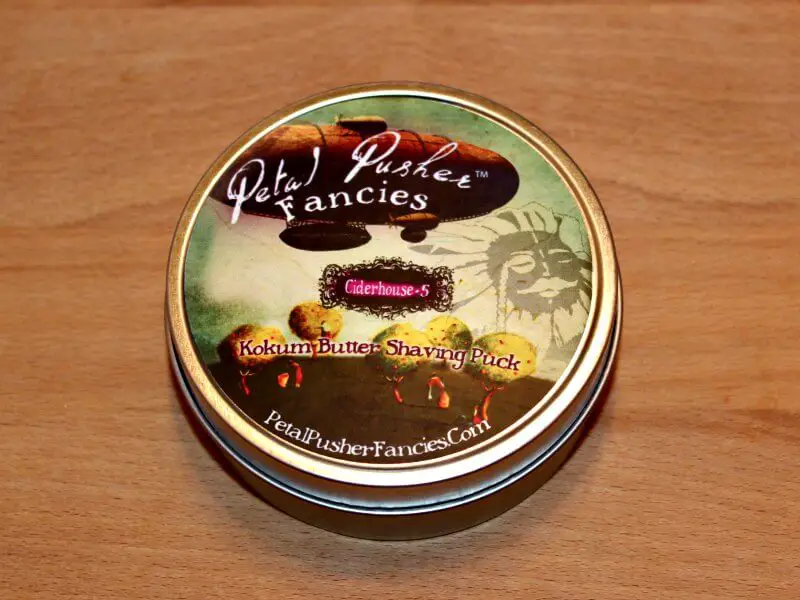 The Sharpologist "Scent Off Continues!  We're rounding the final turn in our race for the best Fall or Winter "seasonal" scented shave soap, having looked at entries from Mystic Water, Barrister & Mann, How To Grow A Moustache, and Fitjar.  This week we look at Petal Pusher's "Ciderhouse 5" shave soap.

Petal Pusher Fancies Ciderhouse 5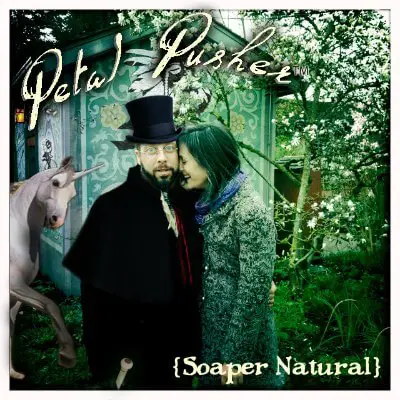 Artisan Bio: Petal Pusher Fancies – Makers of Artisan Shaving Soap, Moustache Wax & Other Fine Body Products. Located in New England, PPF was established in 2012 by graphic designer (Hodges) and acupuncturist (Frances). "We work hard to bring the best in body care and grooming products to the market, with a focus on ingredients that are friendly to your skin, your wallet, and the environment."
Entry Description: Our all vegetable based shaving soaps are hand made in small batches using the hot process method. Ciderhouse 5 is our seasonal scent offering, which captures the heart of autumn; Oak Barrels, Apple Orchards, and the Essence of the Season.
Judges Comments on Petal Pusher Fancies Ciderhouse 5
Judges were asked to evaluate the entry by shaving with it at least three times and based their score on Scent (up to 10 points), Performance (up to 10 points), and Presentation (up to five points). Here are some of their comments along with the averaged score:
Scent
"I fell in love with this scent.  Hot apple cider is my favorite fall/winter drink and this soap captured the scent beautifully.  Shaving with this soap triggered memories of apple picking on a crisp fall afternoon while taking in all the beautiful colors of fall.  A real winner!"
"As advertised the scent is like a cider mill with a nice hint of spices. It reminded me when I used to go to the cider mill on Route 9, New York State. "
"I noticed the scent but couldn't identify it until I read the name of the soap (my nose is illiterate), and then I thought it was spot-on for a Ciderhouse: a fragrance of apples and fermentation and a slight note of cider vinegar. Very appropriate. "
"The scent of the soap was spot on to the name and seasonal theme of autumn.  After the first couple of times I used the soap, I found myself with an image of walking out across a lawn filled with oak trees that had just begun to release their leaves and coming upon an apple house where apples are being processed and hot cider is available…. As an experiment I chose to build my lather in a shave bowl and wow the lather exploded into a spiced cider shave goodness that smelled so good I was tempted to place it on a slice of apple pie."
"I really wanted to give this one top marks. When I did the initial sniff tests of all of the soaps sent out, I liked this one the most, by a fair margin. However, unfortunately, once it came time to lather it up and actually shave, I found the scent didn't transfer to the lather very well. It came across weak, and faded from there."
"This is definitely an apple like scent with an overtone of spice. I liked it and I felt it picked up the seasonal intent."
"Couldn't be asking for more in a seasonal scent. Not a strong scent but neither weak or faint. Love the fresh green apple notes mixed with some herbal and woody ones, which gives it its unique character."
Scent Score: 8.7
Performance
"Performance of this soap is easy to sum up… PERFECT.  Slick, thick and protective.  Post shave feel is the best of any soap I've ever used. "
" Easy to lather but more bubbles then I expected. The lubrication and sleekness is very good and there was no razor burn at all."
"Performance was quite good. I found I needed a little more water, but then all was well. Not quite so thick and creamy as some."
"The soap readily responded to a damp brush by producing an abundant, rich, lubricating lather that provides some of the best hydration and conditioning available in a shave soap.  This was my first time using a Petal Pusher Fancies soap, and I was very pleased with the performance of the Kokum Butter soap.
"The lather was great (honestly thus far they all have been), in keeping with the other soaps from them I've tried. A bit fiddly, but not too difficult to get a great shave, great thickness and glide, decent moisturization."
"This soap produced lather very easily and it was a big lather. It was a little airy to me and I would have liked a little more cushion, but still a nice soap."
"A vegan shaving soap with great ingredients. Easy to make lather with and the lather is very thick , stable and ultra slick. Needs some extra water but that's not a problem at all. "
Performance Score: 9.1
Presentation
"The presentation was excellent.  The soap was hand wrapped.  It came in a beautiful travel tin and the label art is really fun! "
"The soap came in a very nice holiday style metal container and the packaging was very nice and appropriate for the season."
"The tin and label are nicely done and the package is gift-ready, but OTOH it's nothing other than the usual Petal Pushers packaging."
"This presentation of the Ciderhouse 5 soap from Petal Pusher Fancies had some extra touches.  The soap while individually wrapped like a refill puck was inside a tin complete with logo label.  Giving the owner the convenience of having the choice of placing the soap in the tin or in their favorite shaving container."
"The presentation was nice; nice tin, interesting label, although nothing about it really screams seasonal."
"I thought the art work on the labels were very original and well done. They worked well with the tin in my opinion and depicted the season nicely."
"The travel tin which comes in is very handy to use and its art work is quiet different , as well as stylish."
Presentation Score: 4.4