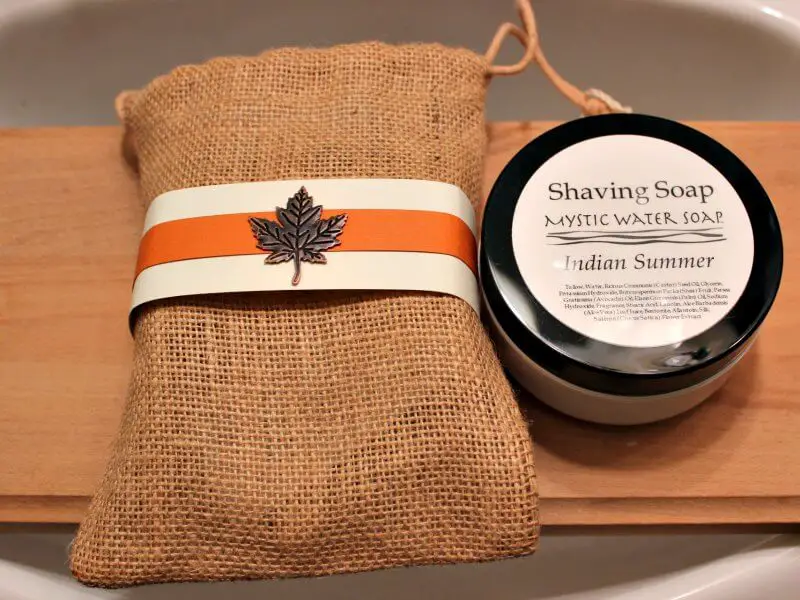 Welcome to the first post for the 2013 "scent off!"  A few weeks ago Sharpologist invited shaving soap artisans to crate a "seasonal" (fall/winter) shaving soap scent.  Six artisans made the deadline and our judges have been busy shaving with the entries!  We will be showcasing one entry per week for the next six weeks.  This week: Mystic Water.

Mystic Water
Artisan Profile: Michelle Burns of Mystic Water Soap in Riverdale, Maryland: I've been a practitioner of natural living for a long time, and have lived and traveled in many parts of the world learning "old fashioned" skills. After twenty years in Italy, where I learned traditional methods of making soap, I returned to the U.S. and began selling my products at Maryland/D.C./No. VA farmers markets and festivals in 2007. My original formulas use food grade oils, organic herbs, essential oils and fragrances. I first became interested in making shaving soap after reading online about men experiencing irritation from some soaps, which led me to create a semi-soft soap using tallow, unrefined shea butter, glycerin and other ingredients that give an excellent after-shave skin feel and that even men with sensitive skin can enjoy. It was first sold online in the spring of 2012 and can be found at my farmers market booth and online at www.mystic4men.com There's a wide variety of Mystic Water Soap products to choose from for body, face and hair care, as well as shaving, all made by hand in small quality controlled batches.
Scent Off Entry Description: Mystic Water "Indian Summer" refers to the week or two of warm weather that often occurs in the Fall after the leaves have begun changing color. Autumn has always been my favorite season and one of my many memories is of a perfect "Indian summer"day in Indiana, buying pumpkins at a Brown County farm stand in October. For the competition, I wanted to combine the scent of freshly cut pumpkin with ginger root, cream and spices that, to me, evokes comfort and warmth as we go into the cooler season. I added Italian saffron for color and subtle fragrance. This is one of my new soaps for autumn made with tallow, lanolin and allantoin.
Judges Comments
Judges were asked to evaluate the soap base on Scent (up to 10 points), Performance (up to 10 points), and Presentation (up to five points).  Here are some of their comments along with the averaged score:
Scent
"Very pleasant fragrance, moderate strength throughout."
"The scent is very much a Fall scent and definitely captured the spirit of the season. It lingered after the shave for a bit, which is good."
"To my nose the scent is very artificial and reminiscent of fragrance oils used in scented candles, eg Yankee, Bath and Body Works, etc."
"Nice pumpkin sent with a nice variety of spices. Smells and feels nice on the skin."
"I thought it to be quite pleasant, although I'm not entirely sure I get all that much pumpkin from it. The strength was also quite good, starting off with what I'd say is just below a "strong", with very little fading at all."
"I did not get the scent at all. It smelled like a strong candy spice to me. I did not get the pumpkin or ginger root at all."
"While the first time I used the soap I wasn't very impressed about its scent , I must say that after 3 days testing it , the scent changed slightly and now I truly like it. It was kind of sweet at the beginning , but now is more spicy, with less sweet notes, and woody notes on the background. Its not like the "typical" sandalwood scent. This one is more complex, more evoking of India. The Saffron extract on the ingredient list makes it very different as I pointed to many sandalwood/patchouli scented creams."
 Score: 7.7
Performance
"Unfortunately, this soap turned my head beet red and it stayed that way for a few hours. I don't have allergies so I'm guessing the soap was not saponified properly and it's a PH issue. On top of that, the soap produced a very sub-par lather that disappeared very fast and dried on the skin."
"Easy to get good lather, very slick, helps the shave."
"This is a good soap that provides adequate glide and protection. The lather is a bit thinner than I prefer but overall I get a decent shave with this product."
"Semi soft soap makes lathering very easy and abundant. Lubrication and glide were outstanding."
"But enough water and a bit of elbow grease and I got a great shave out of it; nice thick cream for a good cushion, plenty of glide, good stability and it left the face feeling great to boot."
"It produced a decent lather, but was pretty thirsty.  The cushion was moderatewith both a straight razor and DE. The bad thing is that this soap really burned my face."

"If you are looking to get thick lather out of this soap , be patient.  Its skin care properties during the shave are brilliant. I have very dry, sensitive skin, and this soap takes care of it like the best ones I have."
 Score: 7.7
Presentation
"The presentation was great! Great jar, excellent information card and the jar came packaged in a great little burlap bag (with ribbon and maple leaf). The presentation doesn't get much better than this!"
"Nicely done, but once the dust settles, it's the regular MW container. Still, the little decorated sack was a good surprise."
"Generally speaking the provided jar is good for storage but the soap needs to be removed and lathered outside the jar. The burlap bag is a nice touch if you were giving it as a gift but generally I would prefer a better job of packaging the actual soap."
"The soap comes in a very nice reusable plastic case with a screw top. Then packed in a holiday bag with a nice decoration around it. Also enclosed is a brief history of the soap and a list of ingredients. Very professionally done."
"The bag was a really nice touch, the tubs sturdy, and the label high quality and waterproof."
"The actual container was pretty plain and the typical artisan 4 oz round plastic container with the puck of soap inside. I did like the burlap sack and outside wrap with the orange stripe and leaf with acorn."
"This soap comes on a plastic jar container , screw lid and a label on the top."
 Score: 4.3