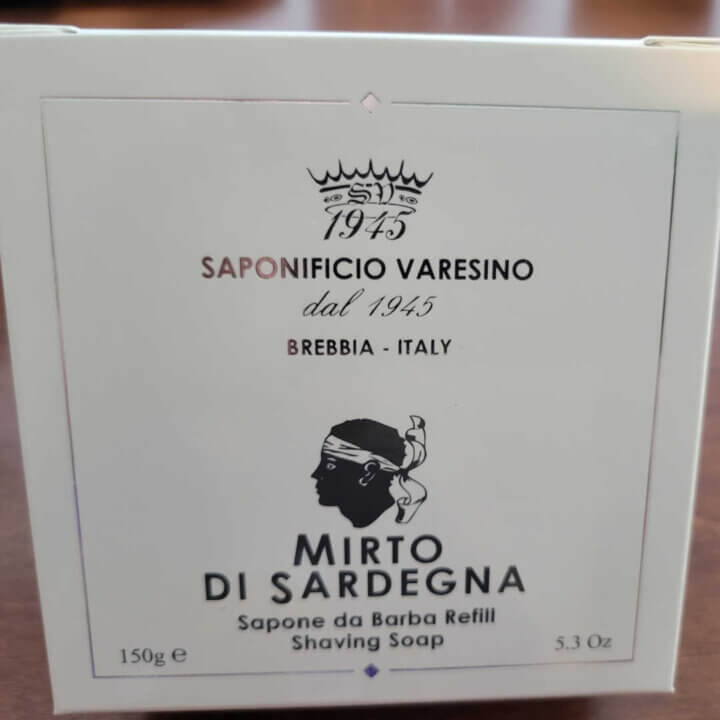 [Note from Mantic59: I recently wrote about my experience with Saponificio Varesino shave soap. Saul wanted to add his experience so I asked him to write up his review.]
I usually get myself something nice for Father's Day. I was especially deserving this year so I splurged and got a puck of Saponificio Varesino (SV) Mirto di Sardegna Beta 4.3. 
Saponificio Varesino
This is an Italian shave soap that sells for $33 to $41 plus shipping and tax. This is a 5.3 ounce of triple-milled soap that you will have to find a large enough mug to hold (90mm). There is a diversity of opinion out there but I've found most people love it, as do I. 
Saponificio Varesino is made in Italy and this particular edition is within the "Beta 4.3" category. I've seen Betas 4.0, 4.1 and 4.2. The Mirto di Sardegna fragrance is described by the maker as: 
"The scent of Mirto di Sardegna harmonizes with the aromas of natural additives, creating a woody aromatic note. At its base are the classic fragrance notes of Sandalwood and Vetiver but its initial expression is filled with the citrus notes of lemon and lime. The heart notes are where you'll find the myrtle that this energetic fragrance is built around." 
 With which I concur. I really can't tell one scent from another (except Arko) but it does smell "nice and sweet". There are other fragrances within the Beta 4.3 classification as well. I don't care that much for fragrance but I do concern myself almost entirely with performance. This is where this puppy excels. 
My Experience With Saponificio Varesino Mirto di Sardegna
Being so gosh-darn hard I found it best to follow the maker's advice, namely to "bloom" it by placing a few dollops of the hottest water you have and let it sit on top for a while. I then take a saturated but squeezed out  brush and whip it to hell. With my boar bristle brush I get a goodly amount of dense rich lather in about 21-23 seconds. 
That is one thing I like about triple milled soap – you get the greatest control over the density and cushioning with the triple milled over any croap and certainly any cream. I chose a rather thick yogurt-like lather which you can thin out with drops of water.
I don't believe there is any one "best soap" but this product is clearly up there with the best. It goes on smooth like butter icing and allows maximum cushioning depending on how you like your lather. The residual slickness and the post-shave smoothness is unsurpassed in my not so humble opinion. 
If there is one less than top-notch category I would have to say it is in the area of glide and lubrication where I would give it a "B". This means it is good but I have had other soaps that were initially slipperier even though the residual slipperiness is excellent.
Conclusion
 The soap presents itself as essentially vegan. I have to take their word because it is the most complicated list of ingredients I've ever seen. Despite the high price I expect this puck to last a while. I always squeeze the brush out to save every last molecule of lather for the next time. I've seen estimates of it lasting 4-6 months depending on frequency.
This is one expensive soap that not only smells nice but is outstanding in most every performance category. How much do you want to spend on 4-6 months of luxury performance?
[Editor's Note: Saponificio Varesino products are available in North America at their website and at West Coast Shaving (affiliate link), Maggard, Smallflower (affiliate link), Bullgoose (sponsor), Amazon (affiliate link), and others.]
About The Author:
Saul Nathanson lives in North Carolina. He is retired so he has nothing to do all day but think about shaving. He feels shaving should be about nothing else but the painless and efficient removal of facial hair.
Related Post: Saponificio Varesino Aromatic Fern Shaving Soap Beta 4.3 Review