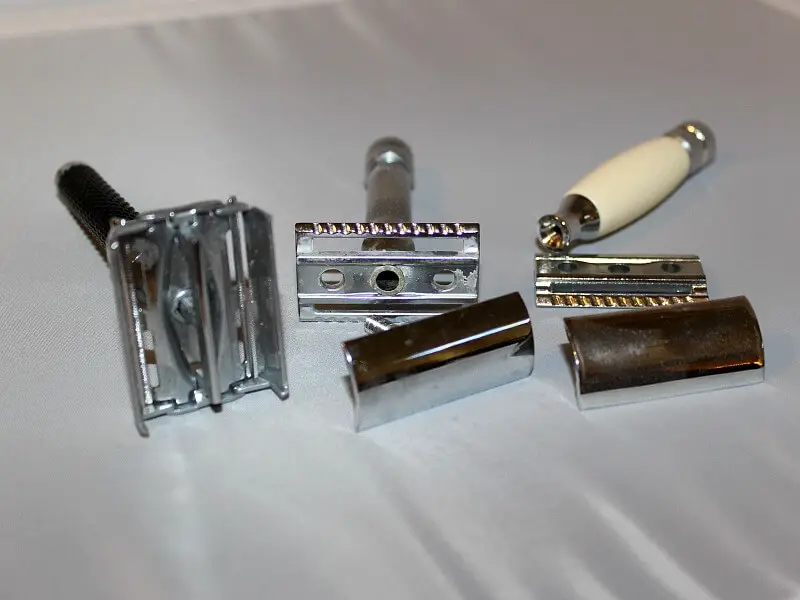 Necessity is the mother of invention. Straight razor shaving was not safe in a lurching train lavatory without risk of serious injury.  Early safety razors were invented  at the end of the 19th and turn of the 20th century.  The razors were 3 pieces (sometimes 2) and the design is still in production and use.  Later in the 20th century ,the one piece, or Twist To Open razor was invented, and both 3 piece, and TTO razors are still in use.

Precision
The head of a safety razor is a precision part. Whether Open Comb (OC) or Safety Bar (SB), the tolerances must be fairly tight.  The distances between OC tines, or the SB to the razor head's base plate have to be exact or no two razors would ever shave the same. (That point made, a razor head is a precision part that will get light use under normal conditions. It is not a part on a Mars Rover, nor is it a scalpel handle used 18 hours a day, which may be dropped three times a week). Metalworking around the turn of the 20th century lagged behind, in its ability to make precision parts. It was difficult to mold brass into a delicate skeleton of a razor head for plating over it.  The handle was never the issue, but a brass head, for plating presented problems for that time period.  The solution was to use a "pot metal" always zinc based (which could be smelted at lower temperatures) for pouring into a mold of a delicate razor head. Gillette was the first to be able to cast delicate brass razor heads for plating. Modern zinc alloys like Zamak 7 approximate brass in strength. Zinc is a highly reactive metal. It's soluble in acids and bases, and can be affected by exposure to even water, (unless distilled and de-ionized).  Many manufacturers still use Zamak in their razors, with great success.  If the plating remains intact, and the razor is not subjected to trauma, it can last many years. Solingen and Sheffield are the bases for edged steel weapon manufacture in Great Britain and Germany, yet there's no steel in the  Merkur, Muhle, or EJ razors made in these cities.
Materials
In the 21st century, aluminum is used to manufacture some razors.  Advertised as "aircraft aluminum" the exact alloy used in these razors (Standard and Shave Craft) is unlikely to be alloy 7075. That alloy is the only true aircraft aluminum. It is strong and light, approaching some steel alloys. It is very vulnerable to corrosion, making it an unlikely choice for a safety razor.  Other alloys of aluminum are also used in aircraft, (6061, 2024, 5052,6063, and 7068).  The manufacturers do not divulge which alloy is used in their razors.
Aluminum is almost as reactive a metal as zinc is. It also is soluble in both acid and alkali, and easily interacts with many common compounds. One of earths most abundant elements in the crust, it was almost unknown in metallic form until bauxite was mined because it is so chemically reactive, and exists mostly as salts. Ruby, Sapphire, and Zircon are all hard stable aluminum salts called Corunda.  Most aluminum alloys also contain zinc. Aluminum's relatively low melting point makes it ideal for molding even complex shapes, like razor heads. Plating is not needed. Shavecraft aluminum heads are sintered, while the Standard is machined from a billet.

Finally we come to steel. An alloy of iron, carbon, and other elements, steel is the strongest metal for the manufacture of any precision part, like a razor head. Both aluminum, and brass oxidize to form patinas, which are harder than the metals themselves. These patinas are protective of the underlying softer metal. These are Alumina, and Verdegris, (which gives the Statue of Liberty its hue.) Conversely, the rusting of iron attacks the underlying harder metal, leaving red, brown, or black rusts. Stainless steel (SS) was developed to fight this process. Despite the Teutonic reputation for accuracy SS is not rust free (rostfrei), it is rust resistant through chromium content, and stains less. Increase salt and oxygen in a local environment and stainless steel will rust albeit slowly.
Two groups of stainless steel razors are available. The first group are machined from a single billet of stainless steel. Most metal is cut away until the form is finished.  No plating is required. These are the spendy razors like Razorock, Wolfman, BBS-I, Pils, Tradere, and ATT. The quality of the steel that remains after machining is not a known. Pre machining forging of the billet matters. Traditional machining processes often involve a significant amount of waste of materials. Weber, Feather, and Ikon use sintering technology on their razor's head, and the head may be a different alloy (17-4 PH in the Weber Head 316 handle)).  Stainless steel is classified by its crystalline structure as either ferritic, martensitic or austenitic.  The Weber has an austentitic steel handle (316) and a ferritic sintered head. It is cheaper to use sintering than machining and this is reflected in the Weber's lower price. Sadly it has not lowered Feather's or Ikon's prices.  The Rockwell is neither sintered nor machined. It is hot forged, which is not a process I'd use with stainless steel.
Critics of sintering are mistaken. Sintered parts have proven to be equal to machined parts under most conditions.  Any porosity of sintered parts is easily controlled at the time of manufacture, and these parts are the equal of most machined parts. This is verified in the metallurgic literature. Since we are talking about a razor, which will only get light use under non -hazardous conditions, it is silly to split hairs over which steel is better.  Unless you are planning on shaving on Jupiter, or using your razor as in impact hammer,that is!

L.M. Isaacs, M.D.

Related Post:
Mild Or Comfortable? Aggressive Or Efficient?