I recently got the most expensive adjustable razor on the market today (at about US $550), the 2022 Rocnel Sailor.  Here is my experience with it.
Rocnel And Sailor
The Rocnel Sailor Series adjustable razor traces its origins back to the collaboration between Murat of Rocnel razors and Hasan Kose of Barbaros razors in 2016. It was the first machined stainless steel adjustable razor on the market.
From the Rocnel website:
In 2007, we began producing safety razors non-commercially for our family members and friends. Seeing how our product grew in popularity within our community, we decided to turn this into a business. Our research and development activities grew with the introduction of new machinery and–with high performance and superior quality as our focus–we eventually released our product: the ROCNEL SAFETY RAZOR.
What differentiates ours from other safety razors is its mix of superb performance and design, solid production style, quality craftwork embroidery and the use of 316 stainless steel.
It takes approximately one week to complete production of the razor; moving from rough material assembly to packaging
We have a capacity of 3 products to produce in a week. There are no molting, plating, welding or pressing methods applied into our products. In this way, our 100% seamless, high quality product, is guaranteed to demonstrate improved durability. Polished in one of two varieties, mat or satin, special touches are added by professional craftsmen….
Incremental improvements to the Sailor have been made each year.
From the Bullgoose Shaving website:
The Rocnel Sailor keeps getting better and better. The 2022L (Generation 8.1) adds a ball locking system and has a lapped Matt surface (using the same type of lapping machine as Rolex). With a double spring mechanism and 5 Adjustment levels, Rocnel takes the adjustable to a whole new level.
Approximate specs:
Weight: 140g
Handle Length: 80mm
Handle Diameter: 14mm
Material: Aisi 316L Stainless Steel
Product of Turkey
What Others Are Saying About The 2022 Rocnel Sailor Adjustable Razor
As you might expect with a razor at this price point, there are not too many reviews available.  Most are for the very similar 2021 model.  HERE is a good, thorough discussion thread from the Damn Fine Shave forum.  And HERE is a discussion of the razor on Reddit.
As you might expect, general comments include high praise for the construction, fit-and-finish, and attention to detail of this razor.
Here is a video review I found on Youtube:
My Experience With The 2022 Rocnel Sailor Adjustable Razor
I picked up my Rocnel Sailor 2022 adjustable razor from Bullgoose. Phil at Bullgoose was helpful and the razor arrived quickly.  As noted earlier Rocnel production is very limited, with small batches being available at any one time.  So it's a good idea to check back on the Bullgoose website regularly if you find the razor out of stock.
First Impressions
This is one gorgeous-looking razor–computer images don't do it justice.
Logo and signage are etched, not just surface-printed.
I find the razor to by heavy in my hand but well-balanced and comfortable.  The combination of the slightly-larger-than-average handle diameter and length, and the etching, make the razor feel secure in my hand and I have never had a "slippage" problem with it.
Adjustment
Like other two piece adjustable razors, there is a "right way" and a "wrong way" to mount the top cap so that the dial reads properly.  In the case of the Rocnel the cap is oriented such that the "Rocnel" label on the top cap is upside down when looking at the "Sailor" logo on the side of the handle.
Although there are 5 setting markings on the dial (with Roman numerals "I" through "V") there are not indents and the razor is continuously adjustable through the range.  The adjustment dial rotates smoothly and not too loosely–the adjustment stays where you set it.
My Shaves
Personally I find the adjustment range biased a little "high" compared to other adjustable razors: I like relatively "mild" razors and I have to keep the Sailor's dial under 2 ("II") for best comfort.  I usually set most of my other adjustable razors between "2" and "3," relatively-speaking.  However, that said, there was plenty of range at the low end.
And where it counts–the results of a shave–the Rocnel Sailor adjustable razor meets my high expectations.  Baby's-butt-smooth ("BBS") shaves with no irritation or "weepers" are easily achievable for me with this razor.
Conclusion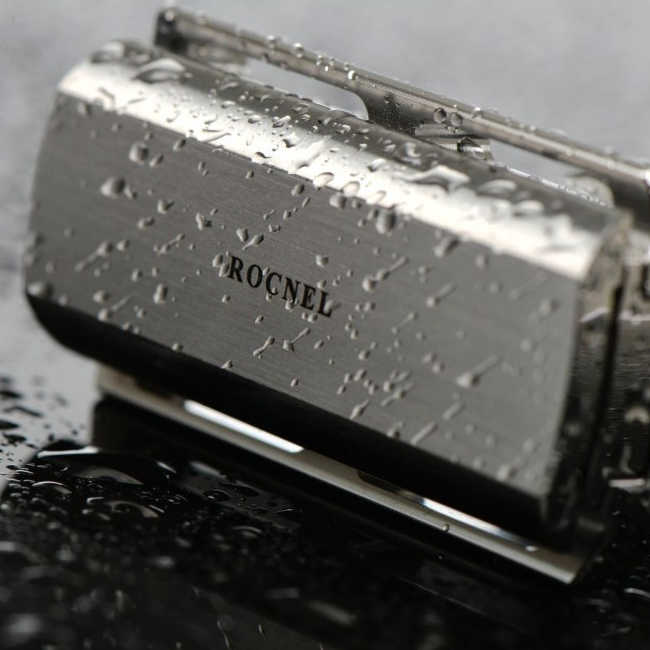 If you're looking for a luxurious shave, this is it.  If you can afford the price I don't think you will be disappointed.
The Rocnel Sailor adjustable razor is available (when in stock) from Rocnel in Turkey, Bullgoose Shaving in the US, and Dovo in Europe.